Fed follows through
Dow up for the year, SPX tops 3,500, NDX tags 12,000
Fed announces new inflation stance
This week: Jobs report, key manufacturing numbers
Kicking off a busy week capped by Friday's jobs report, the market is coming off another record-setting performance, as US stock gauges continued their historic ascent and the Federal Reserve unveiled a potentially market-friendly policy shift.
Last week the Dow Jones Industrial Average (DJIA) clawed its way back into positive territory for 2020, the market-leading Nasdaq 100 (NDX) positioned itself for its best first eight months of the year since 1995, and the S&P 500 (SPX)—on track for its best August in 34 years—banged out new record highs each day: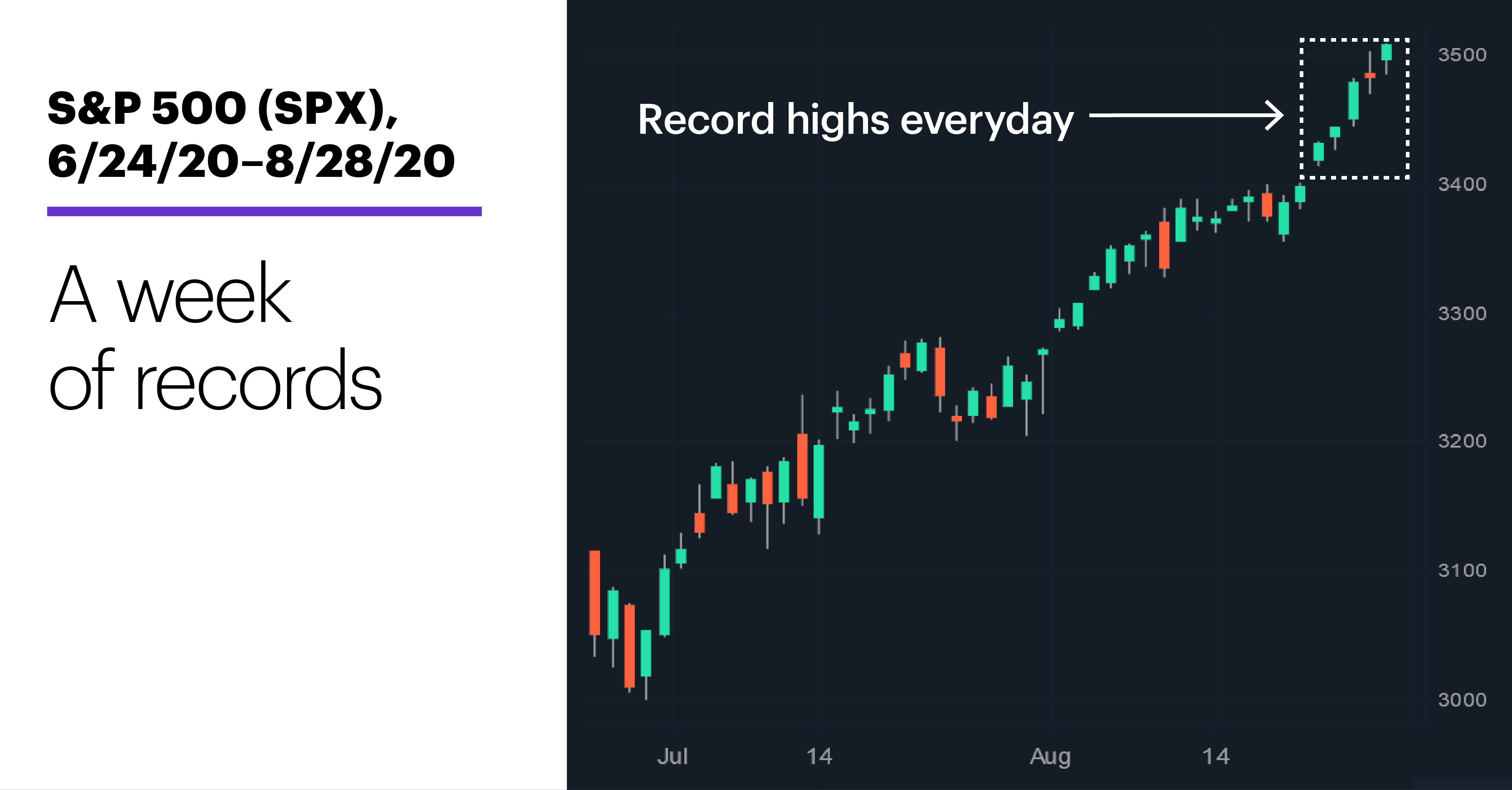 Source: Power E*TRADE
---
The headline: Tech express keeps rolling as Fed tweaks inflation stance.
The fine print: In a speech last Thursday, Federal Reserve chairman Jerome Powell outlined the central bank's new policy of "average inflation targeting," whereby the Fed will allow inflation to push above its 2% goal and refrain from hiking rates when the unemployment rate falls to levels that would have, in the past, triggered rate increases.1 Translation: Potentially lower interest rates for longer.
The quote: "Many find it counterintuitive that the Fed would want to push up inflation. [H]owever, inflation that is persistently too low can pose serious risks to the economy." Fed chairman Jerome Powell, explaining the Fed's new policy.2
The number: 37.36%—the NDX's year-to-date (YTD) gain as of Friday. If it closes at 11,899.25 or higher today, this will be the tech index's biggest YTD gain through August in 25 years, and its fourth-strongest of all time, trailing only 1987, 1991, and 1995.
The scorecard:The NDX led the pack for the second week in a row, while the small-cap Russell 2000 (RUT) spent its second-straight week trailing the field: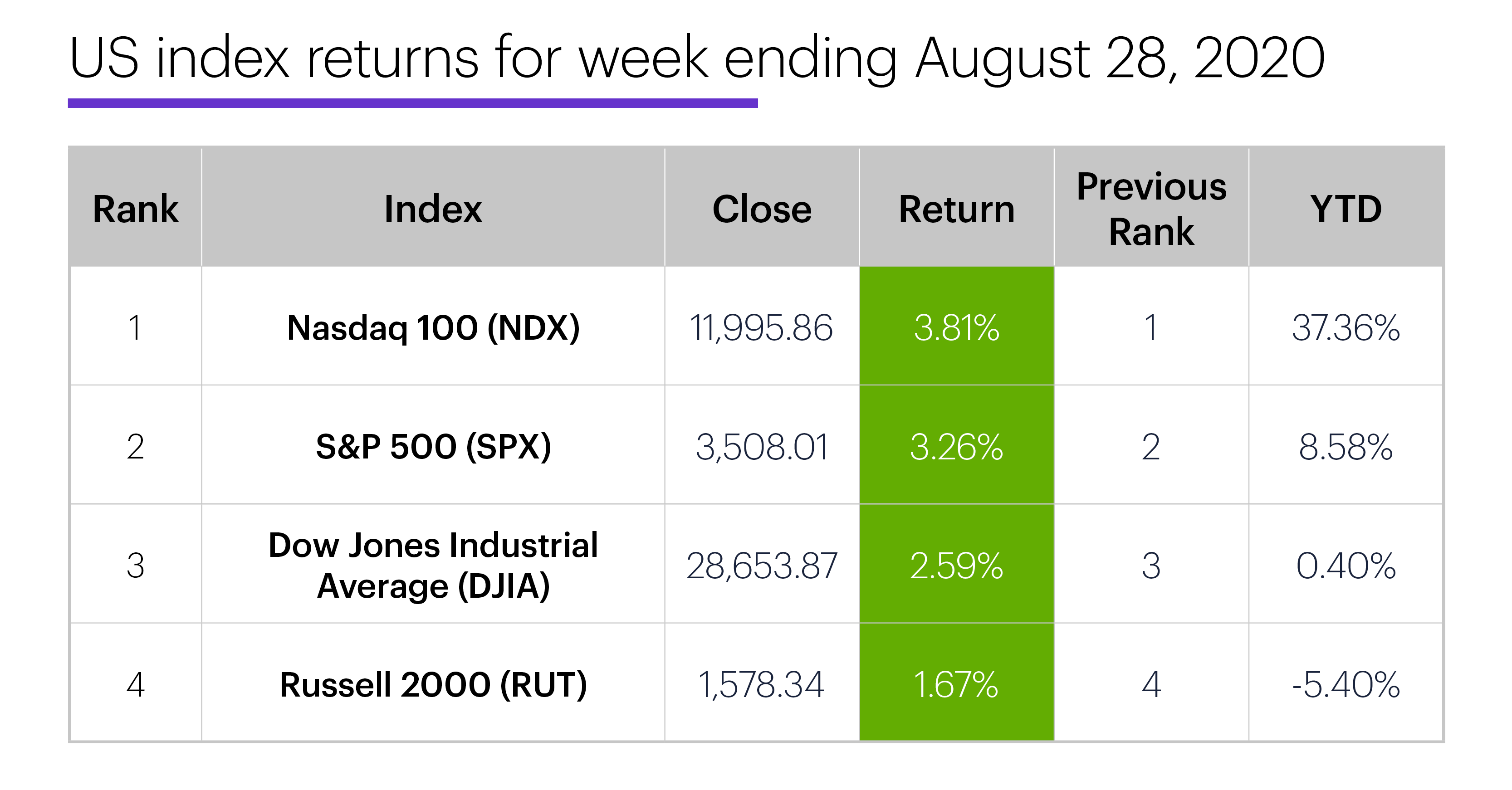 Source (data): Power E*TRADE
---
Sector roundup: The strongest S&P 500 sectors last week were communication services (+4.7%), information technology (+4.4%), and financials (+4.2%). The weakest sectors were utilities (-0.7%), health care (0.9%), and energy (1.1%).
Highlight reel: On Monday Tortoise Acquisition (SHLL) rallied 34% to $40, while BigCommerce (BIGC) jumped 37% to $104.09 on Tuesday. On the downside, Odonate Therapeutics (ODT) tumbled 45% to $18.33 on Monday and Fulgent Genetics (FLGT) slid 28% to $32.22 on Thursday.
Futures action: October gold (GCV0) extended its nearly three-week consolidation, trading between $1,901.40–$1,978/ounce last week despite a 2%-plus Friday rally. October WTI crude oil (CLV0) also continued to play the sideways game, trading between $42.23–$43.78 even as hurricanes battered the Gulf Coast. Still-soaring lumber futures head-faked traders with a one-and-a-half day downturn last Monday–Tuesday before banging out more record highs the rest of the week.
Last week's biggest futures up moves: September lumber (LBSU0) +10.3%, September cocoa (CCU0) +9.5%, September soybean oil (ZLU0) +6.3%. Last week's biggest futures down moves: October live cattle (LEV0) -4.3%, September feeder cattle (GFU0) -3.4%, September Ultra T-bond (UBU0) -3.3%.
Coming this week
There's plenty of manufacturing and service-economy data to sift through before the week's main event—Friday's job's report:
●Monday: Dallas Fed Manufacturing Index
●Tuesday: Markit Manufacturing PMI Final, ISM Manufacturing Index, Construction Spending
●Wednesday: Vehicle Sales, ADP Employment Change, Factory Orders, Fed Beige Book
●Thursday: Challenger Job Cuts, Balance of Trade, Weekly Jobless Claims, Imports and Exports, Markit Services PMI Final, ISM Non-Manufacturing Index
●Friday: Employment report
This week's earnings include:
●Monday: Cue Biopharma Inc (CUE), Zoom Video Communications Inc (ZM), Rackspace Technology Inc (RXT)
●Tuesday: At Home Group (HOME), H&R Block (HRB), Shoe Carnival (SCVL)
●Wednesday: Five Below (FIVE), Cloudera (CLDR), Navistar (NAV), Rocket Companies (RKT), Copart (CPRT), CrowdStrike (CRWD), Guidewire Software (GWRE), Macy's (M), PagerDuty (PD), Verint Systems (VRNT)
●Thursday: G-III Apparel (GIII), National Beverage (FIZZ), Broadcom (AVGO), Designer Brands (DBI), Michaels (MIK), Campbell Soup (CPB), DocuSign (DOCU)
●Friday: JinkoSolar (JKS)
Go to the E*TRADE market calendar (login required) for an up-to-date earnings schedule and a complete list of splits, dividends, IPOs, and economic reports. The Active Trader Commentary also lists earnings announcements, IPOs and economic report times each morning.
Say hello to September (and October…and November)
Since the NDX has set so many new records the past few weeks that reciting them has become monotonous, let's take a minute to point out that the SPX is on track (barring a 1.1% decline today) to notch its best August since at least 1986 and its best July–August return in at least 60 years.
Of course, contrarians and congenital bears would simply point out the altitudes the market has reached simply make it more nerve-wracking that the market is entering what is its historically most volatile three months of the year—which kicks off with its most bearish month, no less.
And, oh yeah, there's an election in two months.
First, let's look at the volatility angle. True, October, November, and September (in that order) have been the SPX's most volatile months since 1960.3 Lest we forget, though, volatility measures the amount of price movement, not its direction, and November and October have consistently been two of the US market's most bullish months (especially in the past 10 years).4 In other words, they've had lots of volatility, but that volatility has often been to the upside.
September's reputation as a bearish month has long roots: Since 1960, it's the only month of the year with a negative average return, and the only one to close down more often than up.
But over the past two decades, it's been noticeably less negative. The SPX has gained ground in September 11 out of the past 20 years (and six out of the past 10), and its 0.56% median return is better than three other months of the year (January, June, and August).
But of the two September-November tendencies, volatility has been the most consistent. Especially this year, traders may have trouble handicapping market direction, but they definitely should be prepared for an uptick in volatility.
Click here to log on to your account or learn more about E*TRADE's trading platforms, or follow the Company on Twitter, @ETRADE, for useful trading and investing insights.
---
1 CNN.com. The Fed's new strategy could keep rates low for longer than you think. 8/27/20.
2 Federalreserve.gov. New Economic Challenges and the Fed's Monetary Policy Review. 8/27/20.
3 Reflects "true range" calculations of monthly S&P 500 (SPX) prices, 1960-August 2019. Supporting document available upon request.
4 Based on monthly S&P 500 (SPX) closing prices, 1960-August 2019. Supporting document available upon request.
What to read next...
08/28/20
Global auction player throttled up in recent months. Does recent pullback signal sentiment shift?
---
08/27/20
It was easy to see the immediate impact of the decision to replace three Dow stocks, but what's the potential trading angle?
---
08/26/20
There's no immunity to volatility in the COVID-vaccine race. Traders need to be prepared for when potential opportunities arise.
---