Fed all in, markets wait for Congress
Fed takes QE to new levels, stock futures surge
Gold stages biggest one-day rally of the year

Stock index futures surge on Fed news, give back on Senate squabbles
If your eyes tend to glaze over at the mere mention of "monetary policy," you're probably not a trader. Because if there's anything you can count on to move the markets, it's news from the Fed.
Yesterday did not disappoint in that regard. The 15-minute chart below shows what the June E-Mini S&P 500 futures (ESM0) did early yesterday morning when the Federal Reserve announced it was expanding its asset-buying program—aka "quantitative easing" (QE), aka "printing money"—to support the US economy and financial markets: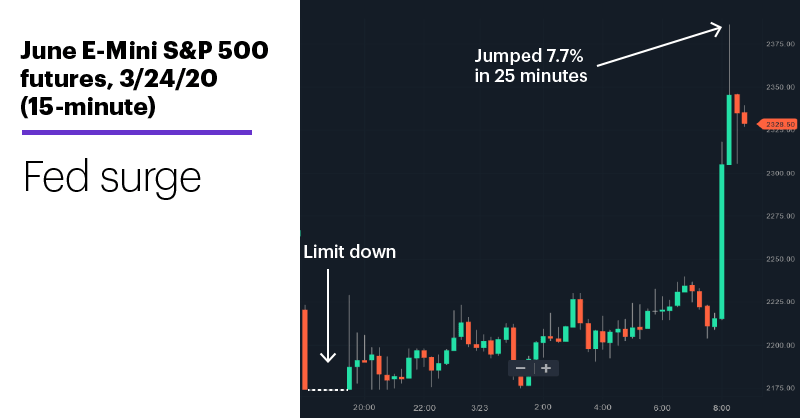 Source: Power E*TRADE
---
Just before the news broke around 8 a.m. ET, the S&P futures were down more than 3%. Over the next 25 minutes they jumped a remarkable 7.7%.
QE refers to Fed purchases of financial assets, which is what the central bank does to pump money into the economy when it has already cut interest rates as low as it can (or is willing to). The Fed has engaged in QE before—most notably, in response to the 2008 financial crisis—but yesterday's announcement took things to a different level:
1. The Fed announced that it would (among other measures) buy corporate bonds. This is a first. In the past, the Fed's QE purchases have typically been limited to US Treasuries and agency securities1 (e.g., mortgage-backed bonds).
2. Purchases are open-ended—that is, the Fed didn't (as it usually does) put a limit on how much it would buy, or for how long.
Taken together, these measures essentially imply the Fed is willing to buy whatever it must, as long as it must, in whatever quantities it deems necessary.
Although the stock index futures rally fizzled quickly, it didn't appear to be because the Street decided, after a few minutes of reflection, that the Fed's announcement was a near-term negative for the equity market. Around the same time, headlines were flying about delays in passing the economic stimulus package that everyone had been expecting to be signed, sealed, and delivered Monday morning. (The Senate failed to pass the measure before the market closed yesterday.)
Nonetheless, one of the longer-term issues (think much longer term—i.e., when no one is talking about the coronavirus) that always comes up with QE is inflation: If you flood the market with more dollars, those dollars have less value, which means it can take more of those dollars to buy stuff.
And that's probably why gold staged a huge rally yesterday, with April gold futures (GCJ0) up nearly 6% to $1,569.30/ounce at one point: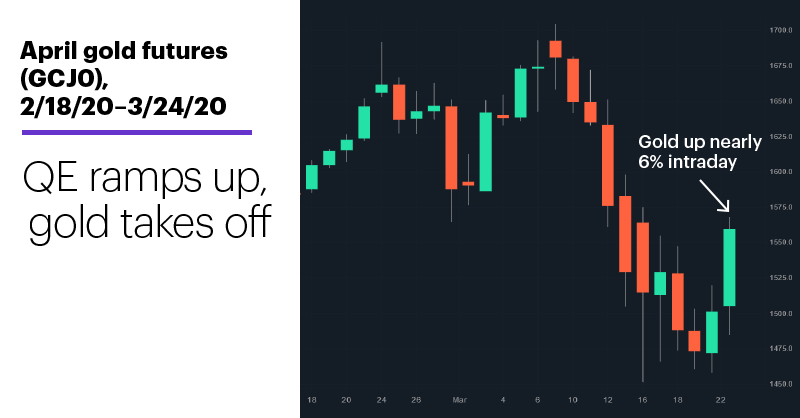 Source: Power E*TRADE
---
When the Fed announces it will potentially pump more dollars into the market than it ever has before, there's a good chance some people will buy gold as a hedge to what they see as inevitable inflation.
That was arguably one of the primary catalysts behind gold's roughly 165% rally from October 2008–September 2011. In addition to slashing rates to zero by the end of 2008, the Fed eventually launched three QE campaigns that some market watchers feared would trigger, among other ills, hyperinflation.
That didn't happen. But since the new QE measures promise to be even bigger than those introduced during the Great Recession, there's a good chance similar inflation alarms will be sounded today. And there's no telling how this episode will play out.
There will be plenty of debate in the months (and years) to come about the latest QE measures, but for now, there can be no argument the Fed wasn't kidding when it said it would do "whatever it takes" to support the US economy and financial markets.
And based on the stock market's initial reaction yesterday morning, the more the Fed does, the better it's going to feel.
Today's numbers (all times ET): St. Louis Fed President James Bullard speaks at Global Interdependence Center meeting in Paris (9:45 a.m.), New Home Sales (10 a.m.).
Today's earnings include: Neogen (NEOG), Nike (NKE).
Click here to log on to your account or learn more about E*TRADE's trading platforms, or follow the Company on Twitter, @ETRADE, for useful trading and investing insights.  
---
1 CNBC.com. The Federal Reserve just pledged asset purchases with no limit to support markets. 3/23/20.
What to read next...
03/18/20
Observations as staples soar, gold tanks, and volatility hits new records.
---
03/17/20
Market picked up yesterday where it left off last week—with epic volatility—and a run at the market's December 2018 lows.
---
03/16/20
What was shaping up to be the second-worst week for stocks since 1960 turned out to be only the second-worst week of 2020.
---