Eying the spread
SDGR sold off after earnings, but is up more than 20% since Monday
At-the-money calls doubled over past 3 days
Spreads are an alternative to outright options positions
Does Schrodinger (SDGR) sound familiar to you but you're not exactly sure what the company's all about? Chances are, one of the following stories popped up in your newsfeed in recent weeks:
●Reports in February that the Bill and Melinda Gates Foundation had increased its SDGR position.1
●The stock's 27% slide on March 4 after it disappointed the Street with an earnings miss and lowered guidance.2
Schrodinger is a life sciences company that applies artificial intelligence (AI) to molecular modeling and drug development. If it hasn't exactly become a household name, it may be because it began trading in early February 2020—right before events of the day overwhelmed things like the latest IPOs. Nonetheless, in the 13 months since, SDGR has yet to trade below its opening price of $26, and it was 345% higher when it closed at $113.09 on March 1—just three days before last week's sell-off: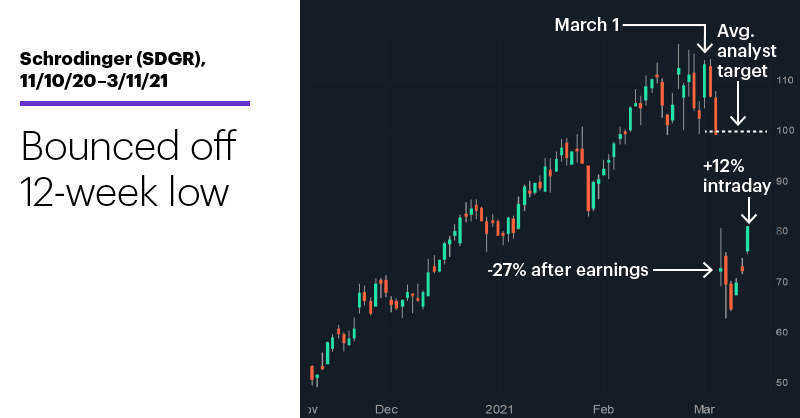 Source: Power E*TRADE
---
But the stock may also have popped up on a few trading screens yesterday, thanks to a 12%-plus intraday rally that lifted prices back to the bottom of the March 3-4 down gap around $80.60.
This is yet another situation that illustrates some of the differences between combining options in spreads vs. trading them outright—specifically, price differences. Yesterday, for example, an at-the-money SDGR June $80 call option was trading at a relatively pricey 12.60 ($1,260 per contract)—more than double what it cost just three days earlier.
But instead of buying only calls, a trader contemplating the possibility of a continued rebound—say, a move toward the top of the price gap around $100, which was also the average Street analyst target3—could simultaneously short a June $100 call for 6.35 ($635) to form a bull call spread for roughly half the price of the outright call position ($1,260–$635 = $625). It's important to note that the prices for one or both sides of the spread could change, which would affect the outcome.
The approach a trader uses comes down to individual risk tolerance and market expectations. For example, while a more bullish trader may prefer an outright call because of its greater potential upside, a trader anticipating a limited rally may prefer a call spread.
Food for thought: Most of the futures market chatter in recent weeks has understandably revolved around crude oil, but the following chart may be an eye opener for some people: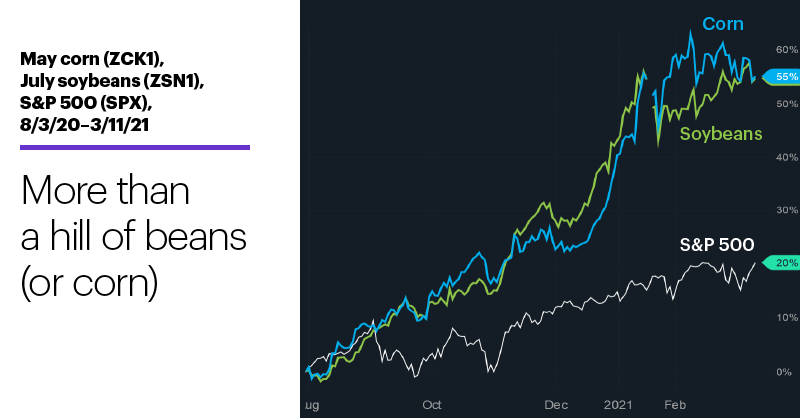 Source: Power E*TRADE
---
The S&P 500 (SPX) may have hit a new record high yesterday, but May corn (ZCK1) and July soybean (ZSN1) futures have more than doubled the stock index's return since last August.
Market Mover Update: A day after the Food and Drug Administration (FDA) approved its kidney cancer drug and sent its stock 89% higher, Aveo Pharmaceuticals (AVEO) was all over yesterday's LiveAction scans: Shares pulled back, but total options volume yesterday was running around 65 times average at 2 p.m. ET. Aveo is scheduled to release earnings on Monday.
Beam Therapeutics (BEAM) jumped more than 12% (see "Splitting the difference") yesterday, while XPeng's (XPEV) 13% rally ran its two-day gain to more than 16% (see "Shifting price gears").
Today's numbers (all times ET): Producer Price Index, PPI (8:30 a.m.), Preliminary Consumer Sentiment (10 a.m.).
Today's earnings include: Kirkland's (KIRK).
Click here to log on to your account or learn more about E*TRADE's trading platforms, or follow the Company on Twitter, @ETRADE, for useful trading and investing insights.  
---
1 Barron's. Bill Gates' Trust Sold Alibaba, Uber, and Apple Stock. Here's What It Bought. 2/20/21.
2 StreetInsider.com. Schrodinger Inc. (SDGR) Reports Q4 Revenues Miss; Offers FY21 Revenues Guidance Below Consensus. 3/4/21.
3 TipRanks. Schrodinger Stock Forecast & Price Targets. 3/11/21.
What to read next...
03/11/21
A niche biotech stock attempts to reverse recent losses after acquisition, sector retracement.
---
03/10/21
Options traders hop on board as EV stock seeks to get back on track after latest earnings release.
---
03/09/21
Two markets reverse notable moves—at notable levels.
---