Eye of the hurricane
Palomar (PLMR) tumbled 22% intraday Tuesday after releasing Q3 loss data
Shares down 24% from record high, but still up more than 110% since March
Big moves in options presents traders with different ways to play move
As if a pandemic wasn't enough, this year is shaping up to be one of the worst on record for hurricanes in the US.
What's that got to do with the markets?
Well, insurer Palomar Holdings (PLMR) broke a seven-day rally yesterday after estimating Q3 pretax catastrophe losses of $34–$38 million.1 The stock's 22% intraday decline was its largest one-day sell-off, and it dropped shares to their lowest level since July: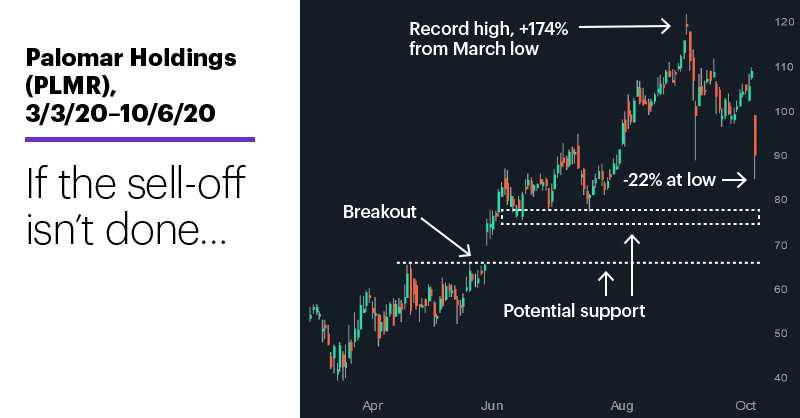 Source: Power E*TRADE
---
"Catastrophe," by the way, is Palomar's business—they specialize in providing insurance for things like earthquakes and hurricanes, and they attributed those Q3 losses specifically to hurricanes Hanna, Isaias, Laura, and Sally.
Hurricane season extends into November, but the storm in PLMR's stock and options yesterday (stock volume was more than six times average) may have had short-term traders wondering if better weather for PLMR was closer than some people may have thought in the midst of yesterday's thumping. In other words, is the bad news priced in?
While yesterday's move dropped shares around 24% below their early-September all-time high, PLMR was still up more than 75% year to date, thanks to a 174% rally off its March lows. Palomar topped earnings and revenue estimates when it last reported on August 4 (its next release is scheduled for early November), and as recently as late September the company was cited for its strong earnings growth, premium retention rates, and expanding partnerships.2
While "price shocks" like yesterday's are sometimes one-day events, even traders inclined to pick up potentially oversold stocks know they often have aftershocks—i.e., additional tests off the initial sell-off low over the next several days. (Check out KMX's price action after its September 24 sell-off, for example.)
That's why many traders wouldn't be surprised—especially in the event of broader market weakness—to see a stock like PLMR potentially drop to a technical support level if yesterday's low doesn't hold. (By 3 p.m. ET yesterday, PLMR had rallied from its low of $84.59 to back above $90.)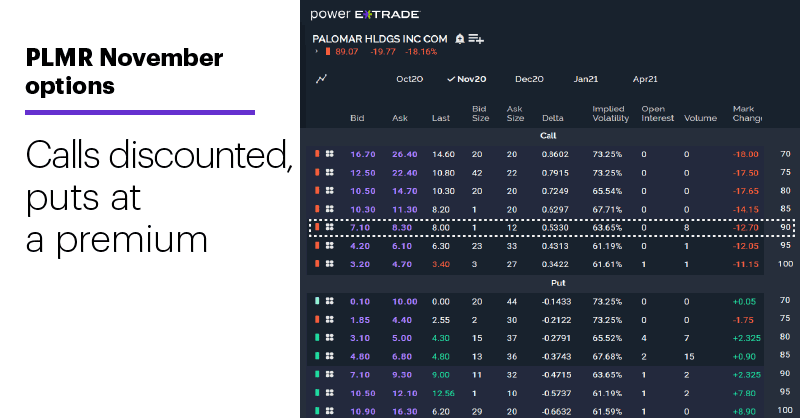 Source: U.S. Census Bureau
---
Options traders looking to play the move saw call prices plummet and put prices jump (see above). While potential bulls may be inclined to buy calls, they have to remember that moves like yesterday's tend to inflate implied volatility (IV), which in turn pumps up options premiums.
That means even though PLMR call premiums dropped dramatically, they may have still been a little on the pricey side because of the spike in IV. Puts, on the other hand, may have been attractive selling targets for bullish traders specifically because of their high IV.
Of course, if the stock does, in fact, fall further, those calls will be even cheaper and puts even more expensive. But making choices about price direction and volatility direction come with the territory when trading options.
Today's numbers (all times ET): MBA Mortgage Applications (7 a.m.), EIA Petroleum Status Report (10:30 a.m.), FOMC Minutes (2 p.m.).
Today's earnings include: Lamb Weston (LW), RPM International (RPM).
Click here to log on to your account or learn more about E*TRADE's trading platforms, or follow the Company on Twitter, @ETRADE, for useful trading and investing insights.  
---
1 Dow Jones News. Palomar Holdings Down Over 17%, on Track for Record Percent Decrease–Data Talk. 10/6/20.
2 Zacks Equity Research. Reasons Why Investors Should Retain Palomar (PLMR) Stock. 10/25/20.
What to read next...
10/06/20
Stock breaks out to nearly eight-month high, but traders may have noticed something interesting beneath the move's surface.
---
10/05/20
The market rebounded last week, but not without more volatility amid a White House coronavirus outbreak and the latest jobs data.
---
10/02/20
Traders lean toward energy stock's put options as crude oil market approaches key level.
---