Extra credit trading
Transunion (TRU) up sharply since last week's earnings release
TRU options open interest more than five times average yesterday
Options positions concentrated in August contracts
With a Federal Reserve meeting kicking off today and an announcement about interest rates scheduled for tomorrow, it should have come as no surprise that yesterday's market action was relatively…subdued.
Okay, it was just kind of boring. With less than two hours remaining in the trading session, the S&P 500 (SPX) was down slightly, and appeared poised to spend the entire day inside Friday's range. And despite plenty of earnings reports, there's a chance we'll see more of the same from the major indexes until the Fed releases its statement around 2 p.m. on Wednesday.
But when the broad market is idling, experienced traders tend to keep an eye peeled for stocks that may have some extra fuel in their tanks, because they know the calm will eventually give way to renewed volatility.
What may catch their eyes? Possibly a normally volatile stock that has boxed itself into an especially tight trading range, or maybe a stock that's getting more attention than usual from options traders.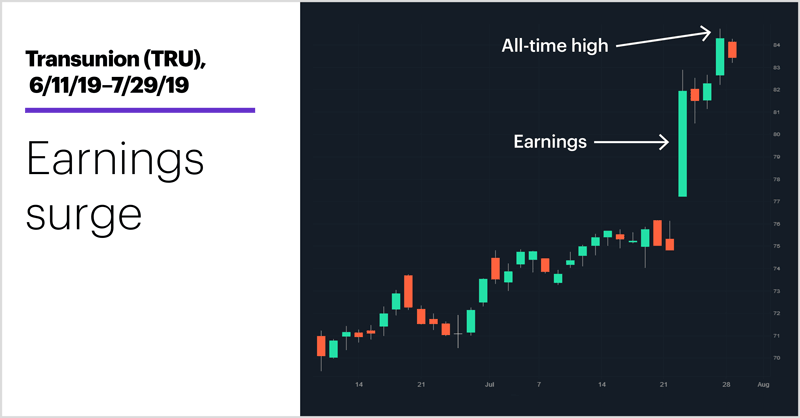 Source: Power E*TRADE
---
Credit bureau Transunion (TRU) hasn't exactly been hemmed into a range lately (chart above). The stock's huge jump on July 23 represented a new all-time high—ditto Friday's high of $84.71, its third record in five days (chart above). Overall, TRU has rallied around 30% since June 3 and more than 11% since July 22, the day before it released Q2 earnings numbers, which topped both earnings and revenue estimates by their widest margins since 2018.1 Is the party over?
Well, TRU has seen an uptick in options activity, as evidenced by its appearance near the top of a LiveAction scan yesterday morning for symbols with high open interest (OI):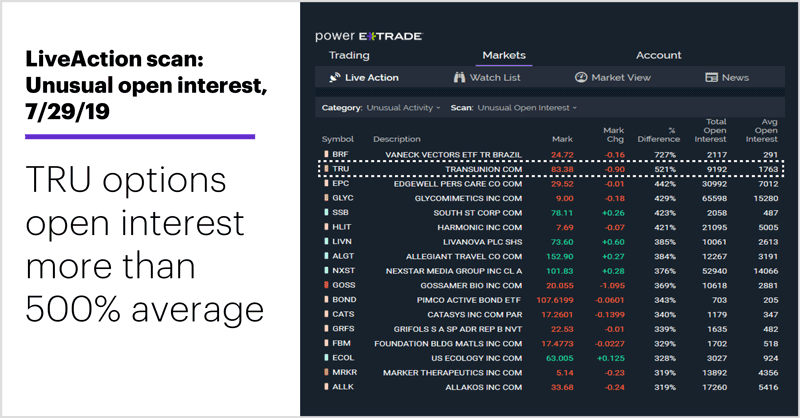 Source: Power E*TRADE
---
Because open interest represents the number of unclosed options positions, rising OI means more traders are getting into a market rather than getting out of it. Yesterday, TRU open interest was 521% of its average—the highest level of any individual stock in the scan (BRF, at the top of the list, is an ETF).
So, despite the stock's already mammoth move the past few days, some options traders were apparently still adding new positions in TRU rather than getting out of old ones. A quick review of the options chain showed most of the open interest (6,800 contracts) was in the $80, $85, and $90 call options expiring on August 16: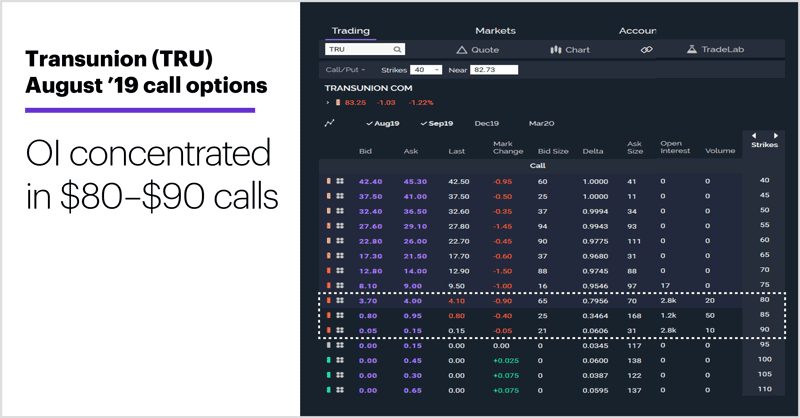 Source: Power E*TRADE
---
Bullish bets going into options expiration? That's one perspective. Traders aware of the magnitude of  TRU's recent runup may also be factoring in the possibility of a short-term pullback before looking for another leg of the uptrend. Remember, there are sellers on the other side of those potentially bullish call options purchases, any or all of which may be tied to larger positions that incorporate stock holdings. Such things are rarely as cut-and-dried as they appear.
What is clear, though, is that TRU has been on the move, and at least some traders anticipate that will continue in the near future.
Market Mover Update: HP (HPQ) traded quietly yesterday after Friday's rebound from a two-day pullback. And speaking of tech stocks that don't have targets on their backs, Microsoft (MSFT), which was the subject of antitrust suits around 20 years ago, dipped yesterday after hitting Friday's all-time high of $141.68. Don't worry, it's still a trillion-dollar company.
Today's numbers: Personal Income and Outlays (8:30 a.m.), S&P Corelogic Case-Shiller HPI (9:00 a.m.), Consumer Confidence (10 a.m.), Pending Home Sales Index (10 a.m.), FOMC meeting starts.

Today's earnings include: Altria Group (MO), Electronic Arts (EA), Eli Lilly (LLY), Verisk Analytics (VRSK), Apple (AAPL), Amgen (AMGN), Under Armour (UAA), Lattice Semiconductor (LSCC), Procter & Gamble (PG), ConocoPhillips (COP), Merck (MRK), Incyte (INCY), D.R. Horton (DHI), GrubHub (GRUB), Pfizer (PFE), Neogenomics (NEO), Mastercard (MA).
Click here to log on to your account or learn more about E*TRADE's trading platforms, or follow the Company on Twitter, @ETRADE, for useful trading and investing insights.
---
1 StreetInsider.com. Transunion (TRU) Earnings. 7/25/19.
What to read next...
07/29/19
Earnings season still in overdrive as closely watched interest-rate announcement looms.
---
07/26/19
Stock's intraday rally-and-dump highlights potential mood change regarding earnings.
---
07/25/19
There's more to the tech sector than the names that dominate financial news.
---