Extra credit: Bull put spreads
HCP options volatility recently at elevated levels
Recent sell-off dropped stock to all-time lows
Puts spreads can be used to take long positions
Options traders know one of the potential upsides of the type of volatility we've experienced recently is that it can push up options prices to exceptionally high levels.
In these conditions, some traders look for opportunities to sell options high and buy them back low (or let them expire) as volatility retreats to more normal levels. But selling options isn't the same as selling the underlying stock.
Last week, for example, cloud infrastructure stock HashiCorp (HCP) fell to multiple all-time lows: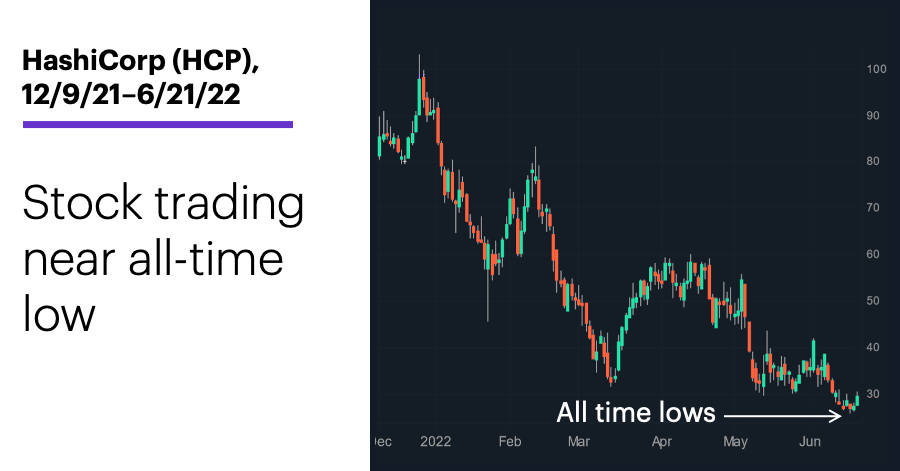 Source: Power E*TRADE. (For illustrative purposes. Not a recommendation.)
---
At last Thursday's low ($25.51), HCP was down more than 15% for the week and around 70% below where it closed on its first day of trading last December ($85.19).
At the same time, on June 14 the stock appeared on the LiveAction scan for unusually high implied volatility (IV):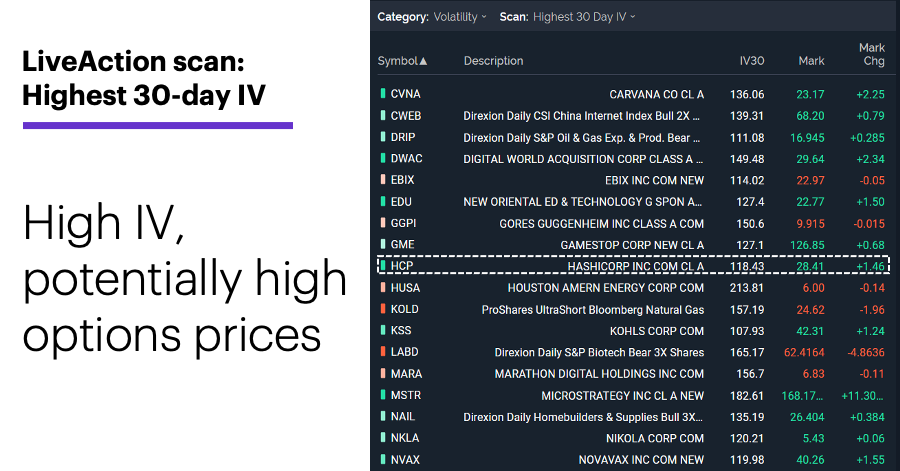 Source: Power E*TRADE. (For illustrative purposes. Not a recommendation.)
---
An options trader who thought the stock could rebound over the next month or so may have reasonably considered selling puts, since the combination of high IV and the stock's sell-off had driven put premiums sharply higher. From June 7 to June 16, for example, the HCP July $25 put more than doubled, from $1.60 to $3.27.
Like a long call, a short put represents a bullish position on the underlying stock. Unlike a long call, though, a short put has unlimited risk. One way to limit that risk is to simultaneously buy a second put with a strike price below the strike of the short put. The result is a bullish vertical put spread, which has the same limited-risk, limited-reward profile as a bullish vertical call spread, with one twist: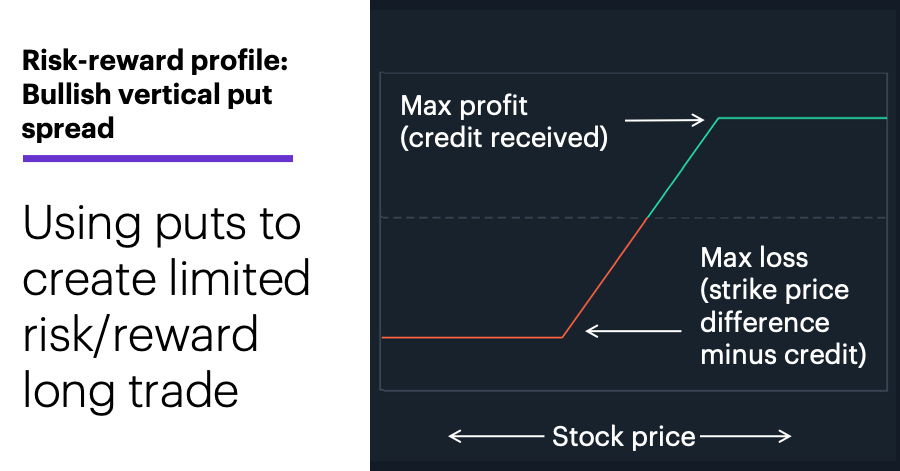 Source: Power E*TRADE. (For illustrative purposes. Not a recommendation.)
---
A bullish vertical call spread is a "debit spread" because the lower-strike long call will always be more expensive than the higher-strike short call, which means a trader has to spend money to establish the position. A bullish vertical put spread is a "credit spread" because the higher-strike short put is more expensive than the lower-strike long put, which means the trader typically collects premium when establishing the position.
That net credit—the difference between the money the trader takes in from selling the short put minus the money spent to buy the long put—is the bullish vertical put spread's maximum potential profit. Its maximum loss is the difference between the two strike prices, minus the net credit.
Some traders may instinctively prefer to use calls to go long and puts to go short. Others may prefer credit spreads over debit spreads because the former "pays them up front" to put on a trade. In practice, though, the decision to use puts or calls in a bullish spread should be based on the potential advantages in a given situation.
In certain circumstances, such as when high volatility inflates options premiums, it can sometimes make more sense to use puts to go long—just as it can be advantageous to use calls to go short.
Market Mover Update: Tuesday was the S&P 500's (SPX) first 2%-or-larger up day since May 27, and its tenth so far this year. While long-time traders know big up days tend to be followed by smaller-than-average short-term gains, the SPX's performance after this year's 2%-plus up days sheds some light on the additional impact of the current downtrend: While the SPX's long-term average five-day return after a 2%-or-larger up gain is around 0.5%, the average five-day return after the ones that occurred this year is -1.1%.1
With more housing data scheduled for this week and US home prices still near record highs, Morgan Stanley & Co. analysts recently noted consumer attitudes toward buying homes are worse than they've been since 1982. But that doesn't mean they think the housing market is in a bubble. Higher lending standards compared to the early-2000s housing bubble, and the fact that most homeowners have fixed-rate mortgages with affordable payments could mean home prices stay strong while home sales and mortgage applications continue to decline.2
Today's numbers include (all times ET): MBA Mortgage Applications (7 a.m.), Jerome Powell testifies before Senate Banking Committee (9:30 a.m.).
Today's earnings include: Winnebago (WGO), KB Home (KBH), Steelcase (SCS).
Click here to log on to your account or learn more about E*TRADE's trading platforms, or follow the Company on Twitter, @ETRADE, for useful trading and investing insights.
---
1 All figure reflect S&P 500 (SPX) daily prices, 12/31/59–6/21/22. Supporting document available upon request.
2 MorganStanley.com. U.S. Housing Market: Breaking Records not Bubbles. 6/16/22.
What to read next...
06/21/22
Stocks extend losses as Fed dials up its inflation fight.
---
06/15/22
Central bank takes inflation fight to next level.
---
06/14/22
Find out about the trading alerts that may have been triggered by the market's drop to fresh lows.
---