Volume surges as option window closes
CMP up more than 7% since Thursday
Call volume roughly 85 times put volume on Monday
Largest trade: New position in calls expiring on Friday
Compass Minerals (CMP) may not have had the market's highest call-put ratio Monday morning, but it did distinguish itself in a small but important way.
In early trading, CMP calls were outtrading puts 85.48 to 1—seventh-highest among stocks trading at $10 or higher, but still less than one-twentieth the pace of the stock at the top of the scan, Manchester United (MANU):
Source: Power E*TRADE. (For illustrative purposes. Not a recommendation.)
---
But while some of the other stocks on the scan were experiencing heavy call volume in more distant contract months, the big-ticket trade in CMP—2,600 contracts—was in the September $42.50 options expiring at the end of this week. No other CMP call—in any expiration month—had volume above 26 contracts yesterday morning: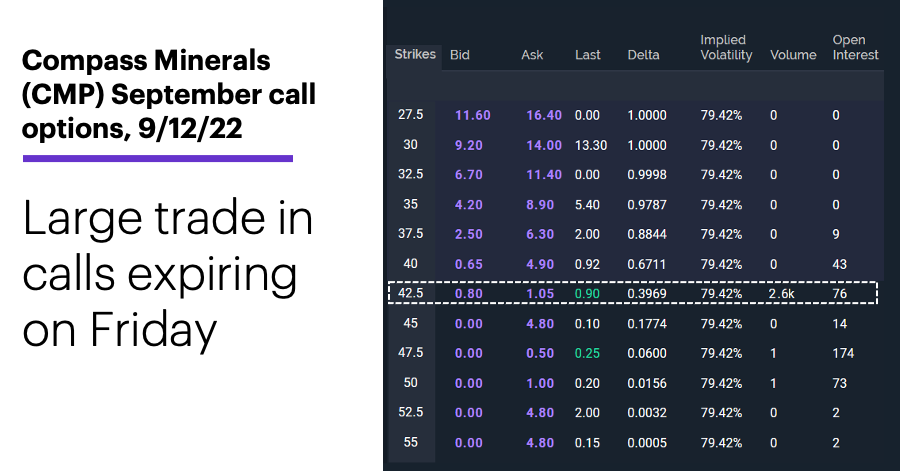 Source: Power E*TRADE. (For illustrative purposes. Not a recommendation.)
---
That's significant because, whatever the purpose of these trades, whoever made them was operating on a time horizon of just a few days—not weeks or months. It's one thing to wonder whether a large call position implies traders are expecting a certain move in the underlying stock over the next several weeks or months, it's another when a move has to occur over the next 96 hours or so. And yesterday morning's volume wasn't about traders getting out of positions before expiration, because the contract's existing open interest was only 76.
Meanwhile, CMP shares were up more than 3.5% in early trading (around $41.50, just below the option's strike price), eventually gaining more than 5%: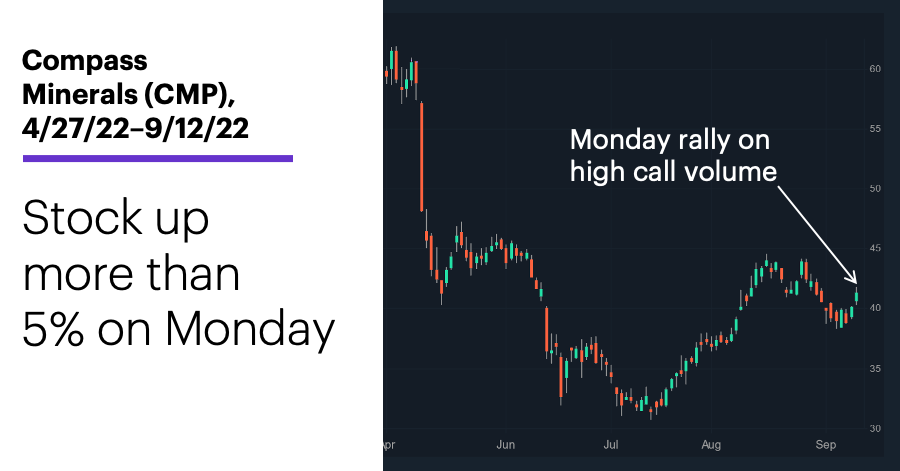 Source: Power E*TRADE. (For illustrative purposes. Not a recommendation.)
---
Bottom line, traders who bought the September $42.50 calls will be holding worthless options at the end of the week unless CMP is trading above that level. (Of course, in that case, traders who sold them will get to keep all the premium they collected.) And with the average trade yesterday occurring around $0.90, the stock would have to be at least $43.40 to offset the cost of those options and reach breakeven on the trade.
Compressed trade horizons like this are relatively rare opportunities for traders and investors: They get a chance to see the possible connection between unusual options activity and the underlying stock in a way that isn't always possible on longer time frames. Are the bulls right about CMP in the near term? Barring any change in yesterday's positions over the next few days, traders may soon have an answer.
Market Mover Update: Monday.com (MNDY) had a good Monday, opening the week with a 7%-plus rally, resulting in a 51% gain in the October $125–$145 call spread (see "Large trader footprints").
Today's numbers include (all times ET): NFIB Small Business Optimism Index (6 a.m.), Consumer Price Index, CPI (8:30 a.m.).
Today's earnings include: Core & Main (CNM).
Click here to log on to your account or learn more about E*TRADE's trading platforms, or follow the Company on Twitter, @ETRADE, for useful trading and investing insights.
---
What to read next...
09/12/22
Market makes most of holiday-shortened week, snaps losing streak.
---
09/09/22
Was a large options trader targeting near-term gains in this cloud stock?
---