EU generating clean energy tailwinds?
European Commission seeks independence from Russian natural gas
Roadmap supports accelerated solar, hydrogen, wind adoption
Many clean energy stocks at steep discounts to last year's highs
Few areas of the market have been as impacted by the tragic war in Ukraine as energy. Petroleum products as well as alternative energy sources jumped as the conflict—and the economic sanctions stemming from it—raised concerns of supply disruptions.
Nowhere have such concerns been greater than in Europe, which relies heavily on Russia for oil and natural gas.
One potentially overlooked development: Last week the European Commission released a roadmap for achieving independence from Russian gas before 2030.1  As Morgan Stanley & Co. analysts noted, the plan includes upping the European Union's overall renewable energy targets, speeding up approvals of renewable energy projects, pushing rooftop solar, and beefing up green hydrogen infrastructure.2
Among the US stocks Morgan Stanley & Co. cited as best positioned to benefit from the plan's potential tailwinds were solar companies Maxeon Solar Technologies (MAXN) and SolarEdge Technologies (SEDG), wind turbine blade manufacturer TPI Composites (TPIC), and hydrogen fuel cell maker Plug Power (PLUG), all of which are still trading at steep discounts to their 2021 highs despite having bounced off their January or February lows: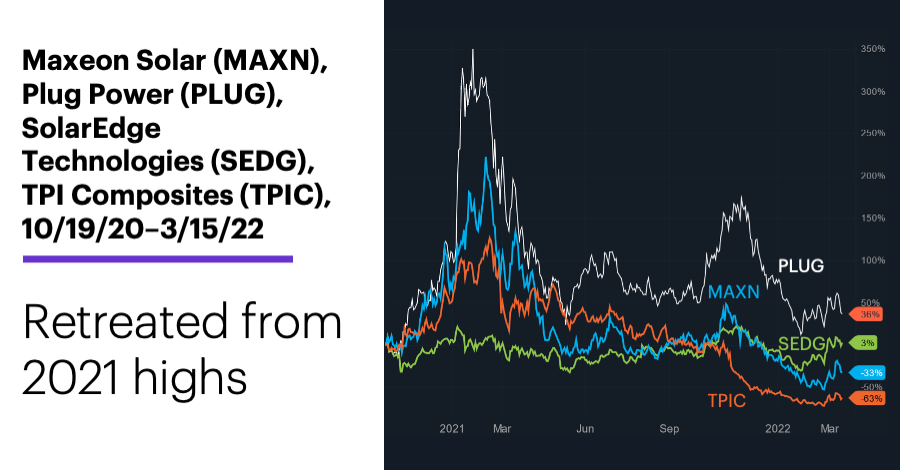 Source: Power E*TRADE. (For illustrative purposes. Not a recommendation.)
---
Isolating PLUG in the chart below highlights a couple of realities traders may be thinking about. First, like most energy stocks, PLUG has been subjected to a great deal of volatility lately. Although the stock rallied as much as 35% off its February 23 close (immediately before the Russian invasion), at Tuesday's low it was down more than 20% from its March 10 high. That said, many traders have likely noticed PLUG has bounced twice over the past recently after testing its 2021 low around $18.50: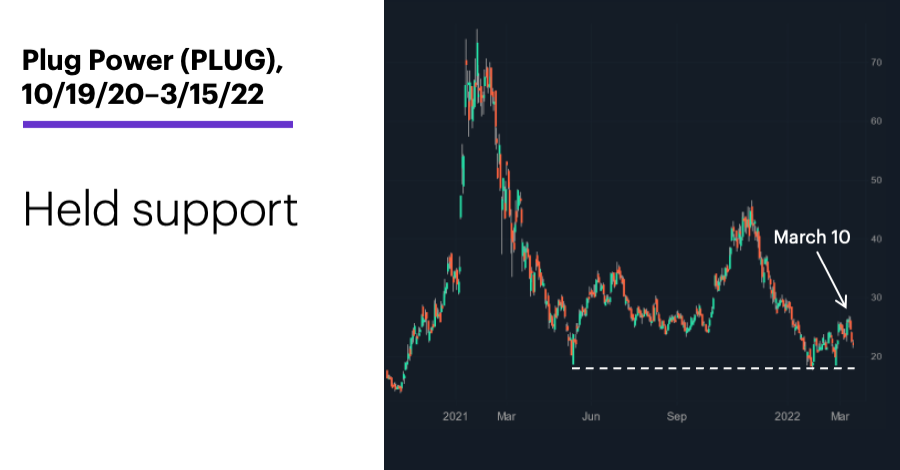 Source: Power E*TRADE. (For illustrative purposes. Not a recommendation.)
---
Until there's more clarity about the war in Ukraine, volatility could be the dominant story in the space. The recent down moves in oil and all types of energy stocks show how quickly sentiment can shift in uncertain conditions. But traders who also have an eye on the longer-term picture—which may include a major initiative in Europe—may be watching PLUG and other renewable stocks as they test former lows.
Market Mover Update: Having fallen more than 25% from its March 7 high and around 12% over the past two days, April WTI crude oil futures (CLJ2) are trading below $100/barrel—close to where they were right before Russia invaded Ukraine (see "Oil on full boil"). Gold, palladium, and other precious metals that jumped as war broke out have also pulled back sharply from their post-invasion highs.
Tapestry (TPR) hasn't yet transitioned out of its elevated volatility phase: After falling 1.8% on Monday, the stock jumped more than 6% intraday yesterday before settling for a smaller gain (see "Buying and selling volatility").
Today's numbers include (all times ET): Mortgage Applications (7 a.m.), Retail Sales (8:30 a.m.), Import and Export Prices (8:30 a.m.), Business Inventories (10 a.m.), Housing Market Index (10 a.m.), EIA Petroleum Status Report (10:30 a.m.), Fed interest rate announcement (2 p.m.).
Today's earnings include: Lands' End (LE), RumbleON (RMBL), Jabil (JBL), BRC (BRCC), Lennar (LEN).
Click here to log on to your account or learn more about E*TRADE's trading platforms, or follow the Company on Twitter, @ETRADE, for useful trading and investing insights.
---
1 European Commission. REPowerEU: Joint European action for more affordable, secure and sustainable energy. 3/8/22.
2 Morgan Stanley & Co. Potential Upside from REPowerEU. 3/9/22.
Important note regarding economic sanctions. This event may involve the discussion of country/ies which are generally the subject of selective sanctions programs administered or enforced by the U.S. Department of the Treasury's Office of Foreign Assets Control ("OFAC"), the European Union and/or by other countries or multi-national bodies. The content of this presentation is for informational purposes and does not represent Morgan Stanley's view as to whether or not any of the Persons, instruments or investments discussed are or may become subject to sanctions. Any references in this presentation to entities or instruments that may be covered by such sanctions should not be read as recommending or advising on any investment activities involving such entities or instruments. You are solely responsible for ensuring that your investment activities in relation to any sanctioned country/ies are carried out in compliance with applicable sanctions.
What to read next...
03/15/22
Large prints on Monday's options tape illustrate the logic behind non-directional options strategies.
---
03/14/22
More choppy trading as Ukraine war continues, markets eye upcoming interest rate announcement.
---
03/11/22
Stock's recent doldrums camouflage below-the-surface options activity.
---