Energy throttles back
Crude oil, energy stock rallies paused this week
Oversupply worries return as new oil production ramps up
Energy stocks may offer opportunities on both sides of market
Haven't been able to say this much lately: Crude oil is down.
You probably can't blame the oil market for taking a breather. After all, from late April to June 8, August WTI crude oil futures (CLQ0) rallied a little more than 100%, more than twice as much as the S&P 500's (SPX) gain off its March low. That rally played a big role in resuscitating energy stocks—which may have been on life support in March, but have since been the SPX's healthiest sector.
But it's been a busy week in the oil space, both on and off the chart, and there are indications traders may be reassessing what the market has done recently, and where it may be going. In other words, traders may be looking at a potential "inflection point."
The following chart shows that after hitting a three-month high of $40.69 on Monday, August WTI crude oil futures (CLQ0) pulled back as reports of oversupply have emerged—a worry that was likely not helped by yesterday's EIA Petroleum Status Report, which showed a 5.6 million barrel increase in oil inventories for the most recent week:1
Source: Power E*TRADE
---
Many traders also likely noticed the rally paused just as the market reached the resistance level defined by the early-March down gap, and just a little below the 50% retracement level (around $41.25) of the January–April sell-off.
Traders often like to say "news follows the price action" (not the other way around), so it may be no coincidence that the market's retreat from Monday's high has been accompanied by news that Goldman Sachs was looking for crude to pull back in coming weeks because, among other factors, more supply (including US shale) would be coming back online.2
Add to that evidence of cracks in the efforts of global oil pumpers to tamp down production—one of the original catalysts of the April–June rally. Even though last weekend OPEC and its allies announced they would maintain their previously agreed-upon cuts through July, Saudi Arabia, Kuwait, and the United Arab Emirates decided not to extend their additional, "voluntary" reductions of roughly 1.2 million barrels/day. And then there's the ongoing issue of suppliers cheating—pumping and selling more oil than they said they would.3
Many oil stocks have followed crude's path upward in recent weeks, if not to the same extent. (Also, oil stocks bottomed in March, roughly a month before crude.) The following charts shows Exxon Mobil (XOM) and Chevron (CVX) both broke out above their April–May highs (dashed lines) before pulling back this week, but Royal Dutch Shell (RDS.A) turned lower without breaking out: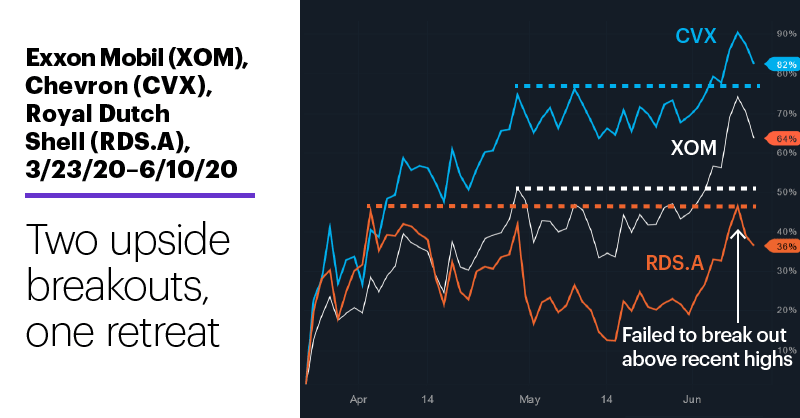 Source: Power E*TRADE
---
As discussed in "When the chips are down…" long-side traders often look for pullback opportunities in strong stocks within strong sectors. The same holds true for short-side plays: Traders expecting downside in a sector would likely look to sell its weakest stocks, not its strongest ones.
But those stocks exhibiting relative strength can then become targets for long-side strategies if and when the prospects for a sector flip back to bullish.
Today's numbers (all times ET): Jobless Claims (8:30 a.m.), Producer Price Index, PPI (8:30 a.m.), Quarterly Services Survey (10 a.m.).
Today's earnings include: Adobe (ADBE), Lululemon Athletica (LULU), PVH (PVH).
Click here to log on to your account or learn more about E*TRADE's trading platforms, or follow the Company on Twitter, @ETRADE, for useful trading and investing insights.  
---
1 U.S. Energy Information Administration. Weekly Petroleum Status Report. 6/10/20.
2 MarketWatch.com. Oil ends lower as extension of OPEC+ output cuts fail to stem oversupply worries. 6/8/20.
3 Reuters. Goldman Sachs expects oil rally to run out of steam soon. 6/9/20.
What to read next...
06/10/20
Some new stock listings have skyrocketed in recent days. Just a case of temporarily bottled-up demand, or a new market catalyst?
---
06/09/20
Semiconductor component stock slips from highs. A larger market forces aligning as stock nears potential test level?
---
06/08/20
The Nasdaq 100 starts a new week at record highs after the latest jobs report blows away estimates.
---