The election–year market pattern
Stock returns have sometimes lagged in presidential election years
A reflection of caution on the part of investors?
The underperformance is sometimes overstated, though
In case you hadn't heard, 2020 is an election year.
Just about one year ago in this space, we mentioned one of the potential stock market catalysts for 2019 was the fact that it was the year before a US presidential election—years that have, over the past six decades, compiled a fairly solid track record for bullishness.
This year didn't disappoint in that regard, as the S&P 500 (SPX) has the potential to bag its second-best year since 1999. Election years themselves have a different reputation, though.
The following chart may be one reason some market watchers have advised US investors and traders to dial back their bull-o-meters from 2019 levels. Since 1960, the SPX has gained, on average, 6.7% during presidential election years—that's less than half of its 15.4% average annual gain for the years before election years.1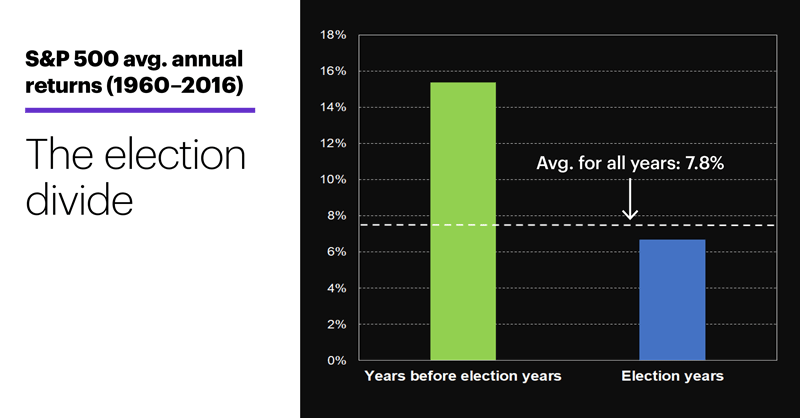 Source (data): Power E*TRADE
---
The reasons cited for this apparent underperformance are usually variations on "uncertainty"—investors are cautious because an unexpected electoral outcome (hmm…when have we had one of those?) could change their market outlook.
But the headline doesn't do justice to the details in this case. Probably the most notorious episode of election-year underperformance occurred in 2008, when the SPX fell 38.5%. But attributing that nosedive to an election-year seasonal pattern—when the US financial system was experiencing its worst crisis since the Great Depression—probably doesn't make much analytical sense. And 2008 had a big impact on the above chart.
Yes, it's usually a bad idea to cherry-pick data, but given how much of an outlier 2008 was, it's fair to ask what the election–year picture would look like in its absence. The following chart, which removes 2008 from the calculations, looks similar to the first one but has a key difference. While election years still underperformed the years preceding them by a wide margin, their average return was 9.9%—better than the SPX's overall average annual return (8.7%) for the entire 1960–2016 period.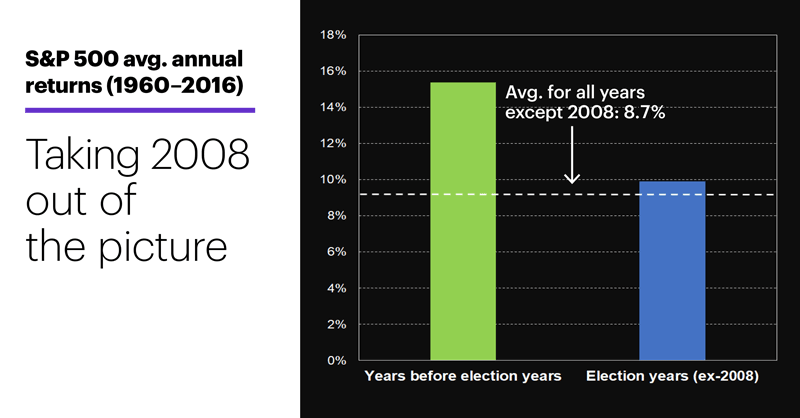 Source: Power E*TRADE
---
So, while the election-year pattern may suggest 2020 could end up with smaller stock-market gains than 2019—well, very few years are as strong as 2019, and many other factors will contribute to the twists and turns the market will inevitably take before it reaches its year-end destination.
In other words, the election probably won't cast the deciding vote on the stock market's 2020 performance.
Today's numbers (all times ET): Durable Goods Orders (8:30 a.m.).
Click here to log on to your account or learn more about E*TRADE's trading platforms, or follow the Company on Twitter, @ETRADE, for useful trading and investing insights.
---
1 Reflects S&P 500 closing price data from 12/31/59–12/31/16. Supporting document available upon request.
What to read next...
12/16/19
Stocks back to record highs amid trade optimism and a hands-off Fed.
---
12/13/19
China-sensitive retailer's options may offer discount for bulls.
---
12/12/19
Financial companies usually kick off quarterly reporting season. Do their stocks get a head start on the action?
---