E-commerce on the bid
EBAY up more than 8% over past two days
Stock has pulled back in recent months after hitting new record highs
Recent bounce followed test of long-term support
Sometimes when a stock is on the move, you can check the news and find a few headlines that explain why traders have jumped into the fray—earnings, a successful clinical trial or product launch, an analyst upgrade.
Other times, markets ramp up their momentum when the only sound from the news ticker is crickets chirping. Yesterday, for example, trading in eBay (EBAY) options was higher than normal despite a conspicuous absence of chatter about the symbol: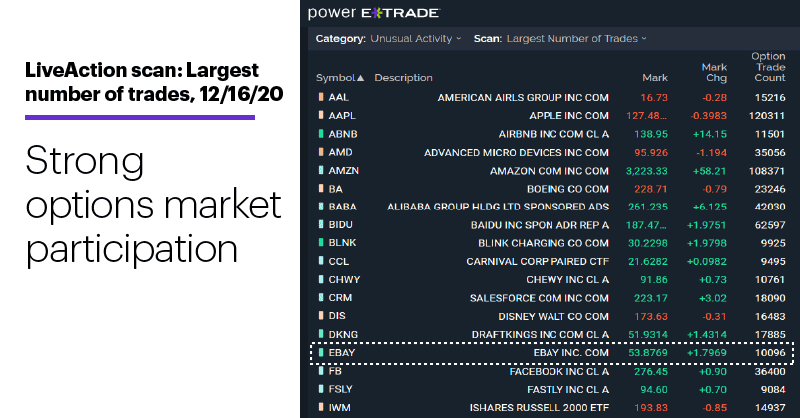 Source: Power E*TRADE
---
Having an exceptionally large number of trades is a little different than unusually high volume, since the latter can simply be the result of one or two large institutional trades. A high number of trades, on the other hand, can mean lots of people are involved—i.e., the type of broad-based participation that some traders want to see support a price move.
And there was indeed a price move: Yesterday, EBAY posted its second-straight big up day—a 5.4% intraday rally that confirmed Tuesday's breakout above the November highs. But the following chart also shows the stock has been winding its way lower since hitting an all-time high around $61 in mid-July: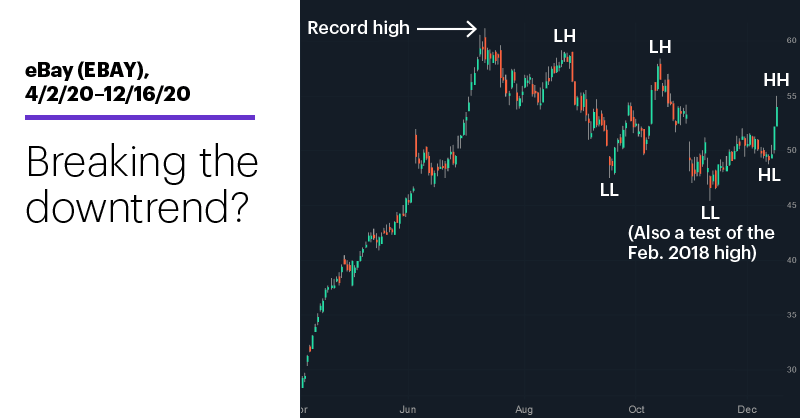 Source: Power E*TRADE
---
What may especially interest some traders about this week's price action is its potential disruption of a pattern that's been in place for roughly four months. Just as one of the most basic definitions of an uptrend is a series of progressively higher highs (HH) and higher lows (HL), a downtrend can be defined as a series of lower highs (LH) and lower lows (LL)—precisely what unfolded in EBAY from August to mid-November.
But notice that this week's upturn formed a higher low and higher high—a move that, although it can't be said to definitively end the retreat from the July highs (the stock pulled back from yesterday's intraday highs, by the way), may get some extra attention from traders, for a couple of reasons:
●The high level of options activity.
●The fact that the mid-November low also represented pullback to test the former record high from February 2018 (check out a month chart when you have a minute).
The near-term bullish path is simple: While few experienced traders would be surprised to see prices pull back after such an energetic bounce (say, to test the breakout above the November high), for an "uptrend" pattern of higher highs and higher lows to remain intact, prices can't fall below last week's swing low around $48.70.
That doesn't mean the stock will follow through on that bullish path, but it's always good to find out about  potential moves that may be closer to the starting gate than the finish line.
Today's numbers (all times ET): Housing Starts and Permits (8:30 a.m.), Weekly Jobless Claims (8:30 a.m.).
Click here to log on to your account or learn more about E*TRADE's trading platforms, or follow the Company on Twitter, @ETRADE, for useful trading and investing insights.  
---
What to read next...
12/16/20
Stock's recent retreat may be the prescription some bulls were looking for.
---
12/15/20
After hitting one technical milestone, traders may be watching for this software stock to tag another.
---
12/14/20
Tech and large caps may have slumped last week (after hitting new records, of course), but small caps maintained their bullish stance.
---