Earnings—before and after
NFLX on six-day losing streak with earnings due next week
Shares down roughly 50% from November record high
Stock has sometimes rallied into earnings, declined after
With the arrival of a new earnings season, traders can look forward to plenty of talk about "beats," "misses," and "forward guidance"—not to mention the big price moves that often occur when a company surprises the Street.
Most of the time, of course, the focus is on the numbers themselves and the stock's immediate reaction to them. For example, the following earnings profile for Netflix (NFLX) shows the stock's average earnings-day move (yellow dashed line) is +/-7.4%, which is a little smaller than the options market's average implied move of +/- 8.1% (purple dashed line):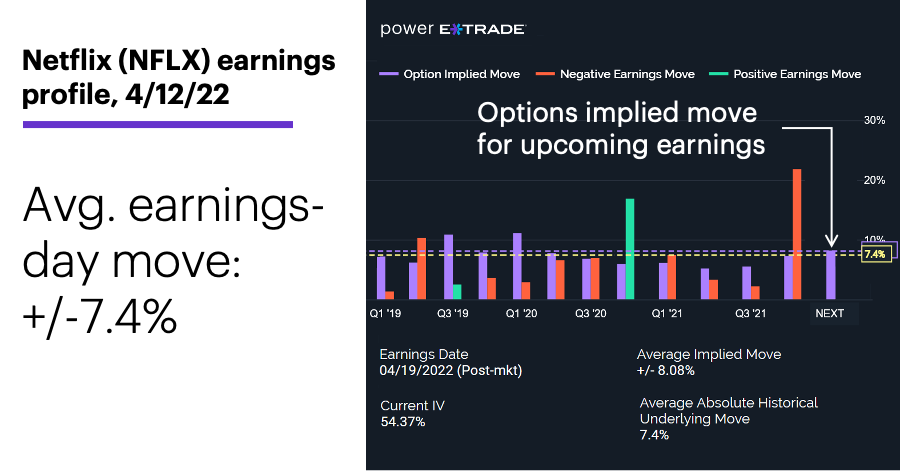 Source: Power E*TRADE. (For illustrative purposes. Not a recommendation.)
---
The purple bars show the implied moves for the individual earnings releases over the past 12 quarters, while the green and red bars show how much the stock actually gained or lost, respectively, after each announcement. For example, before NFLX's previous earnings release in January, the options market was forecasting a +/-7.2% earnings move, while the stock actually fell 22%.
Netflix is currently scheduled to release earnings after the closing bell on April 19, and yesterday the options market was forecasting the stock to move +/-8% on earnings day (purple bar labeled "NEXT"). The stock's post-earnings history has been fairly volatile: Over the past 46 quarters, NFLX closed lower after announcing earnings 28 times and was down after one week 27 times.1
Before earnings was a slightly different story, though. In the last five trading days before releasing its numbers:
1. NFLX rallied 27 out of 46 times, with an average return of +1.4%.
2. On earnings day (remember, NFLX announces after the market closes), the stock was up 29 out of 46 times, with an average return of 0.8%.
If NFLX does, in fact, move higher in the final week before earnings, it will be swimming against the tide of its biggest correction since 2011. Over the past five months, the stock has given back almost all of its 131% rally off its March 2020 lows, and is down approximately 50% from its November record close of $691.69: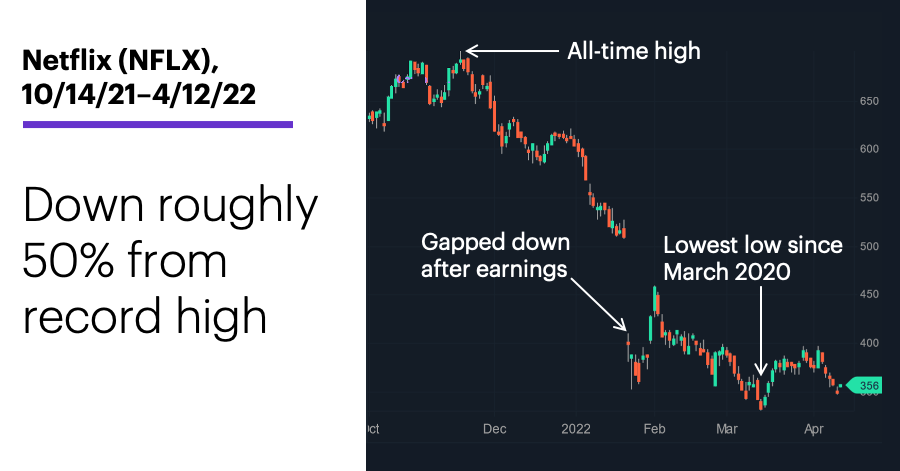 Source: Power E*TRADE. (For illustrative purposes. Not a recommendation.)
---
Despite its most recent pullback, though, the stock is still above its mid-March lows.
Finally, one thing that often precedes an earnings release—regardless of the stock—is an increase in implied volatility (IV), especially in the options that expire closest to the announcement. Yesterday, for example, IV in NFLX options expiring on April 22 (three days after earnings) was 19 percentage points above average—a much bigger difference than in the April 29 or May 6 options: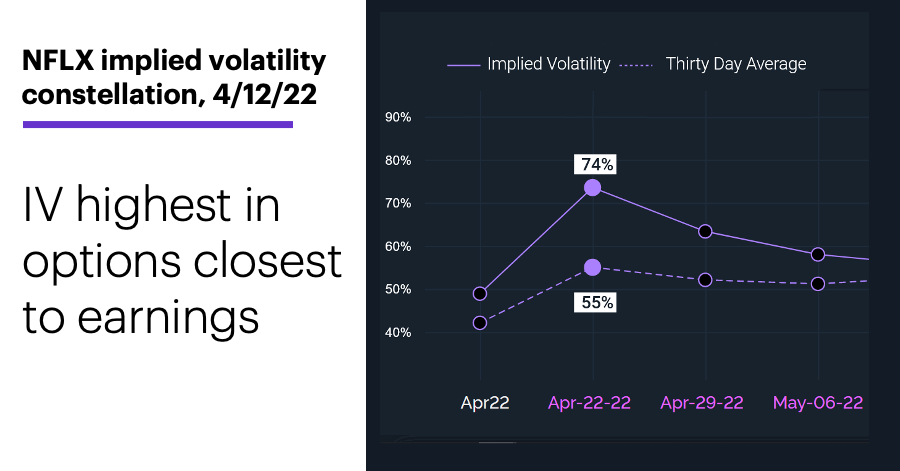 Source: Power E*TRADE. (For illustrative purposes. Not a recommendation.)
---
But just as IV typically increases before earnings, it also tends to contract immediately after—for a very simple reason: Earnings results are uncertain, and that uncertainty is often reflected in higher IV and higher (relative) options prices. After the numbers come out, the uncertainty is removed, and IV shrinks.
Today's numbers include (all times ET): Mortgage Applications (7 a.m.), Producer Price Index, PPI (8:30 a.m.), Atlanta Fed Business Inflation Expectations (10 a.m.), EIA Petroleum Status Report (10:30 a.m.).
Today's earnings include: Bed Bath & Beyond (BBBY), Delta Air Lines (DAL), Infosys (INFY), Fastenal (FAST), First Republic Bank (FRC), BlackRock (BLK), JPMorgan Chase (JPM).
Click here to log on to your account or learn more about E*TRADE's trading platforms, or follow the Company on Twitter, @ETRADE, for useful trading and investing insights.
---
1 All figures reflect Netflix (NFLX) closing prices, 2010–2020. "Last five days before earnings" refers to the difference between the closing price on the day earnings are announced and the closing price five trading days earlier. Supporting document available upon request.
What to read next...
04/12/22
Hydrogen producer's options volatility makes a move while its stock stands still.
---
04/11/22
Market extends pullback as central bank dials up tightening talk.
---
04/08/22
Big prints in consumer stock's soon-to-expire options indicate potential trader interest—but which way are they leaning?
---