To beat or not to beat?
Mattel releases earnings next week amid competing toy-sector themes
Earnings beats generally unrelated to near-term stock movement
Current estimate of earnings move at odds with historical record?
While earnings season always generates chatter about a particular company's likelihood of "beating its numbers," those discussions tend to focus less on what the stock does after it releases them. That may represent a bit of a disconnect, since earnings reports are often followed by perspective-changing price moves with seemingly little connection to the numbers themselves.  
For example, consider toymaker Mattel (MAT), which is scheduled to release its numbers next Tuesday (July 27). After hitting a 29-year low during the worst part of the March 2020 COVID sell-off, MAT got off the mat, rallying 222% to hit a high of $23.31 after its most recent earnings release in April: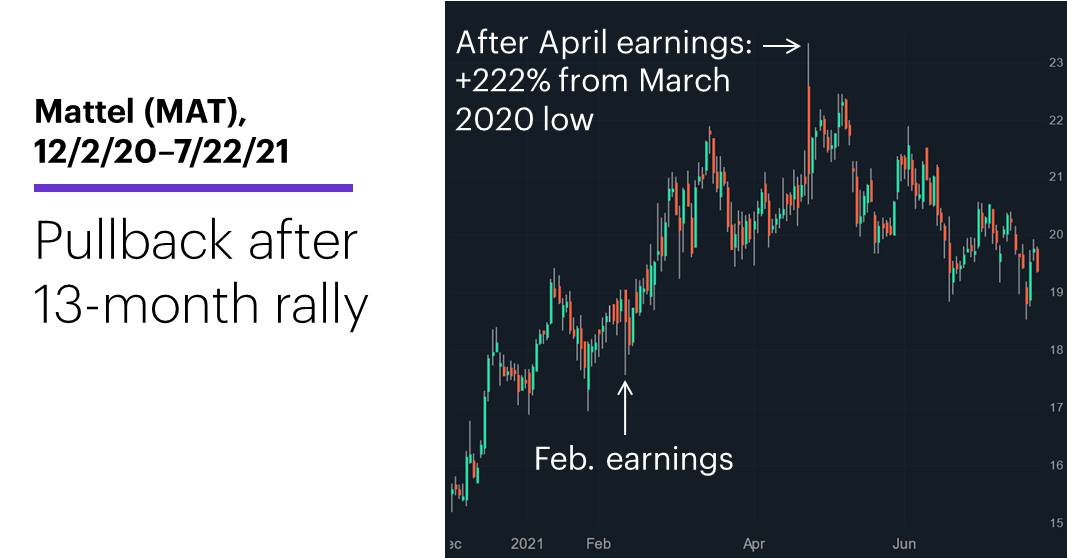 Source: Power E*TRADE
---
That turnaround—the stock had been trending mostly lower since hitting an all-time high in 2013—was widely attributed to the demands of the stay-at-home economy, as parents adapted to meet the entertainment needs of children who were suddenly home much more than they used to be. Mattel did, in fact, put together back-to-back quarters of 10% sales growth in the second half of 2020.1
Mattel is currently down around 13% from its recent high, having hit a five-month low of $18.52 on Monday. Overall, though, the Street appears to have remained relatively upbeat on the stock (average analyst target: $26.132), with some chatter about the possibility of an earnings beat—despite reports that supply chain issues could potentially impact the holiday shopping season.3
But chatter is just that—talk. No one knows whether or not any stock will beat its numbers, by how much, or how its stock will react. But on the last point, consulting the historical record can help provide a framework for traders to operate in before the volatility begins.
For the record, since 2012, MAT has topped its headline earnings estimate only 15 out of 36 times, although it has beaten that number nine out of the past 12.4 The following chart shows what the stock has done on the past seven earnings days, along with what the options market was expecting it to do: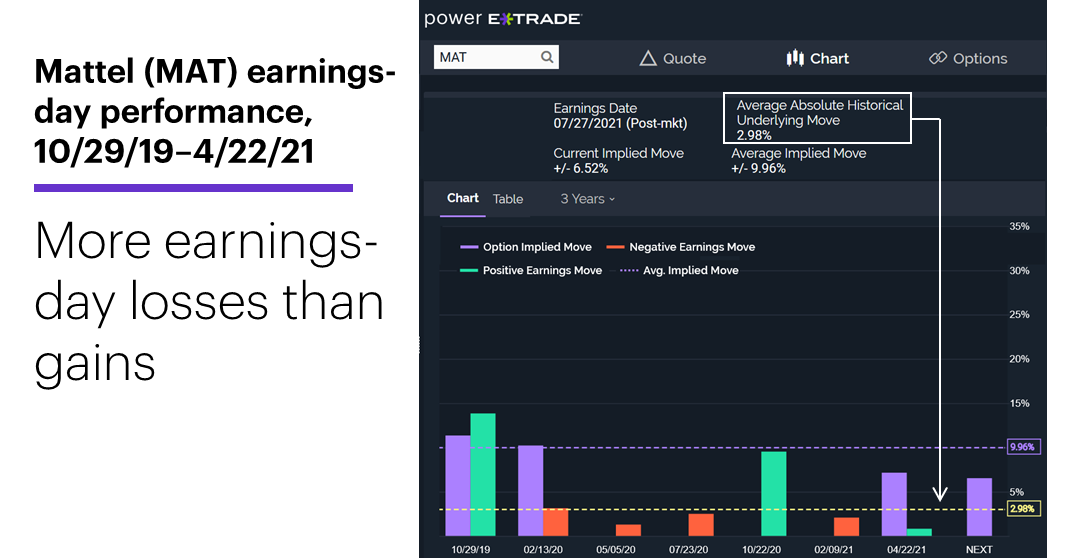 Source: Power E*TRADE
---
Mattel fell on earnings day four times (red columns) and rallied three times (green columns), with only three of these moves being larger than the three-year average of +/-2.98% (yellow dashed line). Also notice the average earnings move implied by the options market (purple dashed line) is more than three times the size of the average actual move. The final purple column ("Next") shows that yesterday the options market was pricing in a 5.4% earnings-day move for next week's announcement.
That's not the end of the story, though. Overall, the stock has rallied on earnings day 17 out of 36 times since 2012, but it was higher five days after earnings 22 times—suggesting that, in some cases, at least, the stock rebounded after an initial post-earnings dip.
The lesson: Instead of just guessing whether a company will beat or miss its numbers, traders may also want to focus on how a stock has actually tended to perform after earnings.
Today's numbers include (all times ET): Markit Manufacturing PMI (flash) and Markit Services PMI (flash), 9:45 a.m.
Today's earnings include: American Express (AXP), Kimberly-Clark (KMB), Honeywell (HON), Schlumberger (SLB).
Today's IPOs include: Outbrain (OB), Ocean Biomedical (OCEA).
Click here to log on to your account or learn more about E*TRADE's trading platforms, or follow the Company on Twitter, @ETRADE, for useful trading and investing insights.
---
1 Zacks.com. 3 Cheap Stocks to Buy in Q3 for Big Upside. 7/20/21.
2 TipRanks. Mattel Stock Forecast & Price Targets. 7/22/21.
3 MarketWatch.com. Santa could be stalled as supply chain issues put toy sector at risk for the holidays. 7/20/21.
4 StreetInsider.com. Mattel (MAT) Earnings. 7/22/21.
What to read next...
07/22/21
Semiconductor stock falls to new lows: Where do its options fit into the picture?
---
07/21/21
Action in this airline shows why, when attempting to interpret options activity, the key word is "context."
---
07/20/21
Stocks that buck the market can sometimes underscore pockets of market strength or weakness.
---