Earnings surprise gets a test
COUP dropped 10% yesterday after earnings
Month-long correction has approached Sept.-Nov. lows
Following pattern of short-term post-earnings weakness?
At first glance Wednesday's price action in enterprise software company Coupa Software (COUP) may have looked like a typical earnings-disappointment sell-off, but it had a few unique characteristics that may have attracted the interest of shorter-term traders.
For starters, the headline numbers themselves topped expectations1—earnings were actually positive instead of negative, and revenues were up 47% from the year-ago quarter. And while COUP initially jumped as much as 11% in Tuesday's after-hours session after the announcement, it quickly traded 10% lower after the bell rang yesterday morning:
Source: Power E*TRADE
---
Maybe the headlines didn't capture the whole story?
Some background on COUP's historical tendencies and the broader market environment may help put yesterday's price action in a different light:
1. COUP's average one-week move after an earnings announcement is negative.2 For example, in the first two days after its September 8 and December 7, 2020 earnings releases, COUP fell 8% and 5% after beating its numbers, so it's no stranger to the type of price action it experienced yesterday.
2. COUP's month-long retracement has unfolded amid a larger technology retreat. Tech has been the S&P 500's weakest sector over the past month, and the Nasdaq 100 (NDX) is the worst-performing major US stock index so far this year.
Not coincidentally, tech again led the market to the downside yesterday morning, with the NDX falling as much as 1.5%. In other words, sector weakness may have exacerbated the stock's sell-off.
Although COUP is only a month removed from its all-time highs—the top of a 238% "rally" off its March 2020 low—the chart shows the high-momentum phase of that move ended last July. Since then the stock has swung in a huge trading range that has expanded a few times to the upside, but has yet to trade below the support level (around $240) defined by its September and November lows—the level it approached once again yesterday.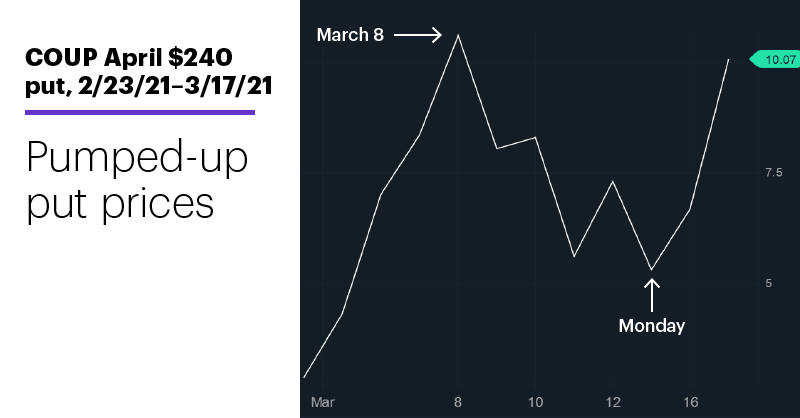 Source: Power E*TRADE
---
Time will tell whether this general price zone will launch a third upswing for the stock, but in the meantime, traders are looking at much cheaper call options and richer puts than they've seen in a while. The chart above shows the April $240 puts were up around 51% yesterday—and nearly double where they were on Monday—when COUP was down less than 7% on the day.
One lesson here is that news never occurs in a vacuum, and that traders may be able to gain insight into  a stock's price action if they know how it may fit into the larger market environment.
Market Mover Update: Criteo (CRTO) retreated more than 5% intraday yesterday (see "Options spotlight").
Today's numbers (all times ET): Leading Indicators (10 a.m.).
Today's earnings include: Accenture (ACN), Ollie's Bargain Outlet (OLLI), Carnival (CCL), Weibo (WB), Dollar General (DG), Canadian Solar (CSIQ), FedEx (FDX), Nike (NKE).
Today's IPOs include: Duckhorn Portfolio (NAPA), Vine Energy (VEI), Gain Therapeutics (GANX), Tuya (TUYA).
Click here to log on to your account or learn more about E*TRADE's trading platforms, or follow the Company on Twitter, @ETRADE, for useful trading and investing insights.  
---
1 MarketWatch.com. Coupa Software stock rallies after surprise Q4 profit, better sales. 3/16/21.
2 StreetInsider.com. Coupa Software (COUP) Earnings. 3/17/21.
What to read next...
03/17/21
A recent sell-off highlights a lesson in options spreads.
---
03/16/21
Pharma stock's sell-off highlights the gap between forecasts and reality—and how markets sometimes react in surprising ways.
---
03/15/21
Stocks rebound, but interest rates continue to make their presence felt.
---