Earnings, falling knives, and floors
ROP fell 6.7% Tuesday, entered longstanding support zone
SAP tumbled 23% on Monday, issued COVID warning
Bearish warning shots, or long-side opportunities?
Two stocks, two sell-offs, and two scenarios for traders to consider.
First up, industrial analytics and software provider Roper Technologies (ROP), which slid nearly 7% intraday yesterday in the wake of earnings that topped headline estimates but appeared to disappoint analysts with lower-than-expected Q4 guidance:1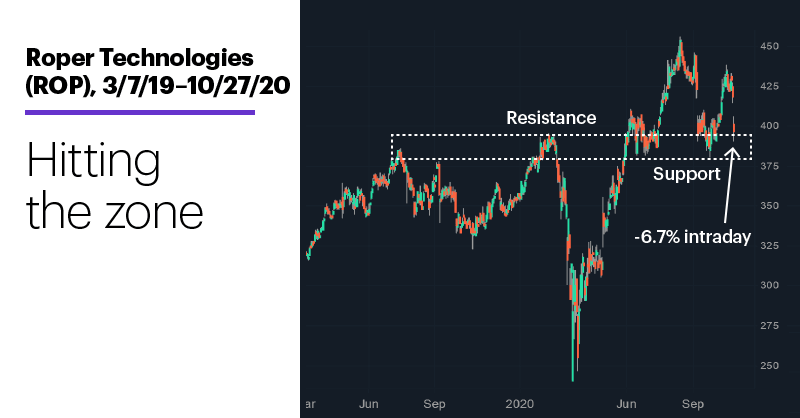 Source: Power E*TRADE
---
What many traders may have noticed yesterday was that ROP, which peaked around $455 in August, dropped back into a technical zone (roughly $380-$395) that functioned as resistance from July 2019 to February 2020, and has since provided support, most recently for a 14% rally off the September 24 swing low.
Although the stock didn't reach the bottom of the zone—i.e., it hasn't quite tested the June and September lows around $380—the fact that this general price level has been fertile ground for price reversals for more than a year (and hedge fund participation in the stock is reportedly at record levels2) will likely have bulls closely watching its price action in the next few days.
Now consider Monday's move in SAP (SAP), which makes ROP's drop look like a blip on the radar. The German enterprise software developer is one of the premier European tech companies, with a client roster chock-full of Fortune 500 companies. In addition to downsizing its full–year revenue outlook, Sunday's unexpected earnings release also included the company's forecast that another round of COVID-19 lockdowns would hurt business through the first half of next year.3
The result was a 23% flush-out and, after spending most of the morning in positive territory, a renewed slide yesterday: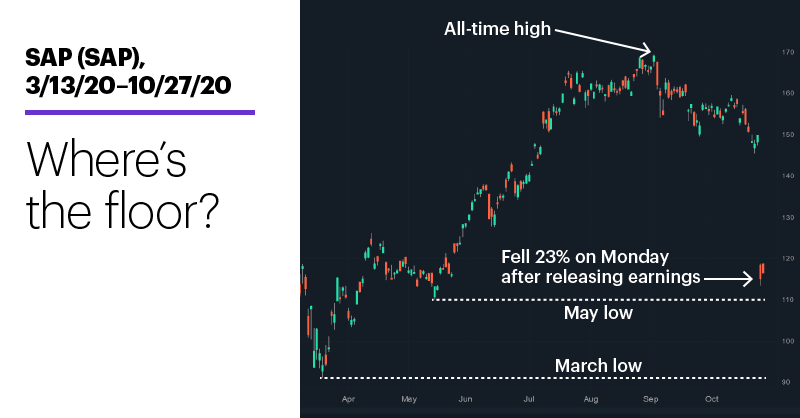 Source: Power E*TRADE
---
In contrast to ROP, though, SAP's sell-off didn't drop the stock to any easily recognizable technical level—for example, support that would make the average technician think, "Oh, it's testing that level." Around 1 p.m. ET yesterday shares were still $4–$5 above a test of the May low around $110 and $24–$25 above the March low around $90.
That doesn't mean the stock can't reverse to the upside immediately, it's just that when knives are falling, many traders like to know how far away the floor is, even if a stock ultimately cuts right through it and falls into the basement.
If you need any convincing that sharp sell-offs like the one SAP experienced on Monday are rarely one-day events, take a look at a few similar moves that have been discussed in this space in recent weeks: Palomar (PLMR), CarMax (KMX), Tiffany (TIF), and Crispr Therapeutics (CRSP). Although three of the four (PLMR, TIF, and CRSP) all rebounded relatively soon after their initial sell-offs, in each instance there was at least another day or two of weakness before prices found their footing.
Surprise sell-offs can be good buying opportunities—but not always. Taking advantage of them requires understanding the price dynamics at work, and limiting losses when the "floor" turns out to be farther away than you thought.
Today's numbers (all times ET): Mortgage Applications (7 a.m.), International Trade in Goods, advance (8:30 a.m.), Retail Inventories, advance (8:30 a.m.), Wholesale Inventories, advance (8:30 a.m.), EIA Petroleum Status Report (10:30 a.m.), Survey of Business Uncertainty (11 a.m.).
Today's earnings include: O'Reilly Automotive (ORLY), Spirit Airlines (SAVE), Boeing (BA), General Electric (GE), Ford Motor (F), General Dynamics (GD), eBay (EBAY), ETSY (ETSY), Fastly (FSLY), Teladoc (TDOC), Mastercard (MA), Visa (V), Pinterest (PINS), SunPower (SPWR) Masco (MAS), GrubHub (GRUB), ServiceNow (NOW).
Click here to log on to your account or learn more about E*TRADE's trading platforms, or follow the Company on Twitter, @ETRADE, for useful trading and investing insights.  
---
1 StreetInsider.com. Roper Technologies (ROP) Tops Q3 EPS by 13c, Revenues Beat; Raises FY20 EPS Guidance Above Consensus, Offers 4Q EPS Guidance Below Consensus. 10/27/20.
2 InsiderMonkey.com. Were Hedge Funds Right About Piling Into Roper Technologies Inc. (ROP)? 10/26/20.
3 Bloomberg.com. SAP Sends Warning for Software Earnings With Forecast. 10/27/20.
What to read next...
10/27/20
High-flying wholesaler rallies in the face of yesterday's sell-off. Will traders be putting options in their shopping carts?
---
10/26/20
Traders step gingerly as election season winds down and earnings season ramps up.
---
10/23/20
Will bulls think the initial reaction to biotech stock's clinical trial data is off the mark?
---