Earnings season opens strong
Banks top estimates, lead earnings charge
SPX trades above 3,000 for first time since September 24
This week: Earnings season shifts into second gear
After another tantalizingly close approach to all-time highs, the US stock market retreated slightly at the end of the first week of earnings season, leaving the S&P 500 (SPX) around 1% from its record peak on Friday.
In the wake of several surprise earnings beats (especially from bank stocks on Tuesday), the S&P 500 (SPX) rallied as high as 3,008.29 on Thursday—less than 0.7% below its all-time high. But some less-than-bullish economic data on Friday (the weakest quarterly GDP reading out of China in more than 27 years,1 and soggy US leading indicators) may have renewed anxieties about a possible economic slowdown: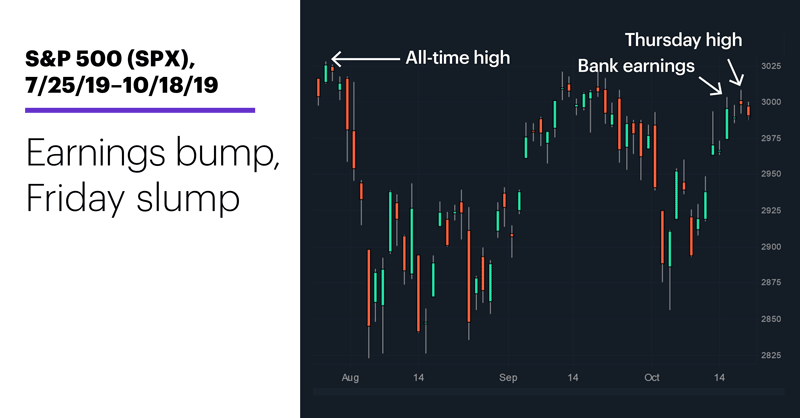 Source: Power E*TRADE
---
Despite Friday's mild give-back, it was the SPX's second-consecutive up week, and the Nasdaq 100's (NDX) third. The tech index traded to its highest level since August 1 on Thursday, when it came within 0.6% of its all-high.
But it was the small-cap Russell 2000 (RUT) that ended the week at the top of the index rankings, while the Dow posted an incremental loss: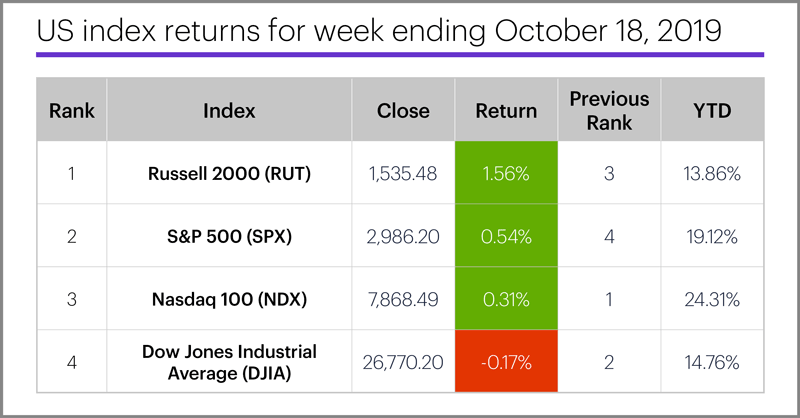 Source: Power E*TRADE
---
Sector roundup: The strongest S&P 500 sectors last week were health care (+2.1%), real estate (+1.9%), and financials (+1.6%). The weakest sectors were energy (-1.7%), information technology (-0.8%), and consumer staples (-0.1%).
Power moves: In the aftermath of a merger announcement, Synthesis Energy Systems (SES) was a one-stock volatility tornado last week, up +271% to $19.5 on Monday, -51% on Tuesday, -24% on Wednesday, and +27% on Thursday—and, finally, -18% to $7.54 on Friday. Other notables: Reata Pharmaceuticals (RETA) +56.99% to $157.92 on Tuesday, Gildan Activewear (GIL) -26% to $26.28 on Friday.
Futures action: December WTI crude oil (CLZ9) sold off early last week, made up some of the lost ground on Thursday, but sagged on Friday to close around $53.75/barrel, down 2.2% for the week. December gold (GCZ9) marched in place, closing Friday around $1,494.50/ounce, around $1 higher for the week. Last Thursday a Britain–EU Brexit agreement propelled December British pound futures (6BZ9) above 1.30 for the first time since May 14. The market ended the week at 1.2970.
Coming this week
The numbers really start pouring in this week, with plenty of high-profile tech, energy, biopharma, and aerospace and defense names. The following list is just a sample:
●Monday: TCF Financial (TCF), Xerox (XRX), Halliburton (HAL), Cadence Design Systems (CDNS), Petmed Express (PETS), Total System Services (TSS)
●Tuesday: JetBlue (JBLU), Advanced Micro Devices (AMD), Biogen (BIIB), McDonald's (MCD), Chipotle (CMG), Procter & Gamble (PG), United Technologies (UTX), Lockheed Martin (LMT), PulteGroup (PHM), Snap (SNAP), United Parcel Service (UPS), Teradyne (TER)
●Wednesday: Eli Lilly (LLY), Amphenol (APH), Boeing (BA), General Dynamics (GD), Ford Motor (F), Caterpillar (CAT), Microsoft (MSFT), eBay (EBAY), Thermo Fisher Scientific (TMO), PayPal (PYPL), Tesla (TSLA), Xilinx (XLNX)
●Thursday: Amazon.com (AMZN), American Airlines (AAL), Southwest Airlines (LUV), Baxter International (BAX), Intel (INTC), Raytheon (RTN), Northrop Grumman (NOC), Citrix Systems (CTXS), Danaher (DHR), Cypress Semiconductor (CY), Dow (DOW), Gilead Sciences (GILD), Visa (V), Twitter (TWTR)
●Friday: Phillips 66 (PSX), Aon (AON), Weyerhaeuser (WY), Verizon Communications (VZ), Illinois Tool Works (ITW)
Economic numbers this week include:
●Tuesday: Existing Home Sales
●Wednesday: FHFA House Price Index
●Thursday: Durable Goods Orders, New Home Sales, Kansas City Fed Manufacturing Index
●Friday: Consumer Sentiment, Baker-Hughes oil rig count
Go to the E*TRADE market calendar (logon required) for an up-to-date earnings schedule and a complete list of splits, dividends, IPOs, and economic reports. The Active Trader Commentary also lists earnings announcements, IPOs and economic report times each morning.
There's one more leg left in the market. It could be 10% up over the next six months. I don't see euphoria other than in the IPO market, and that has already been corrected.
Nearing the finish line. The S&P 500's year to date gain was around 19% as of Friday, higher than its been in all but 10 other years since 1950.3
Anything can happen between now and New Year's Eve, but in all 10 of those years, the SPX was higher on December 31 than it was at this point of the year.
Also, if we look at other years with roughly comparable year-to-date gains (between 15.5% and 22.5%) we find only one year (1983) out of 11 where the SPX was lower by the end of the year—and that decline was less than -1.5%. The other 10 times the index tacked on an additional 5.1%, on average, by the time everyone was singing "Auld Lang Syne."
Click here to log on to your account or learn more about E*TRADE's trading platforms, or follow the Company on Twitter, @ETRADE, for useful trading and investing insights.
---
1 MarketWatch.com. China posts slowest GDP growth rate since 1992. 10/17/19.
2 CNBC.com. Leon Cooperman sees 'one more leg' higher before the bull market ends. 10/16/19.
3 Supporting document available upon request.
What to read next...
10/11/19
Stock finds support at duel technical level.
---
10/10/19
Three stocks, three scenarios, even more possibilities.
---
10/09/19
And not just the dogs: Bulls, bears test appetite for pet food stock.
---