Where the earnings rubber meets the trading road
KMX sells off more than 13% after clobbering earnings
Notable support a little below yesterday's low
Gold retreats to retracement level, pivots higher
In a way, 2020 is turning out to be The Year of the Car—at least in the stock market, where explosive moves (up and down) by various electric vehicle makers and online car marketplaces have attracted more than their share of trader attention.
In fact, digital used-auto dealers Carvana (CVNA) and Vroom (VRM) both got more love from the Street this week after CVNA announced it expected a record Q3.1 It may not be quite the same as ordering another set of earbuds from Amazon, but many industry watchers see the future of car shopping, new and used, as an increasingly online experience.
Which brings us to yesterday's earnings release by another used-car specialist. It may not have the buzz of some of this year's headline grabbers, but it's been around for a couple of decades and has something most of its new competitors don't: profitability.
It's CarMax (KMX), which slid more than 13% intraday Thursday after releasing earnings, just a day after nearly matching the all-time high it set in August following a 190% rally off its March low:
Source: Power E*TRADE
---
CarMax's numbers were, by the way, great: The company blew away its per-share earnings estimate ($1.79 vs. $1.05) and also topped revenues by a healthy margin ($5.37 billion vs. $5.18 billion).2 That revenue, by the way, is roughly five times CVNA's and 20 times VRM's.
Why the shift into reverse yesterday, then? First, although yesterday's initial drop was admittedly steep, post-earnings sell-offs are more common than not for KMX, which has a negative average return for the week after earnings releases.3 Throw in the fact that the stock was hovering near its record highs while the broad market was embarking on its biggest pullback since March and there may have been a little altitude sickness at play, too—and, to be fair, perhaps concerns that KMX still needs to play a little catch-up in the digital space.
Traders who think KMX is still in position to benefit from this year's auto market tailwinds probably noticed the potential support level defined by the May–July lows (roughly $85.50–$86). More cautious bulls may be considering the possibility of a test of this level in the event of follow-through selling in the coming days, although KMX shares bounced nicely off their lows before the day was over. Regardless, many technicians would reassess their bullish outlook if that support breaks down.
Finally, this scenario may have something in common with the one discussed yesterday in "Correction highlights potential options play." With earnings out of the way, there's a good chance KMX's implied volatility (IV) will drop significantly, which could make call options much cheaper than they've been for many days.
Market Mover Update: One possible sign that traders were more than a little worried about the stock market's recent sell-off was the fact that gold tumbled this week, too. It wasn't quite as dramatic as the synchronized swoon that unfolded in March, but it was a reminder that when traders get really nervous, they'll sometimes dump everything but cash—and that includes supposed safe-havens like gold.
However, after dropping more than $100 so far this week (a breakdown out of a six-week triangular consolidation), gold slowed its downside roll yesterday, at least temporarily. October gold futures (GCV0) fell to $1,843/ounce in early trading—their lowest level in more than two months—but then stabilized: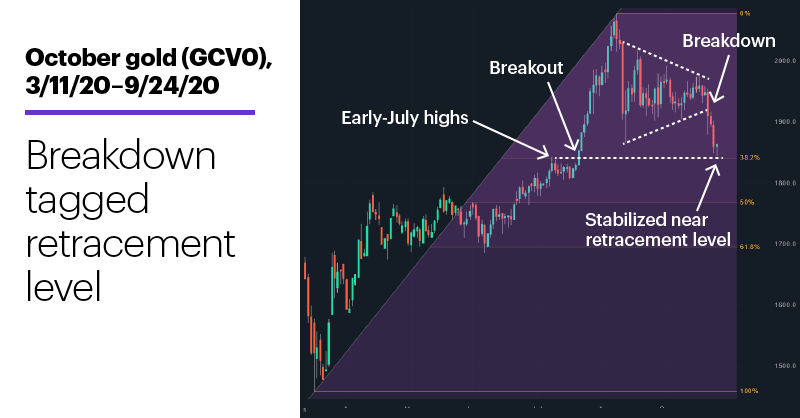 Source: U.S. Census Bureau
---
Many traders probably noticed Thursday's low occurred around a dual support level: the early-July high that was the breakout threshold for the market's run to all-time highs, which is also right around the 38.2% Fibonacci retracement level of the March–August rally.
Today's numbers (all times ET): Durable Goods Orders (8:30 a.m.).
Today's earnings include: Fluor (FLR).
Click here to log on to your account or learn more about E*TRADE's trading platforms, or follow the Company on Twitter, @ETRADE, for useful trading and investing insights.  
---
1 Barron's. Carvana Stock Soars Because No One Knew Demand for Used Cars Would Be So Good. 9/22/20.
2 TheStreet.com. CarMax Stock Dented After Results Beat Estimates. 9/24/20.
3 StreetInsider.com. CarMax Inc, (KMX) Earnings. 9/24/20.
What to read next...
09/22/20
Cloud provider gets a big boost—from a high-profile deal it's not even part of.
---
09/21/20
Tech continues to weigh on market as stocks enter final stretch of the month.
---
09/18/20
Home is where the rally is—or, that's where it's been the past five months. Can homebuilders extend their gains?
---