Earnings pullback
PGR rebounded Thursday after dropping more than 9% after earnings
Stock still up nearly 20% this year, less than 6% below all-time high
Options volatility near two-year highs
By almost any metric, insurance company Progressive (PGR) has been one of the success stories of the 2022 stock market—not that the bar is exceptionally high. While the broad stock market extended its correction into October, PGR hit an all-time high as recently as last month, at which point it was up 26% for the year.
That gain took a bit of a hit on Thursday after the company missed its headline earnings numbers. The stock quickly slid more than 9% intraday—falling to its lowest level since July—before trimming its loss by mid-morning (and erasing it completely later in the day):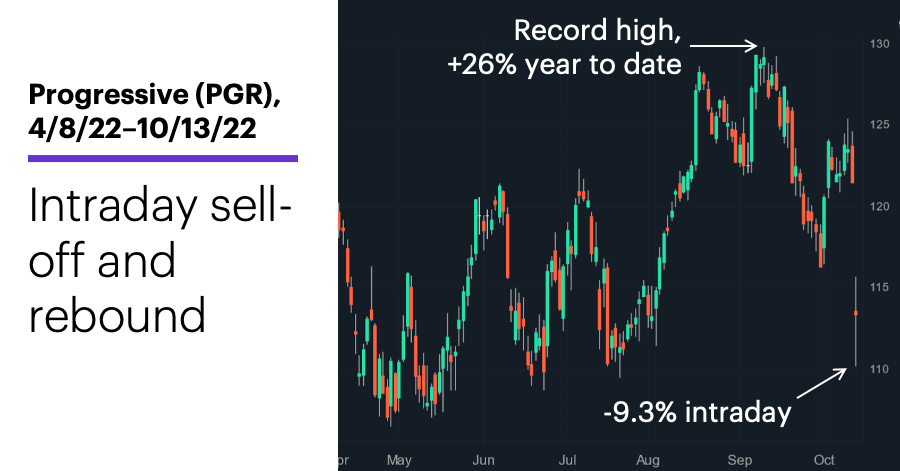 Source: Power E*TRADE. (For illustrative purposes. Not a recommendation.)
---
While Thursday's initial sell-off was sharp (let's not forget the stock market tumbled to a new bear-market low in early trading before rebounding), earnings-day declines haven't been unusual for PGR in recent years. The stock has lost ground after six of its past eight announcements, and has fallen an average of 3.3% one week after earnings.1 Even after yesterday's drop, though, PGR was still up more than 19% for the year, compared to a roughly 23% loss for the S&P 500, a 20% decline for the S&P financial sector, and a 1% loss for the S&P insurance group (the strongest industry within the financial sector so far this year).
The move, understandably, also triggered some large moves in PGR options. The November $115 calls, for example, were down 50% around mid-morning, while the November $115 puts—which were more than $6 out of the money on Wednesday—jumped 89%: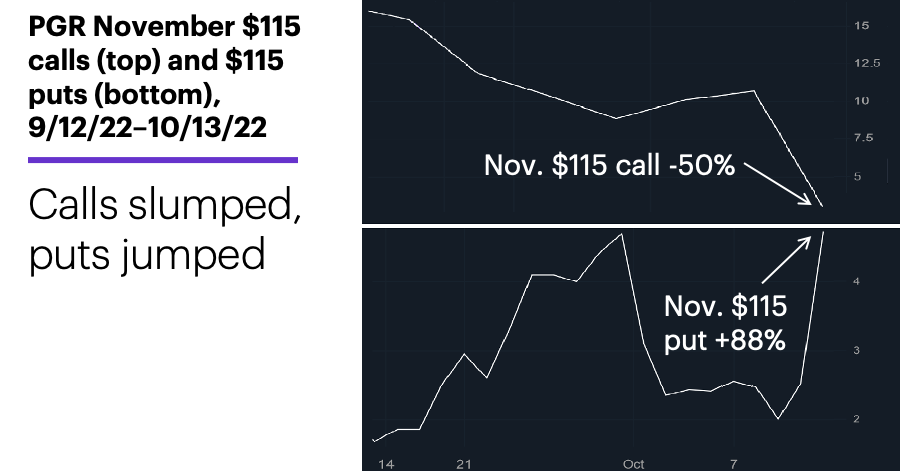 Source: Power E*TRADE. (For illustrative purposes. Not a recommendation.)
---
Traders seeing such big moves would be wise to remember a key aspect of earning season: Implied volatility (IV) tends to increase in the runup to an earnings announcement and often evaporates quickly after it. (Yesterday, PGR's IV was just below its highest levels since October 2020.) That can mean high options premiums in the wake of earnings may not be high for long, unless a stock keeps moving with as much force as it did on earnings day—and in the same direction.
Depending on their market outlook, that may be a call to action for some option sellers, and a reason for patience on the part of potential option buyers.
Market Mover Update: Even though the S&P 500 (SPX) tumbled to fresh lows for the year in the wake of Thursday's disappointingly high Consumer Price Index (CPI), the Cboe Volatility Index (VIX) wasn't signaling unusual stress in the options market. The VIX typically jumps when the market sells off sharply, but when the SPX was down more than 2% in early trading, the VIX barely nudged into positive territory—and it slipped into negative territory when the SPX was still down more than 1.5%. The SPX rebounded to close higher on the day (see "VIX tracks market's pulse").
Today's numbers include (all times ET): Retail Sales (8:30 a.m.), Import and Export Prices (8:30 a.m.), Business Inventories (10 a.m.), Consumer Sentiment (10 a.m.).
Today's earnings include: US Bancorp (USB), Citigroup (C), Wells Fargo (WFC), Morgan Stanley (MS), JPMorgan Chase (JPM).
Click here to log on to your account or learn more about E*TRADE's trading platforms, or follow the Company on Twitter, @ETRADE, for useful trading and investing insights.
---
1 StreetInsider.com. Progressive (PGR) Earnings. 10/13/22.
What to read next...
10/13/22
What was the options market signaling about this tech stock's potential volatility over the next month?
---
10/12/22
With earnings due in a week, traders were loading up on this trucking stock's put options.
---
10/11/22
With the stock market challenging its 2022 lows, more traders may be consulting the VIX.
---