Traders making earnings adjustment?
PFGC up for the year but below March highs
Put-call ratio high on Wednesday as shares dropped
Traders making pre-earnings position adjustments?
On Wednesday morning Performance Food Group (PFGC) was down more than 3% and looked on pace to close at its lowest level in nearly a month. And with earnings approaching, it also had unusual options activity that may have given the impression trader sentiment was tilting in a certain direction.
Maybe, maybe not. The market's often give misleading first impressions.
While PFGC is well below the 10-month high it made in March (a little above $58), yesterday it was still up roughly 6% for the year, trading around $49. But its current downswing dropped shares close to their early April pullback lows:
Source: Power E*TRADE. (For illustrative purposes. Not a recommendation.)
---
Yesterday's weakness may have appeared to mesh with another development—PFGC's appearance on the LiveAction scan for highest put-call ratios. In early trading PFGC was toward the top of the list, with 288 puts trading for every call (top half of chart below). With a week until the company is scheduled to release earnings (May 11), it may have appeared as if the heavy put volume suggested some traders were taking bearish positions on the stock: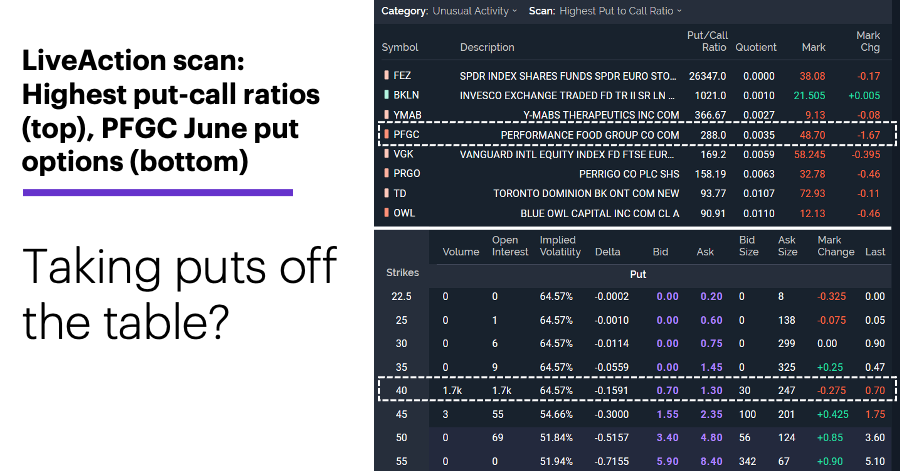 Source: Power E*TRADE. (For illustrative purposes. Not a recommendation.)
---
But the bottom portion of the screen (UNP's June options chain) highlights an important detail: The trade that accounted for nearly all the day's put activity—1,700 contracts in the out-of-the-money $40 puts—matched the current open interest (OI). Because OI reflects the number of open positions as of the previous day's close, it's entirely possible that yesterday's big print meant a trader was actually getting out of a large put position as earnings approached. That's not necessarily a bearish development.
Bottom line, traders have to wait for today's OI total to know what yesterday's put activity represented. If OI in the June $40 puts is higher, it will mean traders were establishing new positions in those options. If not, it means they were getting out.
Market Mover Update: This week marked the first few days of trading after Union Pacific (UNP) followed up on March's strong rally (and all-time high) with a big April sell-off.
Since 1980, UNP has followed a month like March (highest monthly close in at least six months) with a month like April (higher monthly high with a close below the previous month's low) 21 other times. Chart shows UNP's returns for each of the months that followed this two-month reversal pattern: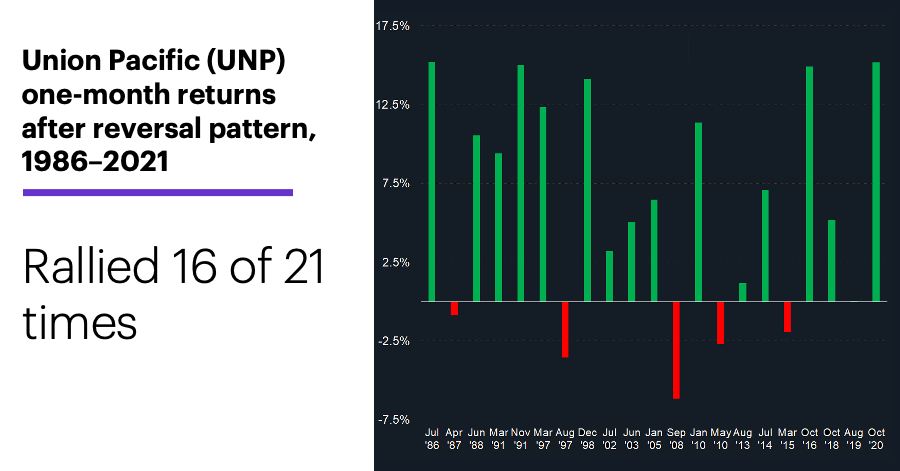 Source: Power E*TRADE. (For illustrative purposes. Not a recommendation.)
---
The stock closed higher the next month 16 of 21 times for an average gain of 6.2% (see Volatility "relativity").
Finally, for one day at least, the stock market appeared to take the Fed's first 0.5% rate hike since 2000 in stride. The S&P 500 (SPX) was up around 0.3% just before the Fed made its announcement at 2 p.m. ET. After some minor gyrations, the index charged higher, ending the day up more than 2.5%. Comments from Fed Chairman Jerome Powell that the Fed wasn't currently considering 0.75% hikes may have contributed to the market's good mood.
Today's numbers include (all times ET): OPEC meeting, Challenger Job-Cut Report (7:30 a.m.), Weekly Jobless Claims (8:30 a.m.), Productivity and Labor Costs (8:30 a.m.), EIA Natural Gas Report (10:30 a.m.).
Today's earnings include: EPAM Systems (EPAM), Lucid Group (LCID), Anheuser-Busch InBev (BUD), Penn National Gaming (PENN), Kellogg (K), Shopify (SHOP), ConocoPhillips (COP), Block (SQ), Zillow (ZG), Dropbox (DBX).
Click here to log on to your account or learn more about E*TRADE's trading platforms, or follow the Company on Twitter, @ETRADE, for useful trading and investing insights.
---
1 All figures reflect Union Pacific (UNP) monthly closing prices, 1980–2021. Supporting document available upon request.
What to read next...
05/04/22
Industrial stock tests support after pulling back from March record highs.
---
05/02/22
Losing streak extends to four weeks as market enters key reporting stretch.
---
04/29/22
Recent price action shows why traders should guard against reacting emotionally in volatile markets.
---