The numbers are in
FB shares jumped 5% in early trading yesterday
Company beat earnings, rallied to three-month high
"Pop-and-drop" pattern has followed other earnings releases
Two of this week's more eagerly anticipated earnings reports—Facebook (FB) and Apple (AAPL)—hit the Street after Wednesday's close, and both stocks enjoyed healthy rallies yesterday despite the broad market's downturn.
But one of those price moves may have been more interesting than the other.
Both companies beat their headline earnings and revenue numbers,1 and both stocks opened yesterday above their Wednesday highs. But while AAPL (after a modest intraday pullback) began pushing further above its opening price as the morning wore on, FB did the opposite, paring a 5%-plus gain in the first minutes of trading to around 2% by noon ET: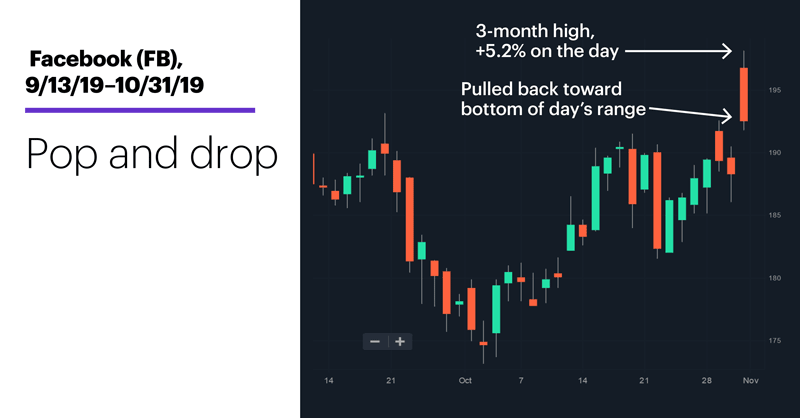 Data source: Power E*TRADE
---
There's definitely nothing wrong with a 2% gain, and yesterday's move also catapulted FB shares out of a three-month, choppy consolidation to their highest level since August 1.
That said, intraday price action—what happens between the hash marks of one day's open and close—can sometimes signal potential momentum shifts that may not be apparent if you're simply referencing whether a stock closes higher or lower. After all, a 2% gain on a day that every major US stock index was in the red sounds pretty bullish, but your perspective may change if you find out the stock gave back roughly half of that gain, and closed toward the bottom of the day's range. That kind of price action suggests traders were, if nothing else, more bullish at the start of the day than at the end of it.
And that can sometimes bleed over into future price action, at least on a short-term basis. The longer-term chart below highlights another aspect of yesterday's price action—namely, the fact that FB has, over the course of its past four earnings releases, initially jumped (at least for a day), then swung lower: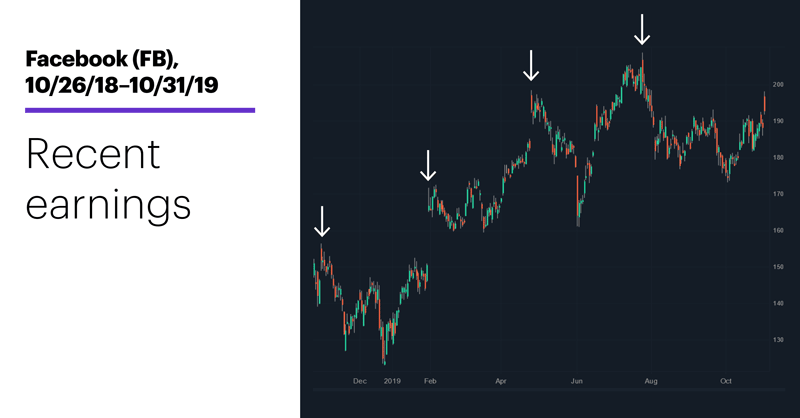 Source: Power E*TRADE
---
These aren't necessarily exceptions to the rule, either. Here are FB's median returns for the five days after its 29 earnings releases since July 2012:
Day 1 (day after earnings): +2.45%         
Day 2: -0.85%   
Day 3: -0.57%   
Day 4: 0.04%     
Day 5: -0.19%   
Five-day median return: -0.57%2
That's four out of five days with negative median returns, and a five-day median decline, overall. Also, for three out of the past four releases, on the first day after earnings FB traded similarly to the way it did yesterday, opening higher and making a much higher high but reversing to close below the open.

But keep in mind this tendency to pull back after earnings, if it does assert itself once again, doesn't have anything to do with Facebook's longer-term outlook. The stock is up around 47% for the year, and not too far removed from its all-time high around $219.
Patterns that suggest a market may drop temporarily aren't just potential fodder for short-siders, they can also set up future buying opportunities.
Today's numbers (all times ET): Employment Report (8:30 a.m.), PMI Manufacturing Index (9:45 a.m.), ISM Manufacturing Index (10 a.m.), Construction Spending (10 a.m.).
Today's earnings include: AbbVie (ABBV), Alibaba (BABA), Chevron (CVX), American International Group (AIG), Seagate Technology (STX), Exxon Mobil (XOM).
Click here to log on to your account or learn more about E*TRADE's trading platforms, or follow the Company on Twitter, @ETRADE, for useful trading and investing insights. Online stock, ETF, and options trades1 are now commission-free.
---
1 StreetInsider. Facebook (FB) Earnings and Apple (AAPL) Earnings. 10/31/19.
2 Supporting document available upon request.
What to read next...
10/30/19
Fast food chain breaks support, options drop in price.
---
10/29/19
Streaming tech stock appeared to bring back traders who may have previously "cut the cord."
---
10/28/19
A key week opens with the Nasdaq 100 coming off a new record high and the S&P 500 as close as it's been in three months.
---