A miss and a swing
CCK reversed to upside after initially dropping on earnings miss
Stock up roughly 46% YTD despite previous earnings shortfalls
Yesterday's rally pushed stock to within 4% of all-time high
Even traders who rarely buy or sell options know it's a good idea to keep tabs on what's happening in the world of puts and calls, since unusual options activity can sometimes tip you off to developments that may not be immediately apparent in a stock's price action.
Or, tip you off to a stock that wouldn't otherwise even be on your radar.
Yesterday, for example, options volume may have alerted some traders to activity in Crown Holdings (CCK)—you know, the guys who specialize in making cans for beverages, food, and housing products? Right up there with Apple and Facebook in dominating financial headlines.
A LiveAction scan showed that CCK options volume was 771% of its average rate in early trading: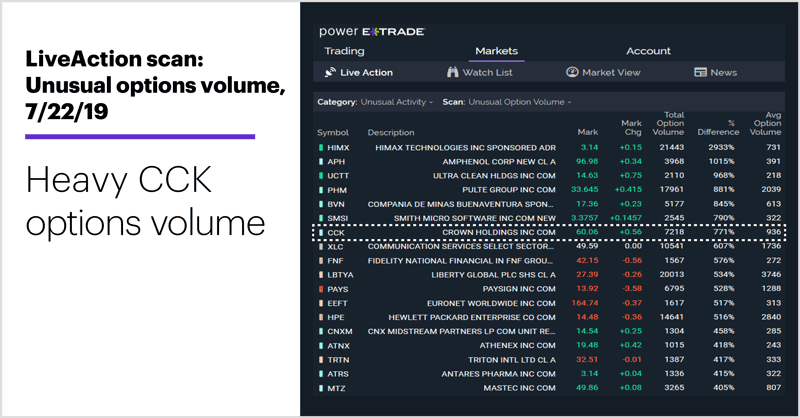 Source: Power E*TRADE
---
Also, unlike some of the other stocks near the top of the list, like Amphenol (APH) and Pulte Group (PMH), CCK wasn't on the verge of releasing earnings, which often fluffs up options volume. CCK released its numbers after last Wednesday's close, and followed up on Thursday with a -4.5% intraday drop—and a 5% intraday reversal to close up on the day: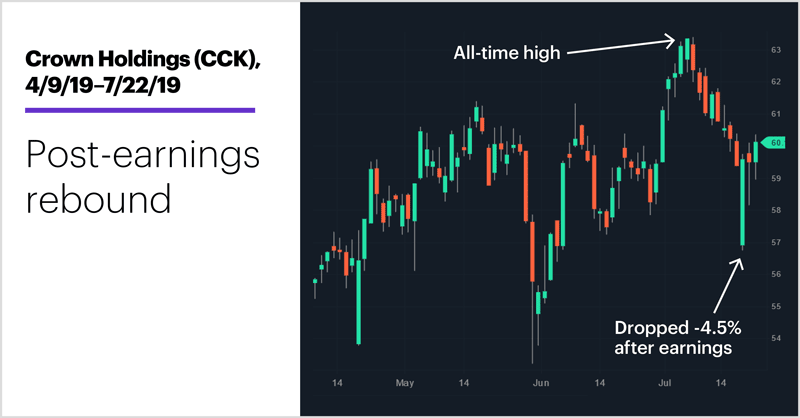 Source: Power E*TRADE
---
About that initial sell-off: Crown came up short on earnings, topped revenue estimates slightly, and guided the Street lower regarding its future performance.1 But the thing is, over the past eight quarters CCK has topped earnings estimates only three times,2 and it's now 0-for-2019, having also whiffed in April and February. But that didn't stop the stock from racking up a 52% year-to-date gain as of July 5 when it hit $63.33, which was also its all-time high close. (It's still up around more than 45% on the year, despite last week's volatility.)
Just as a market falling on good news can be a sign of cracks in its foundation, rallying on bad news can sometimes be a sign that:
A) Perhaps things weren't as bad as everyone first thought.
B) The initial reaction to it was overdone.
C) The news had already been anticipated, perhaps by an eight-day decline preceding an earnings release.
D) Any/all of the above.
In which case, opportunistic traders may see the potential for short-term upside if broader market conditions remain supportive and traders who had been leaning to the short side are still scrambling to get out of their positions
It's not the only possible scenario, but in this case it could explain the bullish activity in a company that just released what appeared to be sub-par numbers.
Market Mover Update: Tech got off to a good start this week, and Nvdia's (NVDA) ability to hold its ground over the past three days (including yesterday's 2% intraday rally) dropped the price of its August $155 put options by roughly -25% (see "The options option").
Today's numbers: FHFA House Price Index (9 a.m.), Existing Home Sales (10 a.m.).
Today's earnings include: JetBlue Airways (JBLU), Advanced Micro Devices (AMD), BioTelemetry (BEAT), Biogen (BIIB), Chipotle (CMG), Coca-Cola Co (KO), Lockheed Martin (LMT), Quest Diagnostics (DGX), GrubHub (GRUB), PulteGroup (PHM), Texas Instruments (TXN), Snap (SNAP), Visa (V).
Click here to log on to your account or learn more about E*TRADE's trading platforms, or follow the Company on Twitter, @ETRADE, for useful trading and investing insights.
---
1 Zacks Equity Research. Crown Holdings (CCK) Misses Q2 Earnings Estimates. 7/17/19.
2 StreetInsider.com. Crown Holdings (CCK) Earnings. 7/22/19.
What to read next...
07/22/19
Market pulls back from highs, oil slides, and gold holds.
---
07/19/19
Gold's holding pattern after June's upside surge has traders positioning themselves for the market's next move.
---
07/18/19
An under-the-radar volatility increase highlights potentially inflated options prices—and possible trade opportunities.
---