Lessons from earnings
HD topped earnings and revenue estimates Tuesday
Stock's intraday move in line with historical patterns
Shares pivoted intraday after reaching bottom of trading range
Experienced traders are accustomed to post-earnings price moves that don't seem to "make sense." While a company may grab attention by topping its headline numbers, its stock can still sell off if the announcement also includes, say, disappointing forward guidance or weak sales—or even if the release was preceded by a huge rally that factored in all the good news, and then some.
Consider this bit of action from yesterday: Home Depot (HD) released Q4 numbers that not only topped both earnings and revenue estimates, but also showed a 25% increase in comparable sales. The company didn't provide any forward guidance because of pandemic uncertainties,1 but it's hardly alone on that score.
What followed was an intraday sell-off to the stock's lowest level since last June: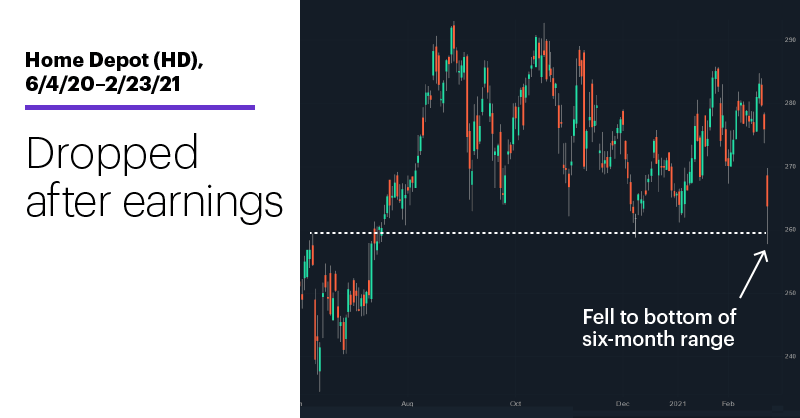 Source: Power E*TRADE
---
With shares down as much as 6.6% in early trading yesterday, Street chatter about the move seemed to revolve around what has been a hotly debated topic over the past several months—the ability of stocks that benefited from lockdown conditions throughout much of 2020 to maintain or extend their gains in a post-pandemic world.2
Home Depot certainly held its own in 2020. While much of the retail industry was battered, HD gained 21% last year, thanks in large part to a 92% rally from March 20 to August 26. Since then, though, the stock has swung in a broad trading range, with yesterday's selling dropping prices back to the bottom of that consolidation (roughly $260).
But to traders focusing on the immediate price action, the post-pandemic debate may have been beside the point. Aside from the fact that yesterday was another weak day for a broad market that has been in pullback mode for a week—something that may have exacerbated HD's down move—post-earnings sell-offs are nothing new for HD. In fact, the stock's average return for the first week after an earnings release has, historically, been negative.3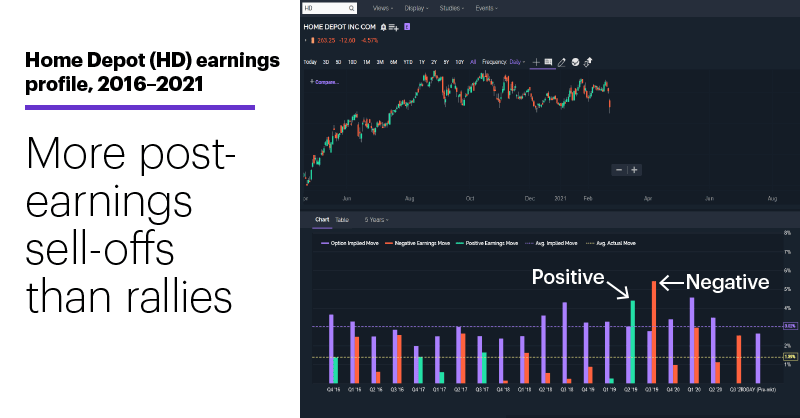 Source: Power E*TRADE
---
The bottom portion of the chart shows key aspects of HD's earnings price action over the past five years: the expected post-earnings move implied by options volatility (purple columns), negative post-earnings moves (red columns), positive post-earnings moves (green columns), and the average implied and actual post-earnings moves (purple and green dashed lines, respectively).
The chart shows that since 2016 HD has dropped the day of earnings 14 times (including yesterday) and rallied just six times. Even last May, in the midst of the most turbocharged portion of the rally off its March lows, the stock pulled back after releasing its numbers.
The lesson: Knowing how a stock has typically behaved after an earnings release can help traders avoid getting caught off guard by "surprise" moves that throw most of the market off balance.
Today's numbers (all times ET): Mortgage Applications (7 a.m.), New Home Sales (10 a.m.), Jerome Powell presents the Fed's semi-annual Monetary Policy Report Congress (10 a.m.), EIA Petroleum Status Report (10:30 a.m.),
Today's earnings include: Apache (APA), Hostess (TWNK), Booking Holdings (BKNG), L Brands (LB), NVIDIA (NVDA), TJX (TJX), Lowe's (LOW), Corelogic (CLGX), Teladoc (TDOC), Overstock.com (OSTK), ViacomCBS (VIAC), Pure Storage (PSTG).
Click here to log on to your account or learn more about E*TRADE's trading platforms, or follow the Company on Twitter, @ETRADE, for useful trading and investing insights.  
---
1 CNBC.com. Home Depot tops estimates as sales surge 25%, but shares fall on worries pandemic gains won't last. 2/23/21.
2 Barron's. Home Depot's Earnings Were Great. Why the Stock Is Still Falling. 2/23/21.
3 StreetInsider.com. Home Depot (HD) Earnings. 2/23/21.
What to read next...
02/23/21
Looking for stocks that buck the market's trend on a given day can potentially highlight pockets of hidden momentum.
---
02/22/21
Stocks dip as small caps and tech give back some gains.
---
02/19/21
Just a predictable retrenchment, or is the sun setting on the alt-energy rally?
---