Earnings beats and lessons from the Street
ULTA and DLTR initially moved in opposite directions after earnings
Both stocks topped earnings estimates, but offered divergent outlooks
The stocks' longer-term trends were also pointing in different directions
Yesterday's post-earnings moves in Ulta Beauty (ULTA) and Dollar Tree (DLTR) were very different, but they both showed why some traders focus less on headline numbers and more on other factors when companies post their quarterly numbers.
Both businesses may have topped their earnings estimates, but that was pretty much where the similarities ended. Cosmetics retailer ULTA combined its beat with an upgrade to its full-year forecasts for earnings and sales.1 Shares jumped more than 6% to a new all-time high before sliding into the red (but recovering a little later in the session):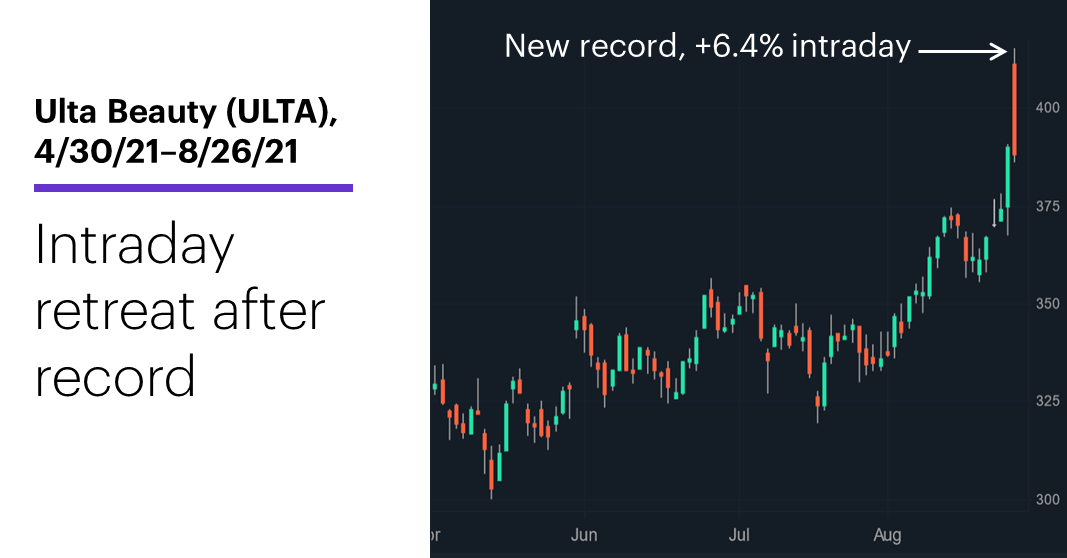 Source: Power E*TRADE (For illustrative purposes. Not a recommendation.)
---
While ULTA's intraday reversal may appear to be a potential red flag for bulls, some traders would point out the stock, which rallied 20% in the five weeks leading up to earnings, may have already priced in some of the good news—an idea that may carry more weight in light of the stock's -3.1% average return in the first week after earnings releases.2
Now let's look at a chart of DLTR, which diluted its earnings beat with downgraded forward guidance because supply chain issues (initially triggered by the pandemic) were squeezing its margins.3 While DLTR had rallied sharply in the days just before earnings, it opened down 8.5% lower and kept falling, sliding more than 12% and breaking below a well-defined support zone dating back to late May: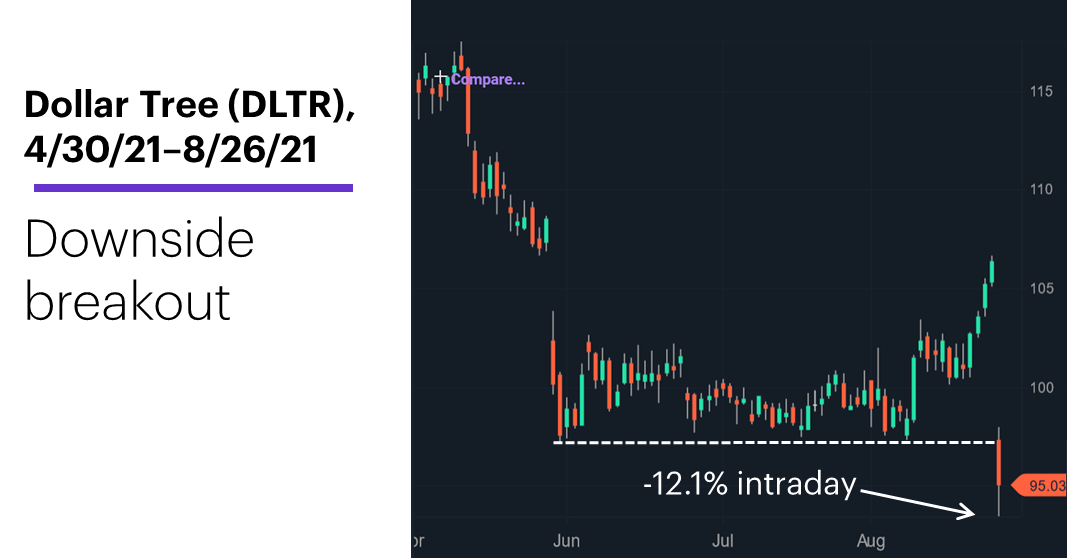 Source: Power E*TRADE (For illustrative purposes. Not a recommendation.)
---
Aside from their diverging guidance forecasts, ULTA and DLTR also differed on one other point: ULTA has been rallying since March 2020 (it's up more than 35% on the year), while DLTR has been losing ground for nearly five months. And while yesterday's price action didn't derail ULTA's longer-term uptrend, DLTR's move may have confirmed its intermediate-term downtrend in the minds of some traders.
Will ULTA's intraday reversal and DLTR's breakdown turn out to be head fakes in the long term? Market volatility—and counterintuitive reactions to "beats" and "misses"—tends to cloud judgment. But earnings releases don't occur in a vacuum—and they don't reverse established price trends as often as some traders think they do.
Market Mover Update: If ULTA's move yesterday looked familiar, it bears more than a passing resemblance to Cara Therapeutics' (CARA) intraday pivot three days ago (see "The market worm turns"). CARA shares dropped for a second-straight day on Thursday, falling more than 4%.
Today's numbers include (all times ET): Personal Income and Outlays, PCE Price Index (8:30 a.m.), Advance International Trade in Goods (8:30 a.m.), Advance Retail Inventories (8:30 a.m.), Advance Wholesale Inventories (8:30 a.m.), Consumer Sentiment (10 a.m.), Jerome Powell Speech at Jackson Hole Economic Symposium (10 a.m.).
Today's earnings include: Big Lots (BIG).
Click here to log on to your account or learn more about E*TRADE's trading platforms, or follow the Company on Twitter, @ETRADE, for useful trading and investing insights.
---
1 MarketWatch.com. Ulta Beauty raises 2021 outlook on 'recovery' for beauty products retail. 8/25/21.
2 StreetInsider.com. Ulta (ULTA) Earnings. 8/26/21.
3 Reuters. Dollar Tree cuts full-year earnings forecast. 8/26/21.
What to read next...
08/26/21
This internet stock's recent action shows the importance—and difficulties—of knowing whether volatility is low or high.
---
08/25/21
Initial appearances can be a dangerous guide to action in the markets.
---
08/24/21
Stock makes news for 52-week low, but that may have distracted from a more notable development.
---