Riding the earnings-go-round
Logitech (LOGI) dropped yesterday after beating earnings
Stock has pulled back more than 20% after 133% year-over-year gain
Post-earnings pullback representative of historical tendency?
Hopefully all the attention on this week's "megacap" tech earnings won't distract traders from other stocks, since there's more to the sector than just its highest-profile names.
Yesterday, for example, one tech stock offered some insights into the way traders may strategize after a bout of earnings volatility.
Computer peripherals company Logitech (LOGI) dropped more than 11% intraday after topping its earnings and revenue numbers, and reporting that it had doubled its year-over-year profit: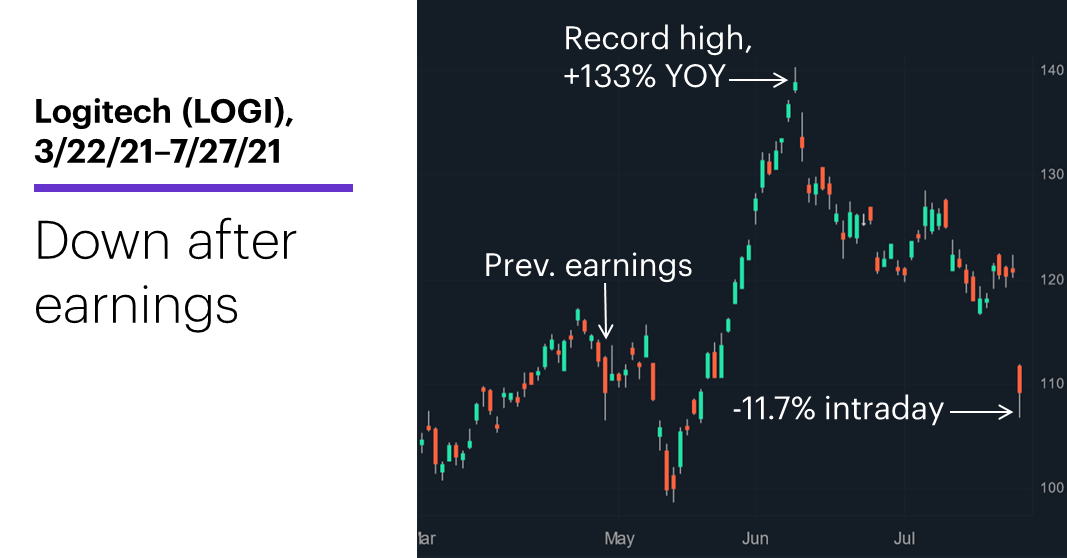 Source: Power E*TRADE (For illustrative purposes. Not a recommendation.)
---
As is often the case, though, the headline numbers weren't the whole story: Logitech also appeared to disappoint analysts with a flat full-year revenue outlook.1
While sub-par guidance may certainly be a reason to reassess a stock's price, a question for traders is whether or not the market's initial recalibration appears to be an overreaction. That's never an easy question to answer, but looking at what traders are doing—and what the stock has done in the past—may yield some surprising information.
At first glance, for example, yesterday's drop may appear simply to be a case of an already-slumping stock (LOGI had been drifting lower since hitting an all-time high of $140.17 on June 9) that accelerated its downtrend with a disappointing earnings report. That may be. But putting aside the apparent reason for yesterday's sell-off, this wasn't the first time LOGI has pulled back after earnings—in fact, since 2010 it's declined 7.1%, on average, one week after posting its numbers.2
Also, LOGI's options volume was high yesterday, and puts were a little more popular than calls, outnumbering them 1.3 to 1 (10,529 puts vs. 8,271 calls) around 11:40 a.m. ET. That may sound a little bearish, too, but it's not dramatically higher than LOGI's average put-call ratio of 1.1.3 In other words, traders didn't appear to be piling into put options.
Finally, options implied volatility (IV) wasn't exceptionally high—as you may expect it to be when a stock is selling off. LOGI didn't appear on any scans for unusual volatility yesterday morning, and the IV for its September options was running right around its 30-day average:
Source: Power E*TRADE (For illustrative purposes. Not a recommendation.)
---
Of course, every earnings move—and the market environment in which it takes place—is unique. The broad market trend and long-term interest rates (which have benefited the tech sector in recent months) will have much to say about the trajectories of LOGI and other tech names.
But knowing what a stock tends to do after earnings and dissecting some of the "behind the scenes" trading activity can be a good way to cut through the noise surrounding earnings.
Today's numbers include (all times ET): Mortgage applications (7 a.m.), Advance International Trade in Goods (8:30 a.m.), Advance Retail and Wholesale Inventories (8:30 a.m.), EIA Petroleum Status Report (10:30 a.m.), FOMC announcement (2 p.m.).
Today's earnings include: Boeing (BA), Bristol-Myers Squibb (BMY), Eagle Materials (EXP), Pfizer (PFE), Shopify (SHOP), Spotify (SPOT), Allegiant Travel (ALGT), Ford (FF), Facebook (FB), PayPal (PYPL), Qualcomm (QCOM), Spirit Airlines (SAVE).
Today's IPOs include: Context Therapeutics (CNTX), Project Angel Parent (MLNK), Dole (DOLE), Duolingo (DUOL), Snap One (SNPO).
Click here to log on to your account or learn more about E*TRADE's trading platforms, or follow the Company on Twitter, @ETRADE, for useful trading and investing insights.
---
1 Investor's Business Daily. Logitech Trounces Quarterly Views But Stock Tanks On Weak Outlook. 7/27/21.
2 StreetInsider.com. Logitech (LOGI) Earnings. 7/27/21.
3 Power E*TRADE.
What to read next...
07/27/21
There are different ways to gauge which way a particular market may be leaning.
---
07/26/21
Stocks reverse deepest pullback in more than two months, enter final week of July at record levels.
---
07/23/21
That may not be the best question to ask about earnings.
---