Earnings-day options
MTN options volume nearly nine times average on Tuesday
Earnings due after Thursday's close
Options volatility has often overestimated earnings-day moves
Unusual options activity can sometimes highlight under-the-radar trading that isn't immediately apparent in a stock's price chart, but just as often it accompanies a big move in the stock—or the run-up to a potential catalyst everyone knows about.
Yesterday, for example, options volume in ski resort operator Vail Resorts (MTN) was around 870% of its daily average:
Source: Power E*TRADE (For illustrative purposes. Not a recommendation.)
---
The most notable activity was in two contracts: 567 of the October $320 calls and 570 of the October $280 puts. With the stock trading between $311–$315 much of the day, the fact that nearly identical chunks of volume were split between an out-of-the-money (above the stock price) call and an out-of-the-money (below the stock price) put may have led some traders to speculate that someone may have been putting on an options strangle.
Buying the two options (long strangle) anticipates that the stock will rally or fall far enough that the profitable option more than offsets the combined cost of both options. Selling both options (short strangle) is the opposite—an expectation that the stock will continue to trade between the two strike prices, in which case both options will ultimately expire worthless and the trader keeps all the collected premium. Translation: Long strangles are trades that expect volatility to increase, while short strangles are trades that expect it will decrease.
Regardless of whether MTN's options activity meant someone was putting on a strangle—and whether the trader was buying it or selling it—there was at least one reason to consider a volatility trade: MTN is scheduled to release earnings after the close tomorrow (Thursday). The top of the following chart shows that yesterday the stock broke out of the top of a short-term consolidation, although prices drifted lower intraday: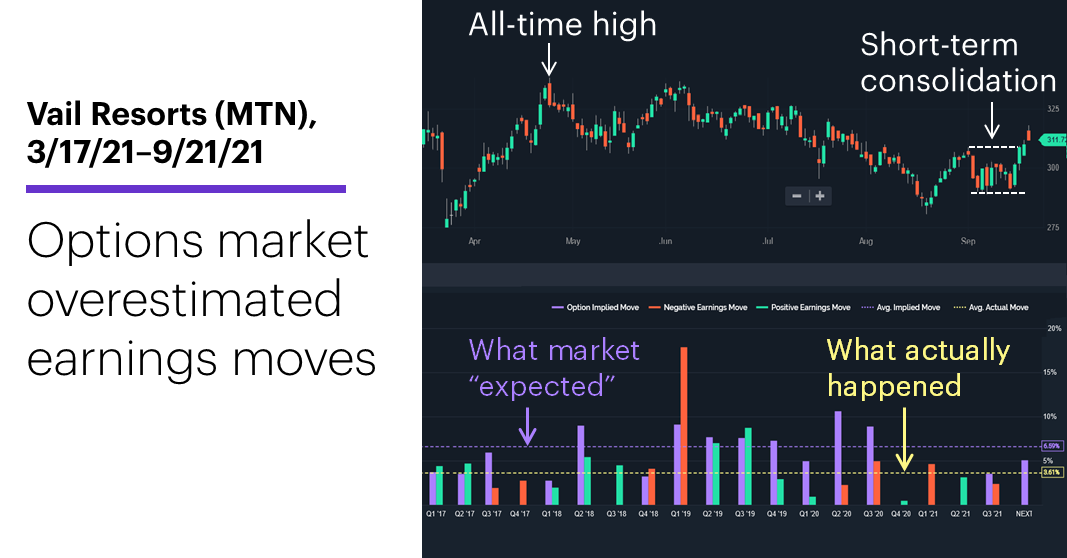 Source: Power E*TRADE (For illustrative purposes. Not a recommendation.)
---
The bottom of the chart shows MTN's earnings-day performance dating back to Q1 2017: The purple vertical bars show the options market's estimate of each earnings-days move, while the green (up) and red (down) bars show the actual moves.
The chart highlights the reality that the options market's estimate of MTN's earnings-day move (purple dashed line) was, on average, bigger than the reality (yellow dashed line)—that is, the market expected more volatility (+/-6.59%, on average) than actually materialized on earnings day (+/-3.61%, on average).
While that state of affairs is not unique to MTN, the following chart shows the implied volatility (IV) for MTN options was above its 30-day average—most notably for October options:
Source: Power E*TRADE. (For illustrative purposes. Not a recommendation.)
---
In other words, traders buying MTN options yesterday may have been paying relatively high prices because of higher-than-average IV—something that could make profiting on a long-volatility strategy more difficult.
That doesn't mean short-volatility traders will turn out to be right in this case, only that they'd be in a position to benefit if MTN's post-earnings move does, in fact, turn out to be smaller than the market expects.
Today's numbers include (all times ET): Mortgage applications (7 a.m.), Existing Home Sales (10 a.m.), EIA Petroleum Status Report (10:30 a.m.), FOMC announcement (2 p.m.).
Today's earnings include: General Mills (GIS), KB Home (KB).
Today's IPOs include: Wednesday: Toast (TOST), Freshworks (FRSH), Knowlton Development (KDC).
Click here to log on to your account or learn more about E*TRADE's trading platforms, or follow the Company on Twitter, @ETRADE, for useful trading and investing insights
---
What to read next...
09/21/21
The market's performance after days like yesterday may surprise you.
---
09/20/21
Stocks extend pullback despite a week of mostly positive economic data.
---
09/17/21
China's regulatory push intensified this week—find out which stocks may be near key price levels.
---