Earnings-day breakdown
UNFI tumbled -21% intraday after earnings
Shares still up more than 100% YTD
Analyzing past sell-offs reveals performance split
Making sense of earnings announcements in real-time can be a challenge, given the flood of information they often contain and the volatility that often accompanies them. One stock's post-earnings price move on Wednesday, however, shows one way traders can attempt to cut through the noise.
United Natural Foods (UNFI), which traffics in a wide range of organic and specialty foods, released their quarterly numbers yesterday, topping earnings estimates by six cents but coming up short on revenue projections.1 What had been a 154% year-to-date gain took a hit as the stock dropped 21% intraday, testing the bottom of its three-month trading range: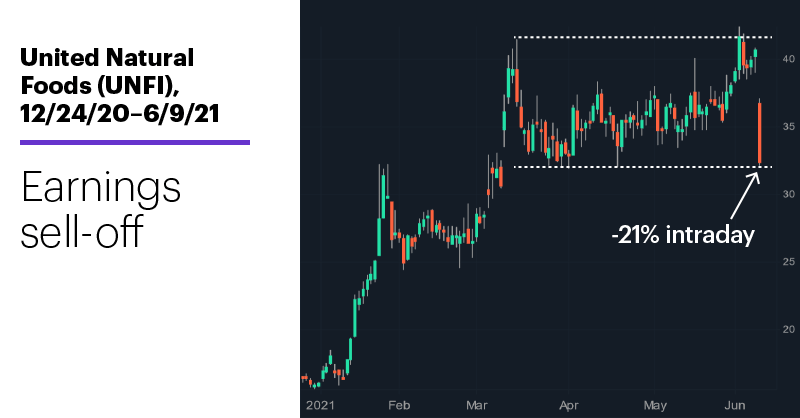 Source: Power E*TRADE
---
While UNFI's headline numbers weren't particularly bad, some of yesterday's selling may have been driven by a contraction in sales last quarter, and the company's guidance that full-year numbers would be "at the low end of the current range for net sales[.]"2
While such information may have given traders a few benchmarks for the company's business metrics, extrapolating that into a projection of the stock's possible path is a different matter. Although every market situation is unique, it's often helpful to ask a simple question: What has this stock done in the past after similar moves? While the answer can't predict what will happen the next time around, it can often help traders gain a better understanding about the range of possible outcomes.
For example, a trader may look at what a stock has done after other large earnings-day sell-offs—say, declines of 10% or more. In this case, unfortunately, UNFI has had only seven of those (red columns) over the past few years:3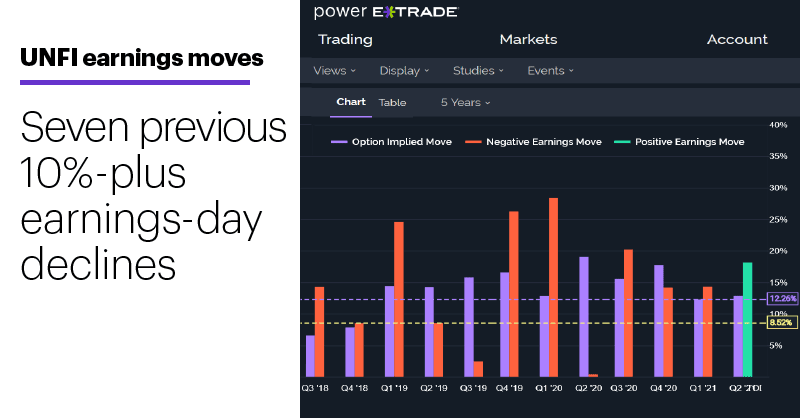 Source: Power E*TRADE
---
That's not much to go on, but UNFI was lower three weeks later five of the seven cases, with a median decline of 9.4%.4
One way to possibly beef up those scant statistics is to look at what the stock has done after all of its big one-day drops, regardless of whether they accompanied an earnings release. UNFI has had 47 total one-day sell-offs of 10% or more over the past 25 years, and here's what it did after them:
1. Stock was higher after three weeks 28 times (60%) vs. lower 19 times.
2. Median return: +3.6%
That's quite a different picture from the earnings-only results. And while that may lead some traders to conclude that earnings sell-offs in this stock are a different animal than other one-day sell-offs, the story comes with one more twist: UNFI's seven-largest one-day declines—20% or larger—were followed by more bearish price action than the ones in the 10-20% range, with the stock lower after three weeks five out of seven times and a median loss of 8.1%. (UNFI rallied yesterday to close down only 15.7%.)
There are no certainties in the markets, but crunching some numbers can often help clarify some of the market's more volatile episodes.
Today's numbers include (all times ET): Consumer Price Index, CPI (8:30 AM ET), weekly jobless claims (8:30 a.m.).
Today's earnings include: FuelCell Energy (FCEL), Chewy (CHWY).
Today's IPOs include: Zeta Global (ZETA), 1stdibs.com (DIBS), monday.com Ltd. (MNDY), LifeStance Health (LFST).
Click here to log on to your account or learn more about E*TRADE's trading platforms, or follow the Company on Twitter, @ETRADE, for useful trading and investing insights.
---
1 StreetInsider.com. United Natural Foods (UNFI) Tops Q3 EPS by 6c, Revenues Miss; Offers FY21 EPS/Revenues Outlook. 6/9/21.
2 MarketWatch.com. United Natural Foods sales come down from COVID highs, driving sales miss. 6/9/21.
3 Dates for earnings-day sell-offs of 10% or more: 6/6/18, 12/6/18, 10/1/2019, 12/11/19, 6/10/20, 9/28/20, 12/9/20.
4 All figures reflect United Natural Foods (UNFI) daily closing prices, 11/4/96–6/10/21. Supporting document available upon request.
What to read next...
06/09/21
Is this former high-flyer now trading at its 52-week low a target for bargain-hunting traders?
---
06/08/21
A big acquisition helped place the materials sector front and center to start the week.
---
06/07/21
Friday rally flips first week of the month from red to green.
---