Early warning signal?
HZNP options volume more than 27 times average yesterday
Stock has soared more than 24% in seven days, 129% in three months
Traders liquidated calls as stock reached analyst target
Biopharma stock Horizon Therapeutics' (HZNP) roughly 129% rally off its March lows isn't necessarily exceptional given the way the market has rebounded in Q2—more than a few names under the biopharma/tech umbrella have notched similar gains—but its options activity yesterday is a different story.
Around noon ET, HZNP's total options volume was more than 2,700% of its daily average, landing it in second place on the LiveAction scan for unusual options volume:
Source: Power E*TRADE
---
And there wasn't a lot of mystery about who was doing what. The options chain showed virtually the only volume of consequence was 7,700 of the August $55 calls changing hands: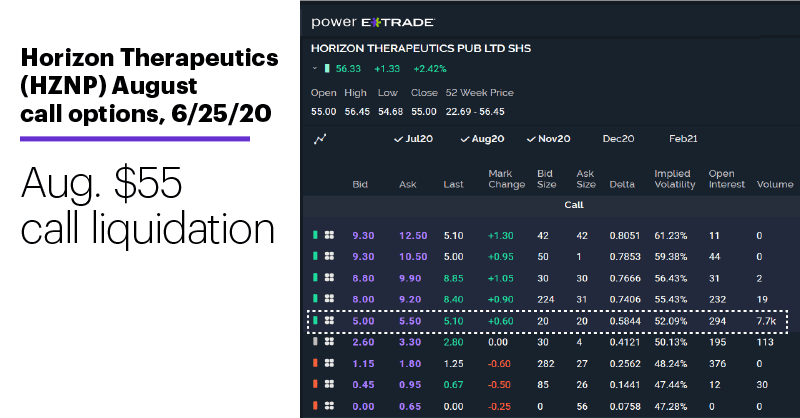 Source: Power E*TRADE
---
If you already noticed the contract's open interest was a mere 294—meaning at least around 7,500 of the August $55 call contracts were being liquidated—give yourself a gold star. Yesterday's big trade could represent many things, but since the positions were being closed rather than opened, a big bullish bet in the options market didn't seem to be one of them.
One hypothesis: Some traders would consider the possibility that yesterday's action was the result of a large trader taking profits in contracts that had already racked up a healthy profit. The price chart shows that theory isn't out of left field, since HZNP's monster rally since March 18 includes a 24% gain in just the past 10 days—the last four of which were all record highs: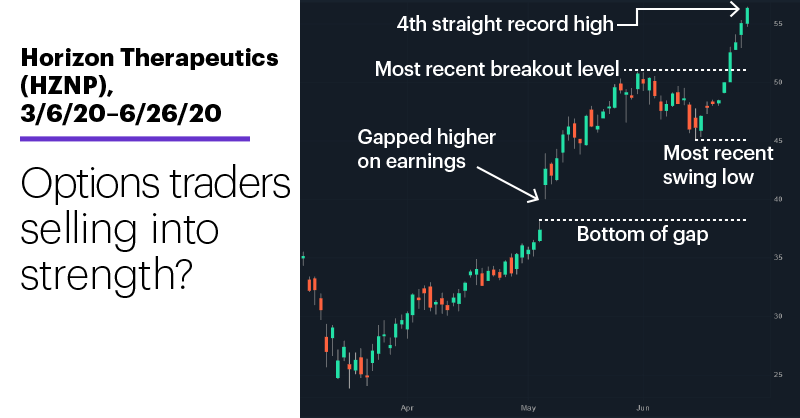 Source: Power E*TRADE
---
And those August $55 calls? At their high yesterday (6.53), they were up nearly 54% on the day—more than 370% over the past seven days.
Perhaps coincidentally, HZNP's 3.6% rally yesterday pushed the stock close to $57—above the $55 price target some analysts had slapped on the stock shortly after it crushed its earnings numbers on May 6 and gapped up to around $42.1 Six weeks later, mission accomplished.
Of course, as the saying goes, a market never rings a bell when it's done rallying or selling off. The large trader (or traders) who got out of their HZNP calls yesterday may have simply acted on the time-honored principle that huge moves, up or down, often reverse temporarily even if they extend in the long run. (HZNP has nearly quadrupled the S&P 500 biotech index's return since late March, so it would be tough to call "huge" an exaggeration.)
In which case, disciplined traders who think HZNP may ultimately have more gas left in its tank may look for the recent momentum chasers to get flushed out—and, perhaps, the stock to retreat to test a prominent technical level—before making their move.
Market Mover Update: A day after financial stocks were an anchor around the market's neck, a Beltway bombshell helped the sector lead a US market turnaround yesterday. Federal regulators announced they were loosening some of the restrictions imposed on banks after the 2008–2009 financial crisis, including the Volcker Rule, which prohibits banks from making certain types of speculative trades.2
Bank stocks surged on the news, helping flip the S&P 500 from red to green, as JPMorgan Chase (JPM), Bank of America (BAC), and Wells Fargo (WFC) all rallied more than 3% after initially trading in negative territory.
Today's numbers (all times ET): Personal Income and Outlays (8:30 a.m.), Consumer Sentiment (10 a.m.).
Today's earnings include: Apogee Enterprises (APOG), MakeMyTrip (MMYT).
Click here to log on to your account or learn more about E*TRADE's trading platforms, or follow the Company on Twitter, @ETRADE, for useful trading and investing insights.  
---
1 CNBC.com. Bank stocks surge after regulators ease Volcker Rule, JPMorgan Chase climbs 2%. 6/25/20.
2 StreetInsider.com. Horizon Therapeutics (HZNP) PT Raised to $55 at Jefferies on Increased Tepezza Uptake. 5/8/20.
What to read next...
06/25/20
Stock's sell-off could be opportunity for bullish options traders suddenly looking at fat put prices.
---
06/24/20
Beyond the vaccine story: A subgroup of biotech stocks has exploded in recent months.
---
06/23/20
Stock's options activity may point to a potential weak link in the financial-sector chain.
---