Dow reshuffles deck, traders play their hands
Dow Industrials set to replace three stocks on Monday
Immediate impact was apparent in Tuesday's returns
PFE out (of Dow), not yet down
In case you hadn't heard, the Dow Jones Industrial Average (DJIA) is about to undergo its biggest shakeup in several years—three stocks are getting the boot, while two newcomers (and one former member) are getting admitted to the club, effective Monday.
The catalyst was Apple's (AAPL) soon-to-be-concluded stock split, which required a rebalancing of the blue-chip stock gauge.1 Out: Pfizer (PFE), Raytheon (RTX), and Exxon Mobil (XOM). In: Amgen (AMGN), Honeywell (HON, a former Dow component), and Salesforce.com (CRM).
Besides widespread jawboning about the wisdom of these picks, the most tangible aspect of Tuesday's news was in the returns of the stocks:
Source: Power E*TRADE
---
Notice a pattern? If not, the red and green highlights are a big hint. The stocks getting dropped all fell much more than the broad market—the S&P 500's (SPX) return is shown because it includes all six stocks—while the stocks getting picked up all surged. (Bonus for Salesforce.com buyers: CRM jumped 26% yesterday after crushing its earnings.)
While there may be a certain psychological component to these moves—getting added to the oldest US stock barometer is a feather in your corporate cap, while getting dropped may be seen as a slight—there's also a practical aspect: If you're in the Dow (or any other stock index), your stock gets bought whenever someone buys a fund tied to the Dow—e.g., the SPDR Dow Jones Industrial Average ETF (DIA).
While index fund managers have to adjust their holdings accordingly, it would be a mistake to think that getting added or subtracted from the Dow has any long-term implications for a stock's performance, and there's an argument to be made that the immediate dislocation may present short-term trading opportunities. For example, if an up-trending stock pulled back on news it was getting dropped from an index, traders who expected the stock to continue to rally based on its existing strengths may look at it as a chance to pick up shares at a discount.
Pfizer may not have lit the world on fire over the past couple of years, but both in the longer-term (since March 2009) and more recently (the past five months) the stock has kept pace with two other big-pharma stocks that will remain in the Dow—Merck (MRK) and Johnson & Johnson (JNJ). As of yesterday, PFE's pullback had dropped prices to the bottom of their recent consolidation: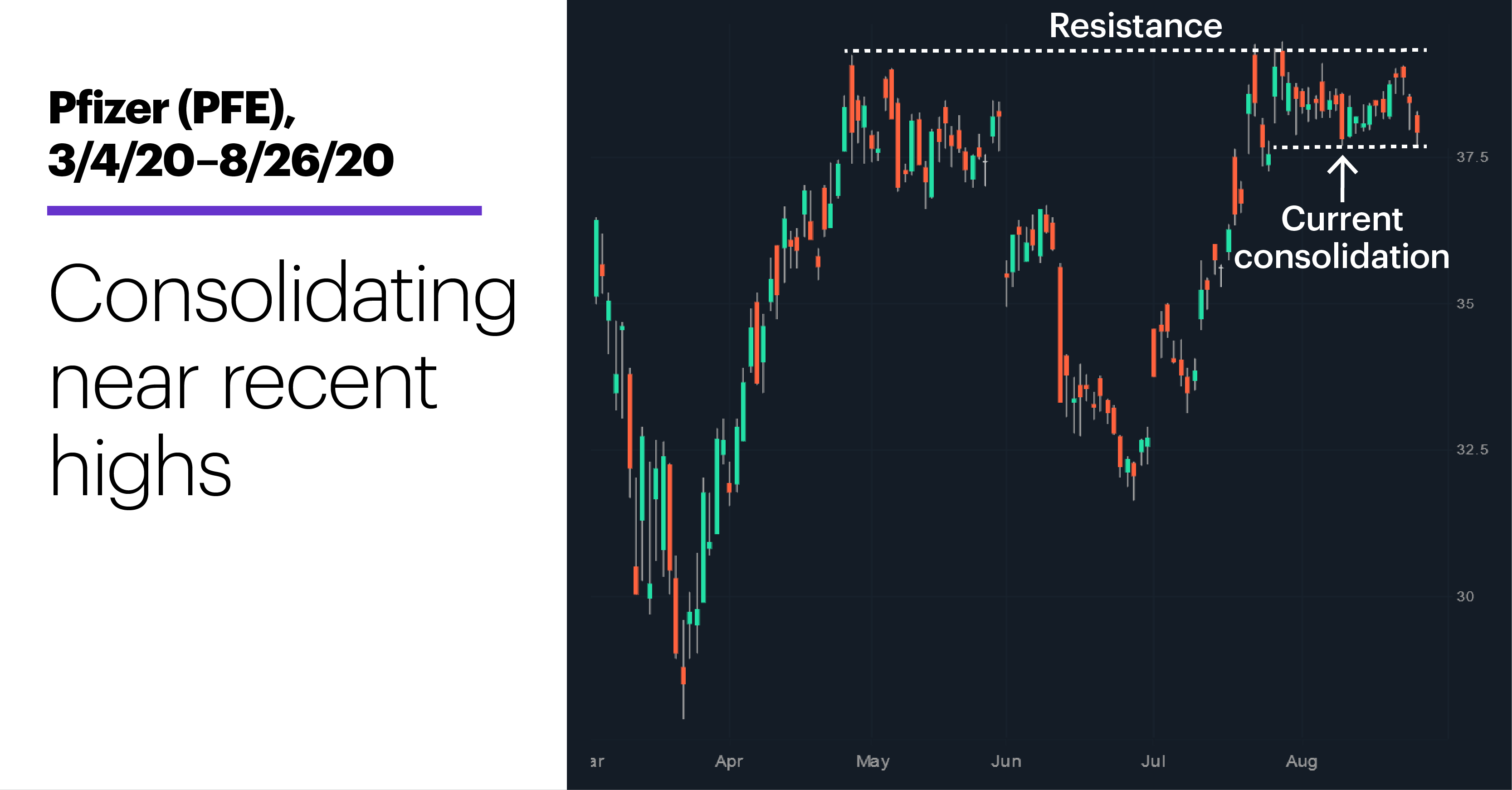 Source: Power E*TRADE
---
That range formed after the stock's 23% June-July rally met resistance at the April highs around $39.
Pfizer is in the thick of the COVID-vaccine race through its partnership with BioNTech (BNTX). Success on that front isn't guaranteed by any means, but bullish traders who have been looking for PFE to break out of the upside of its range are unlikely to be thrown off track by the DJIA reshuffling news.
Market Mover Update: Microsoft (MSFT) rode yesterday's tech strength to a breakout above resistance and its first new record high since August 3.
Today's numbers (all times ET): GDP (8:30 a.m.), Jobless Claims (8:30 a.m.), Corporate Profits (8:30 a.m.), Fed Chairman Jerome Powell speech (9:10 a.m.), Pending Home Sales Index (10 a.m.).
Today's earnings include: Burlington Stores (BURL), Ulta Beauty (ULTA), Ollie's Bargain Outlet (OLLI),  Dollar General (DG), Dell Technologies (DELL), Dollar Tree (DLTR), Gap (GPS), Marvell Technology (MRVL), HP (HPQ), Workday (WDAY), VMware (VMW).
Click here to log on to your account or learn more about E*TRADE's trading platforms, or follow the Company on Twitter, @ETRADE, for useful trading and investing insights.  
---
1 ABCnews.go.com. Salesforce, Amgen, Honeywell to be added to reshuffled Dow. 8/25/20.
What to read next...
08/26/20
There's no immunity to volatility in the COVID-vaccine race. Traders need to be prepared for when potential opportunities arise.
---
08/25/20
Different types of options activity highlights energy stock's position on the price chart.
---
08/24/20
The broad market's six-month journey back to record highs is over. Now what?
---