Double helix, double top
Gene-editing stocks were big winners in Q4
Some have overshot Street targets in recent weeks
EDIT fell more than 17% Monday after two-month, 261% rally
Gene editing has been touted, on and off, as the next big thing in medicine for quite a while,1 but it's only recently that many of the stocks in this space have gone big as well.
After years of jumps and setbacks, some of the best-known names that use the CRISPR gene-editing technology went ballistic in late 2020—including Editas Medicine (EDIT), which rallied nearly 248% between November 18 and December 21, when it broke out of a short-term consolidation and jumped 30% to a new record high: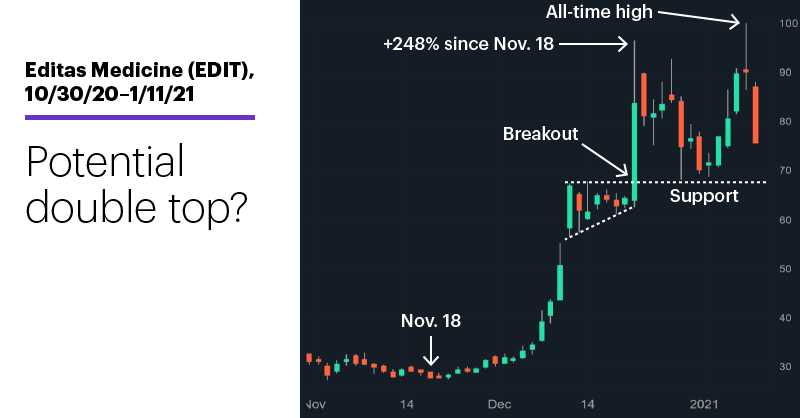 Source: Power E*TRADE
---
After pulling back for several days (testing the consolidation's breakout level in the process), EDIT recovered to hit another all-time high ($99.95) on Friday—extending its rally to 261%—before skidding as much as 17% yesterday.
A big rally to new highs, a retracement, a rebound to a another high around the same level, followed by another sell-off…well, while the double helix may be the name of the game in genetics, many traders are likely to think "double top" when they see price action like that.
The logic is simple: A retreat (like yesterday's in EDIT) after a test of a recent high suggests traders have tried to push prices past the initial high but have been turned back, which could mean the bulls have run out of gas, at least for a while. The so-called "confirmation" of a double-top reversal—that is, the move that suggests even more downside is possible—is a breakdown below the low separating the two highs, which in this case is the aforementioned breakout level (around $67.50–$68).
Whether or not the stock actually drops to that level, or lower, is another matter (even at yesterday's low it was still around $15 above the average Street analyst price target2), but it's certainly a level many technicians would have on their radar, regardless of whether they expect the stock to subsequently rebound or keep sliding.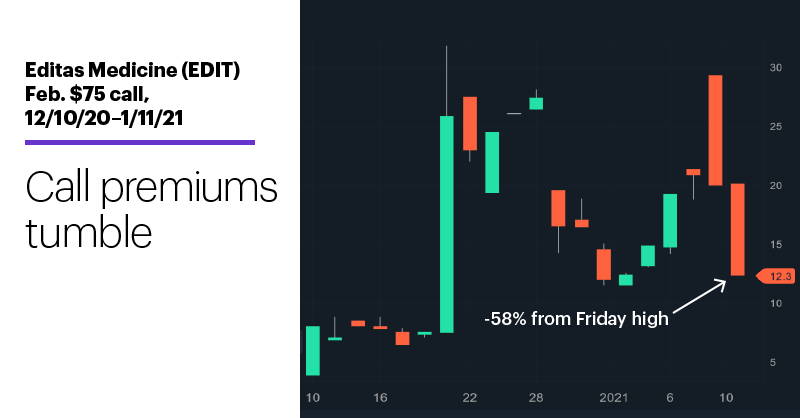 Source: Power E*TRADE
---
And yesterday's move certainly shook up the options picture. The chart above shows the February $75 call was trading around 58% below Friday's high. Puts appeared to skyrocket even more—the February $75 put was up more than 65%.
That may be something options traders keep in mind, even those who think EDIT will continue to pull back in the near-term before resuming an uptrend: Because sharp stock sell-offs are often accompanied by spikes in options implied volatility—which in turn can pump up options premiums—bulls may look to short high-priced puts, pocket the premium, and take possession of the stock to capitalize on a potential longer-term stock rally.
Today's numbers (all times ET): NFIB Small Business Optimism Index (6 a.m.), JOLTS (10 a.m.).
Today's earnings include: Albertsons (ACI), KB Home (KBH).
Click here to log on to your account or learn more about E*TRADE's trading platforms, or follow the Company on Twitter, @ETRADE, for useful trading and investing insights.  
---
1 Forbes. CRISPR, Editas, Intellia: Gene Editing Stocks To Play The Next Revolution In Medicine. 1/11/21.
2 Nasdaq.com. EDIT Analyst Research. 1/11/21.
What to read next...
01/11/21
Small caps pick up where they left off in Q4 to pace market in first week of 2021.
---
01/08/21
Health care stocks may have gotten more than one piece of good news this week. Will traders respond?
---
01/07/21
Is one of 2020's lagging sectors getting ready to enjoy a "risk-on" moment?
---