Making sense of dollar weakness
US dollar traded at two-year low yesterday
Certain stocks could benefit from continued dollar weakness
Feel the shine: New record high for gold
While the dollar's influence on the stock market is debatable—it is, after all, one factor among many (something that's especially relevant this year)—analysts typically point to the following dynamics:
1. A cheaper dollar makes US stocks more attractive overall to international investors, because their (relatively stronger) currencies have more buying power.
2. For the same reason, a cheaper dollar can boost the sales, and thus the profits, of US companies who do businesses overseas, making their stocks particularly attractive.
On the first point, one need only refer to May 2011–January 2017, when the dollar appreciated more than 40% and the S&P 500 (SPX) rallied nearly 69%, to see that a rising dollar doesn't necessarily derail the stock market.
But the second point is the one that's been getting more attention recently, as the US dollar index (DXY), which hit a three-year high in March, has since dropped more than 9% to a two-year low—only a little more than 5% from its February 2018 low of 88.25: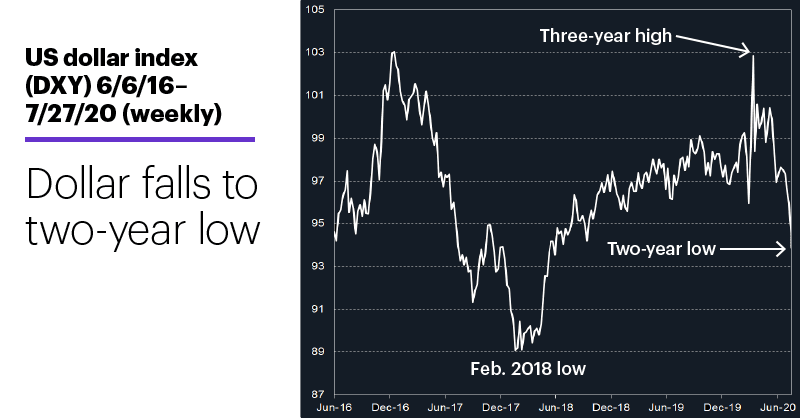 Source (data): Power E*TRADE
---
Many analysts have gotten behind the weak-dollar idea, forecasting the greenback could continue to fall in the face of aggressively loose US monetary policy and growing political threats.1 If this does, in fact, put extra gas in the profit tanks of US-based multinationals, the stocks of companies that capture much or most of their earnings outside the US—a list that includes Qualcomm (QCOM), Maxim Integrated Products (MXIM), Lam Research (LRCX), Skyworks (SKWS), Newmont Mining (NEM)—could get a boost.
It's no coincidence that several chip and chip-component stocks would appear on this type of list, given the global nature of the semiconductor market. (If you remember, chipmakers took a lot of heat when the US-China trade war was at its peak.) But it also highlights something of a Catch-22: Many of the tech stocks that would be expected to benefit from the weak-dollar thesis have already boomed in recent months and are at or near all-time highs (check out, for instance, the PHLX Semiconductor Index, SOX).
That reality may lead some traders to look for names that could rally on dollar weakness but, more importantly, also appear to have short-term price action on their side—for example, they're not as  overbought as some other tech stocks and/or they're forming potential breakout patterns.
One example: Jabil (JBL), which makes circuit boards and other tech hardware, does heavy overseas business, and has been forming a triangular consolidation pattern for several weeks after roughly doubling off its March low: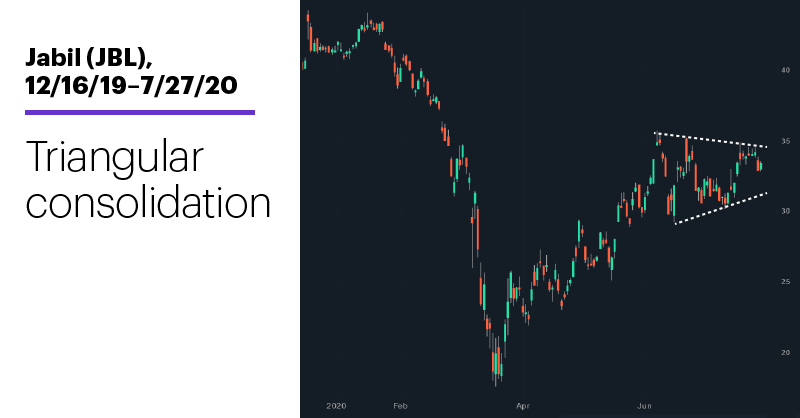 Source: Power E*TRADE
---
The fact that JBL tumbled nearly 58% from its December–January highs before rebounding means that it's still well off its recent highs, which may ease the minds of those leery of chasing stocks at record levels. This type of price pattern also gives traders looking to play the long side a couple of choices: entering on an upside breakout of the consolidation, or instead buying if/when prices test its lower boundary.
After all, nothing's a given in the markets—either at the macro "theme" level or the micro price-action level. All you can do is look for situations where different factors align in your favor, and control your risk.
Market Mover Update: Gold hit a new all-time high in high style, as cash gold prices topped $1,945/ounce—besting the old record by more than $20—and August futures (GCQ0) rallied as high as $1,941.90 on their biggest up day in more than two months:
Source: Power E*TRADE
---
But not to be outdone, September silver (SIU0) rocketed more than 8% intraday, tagging $24.82.
Renewable Energy Group (REGI) has rallied around 24% since it started reversing its sharp sell-off on June 27 (see "Puts rock on news shock").
Today's numbers (all times ET): S&P Corelogic Case-Shiller HPI (9 a.m.),  Consumer Confidence (10 a.m.).
Today's earnings include: Laboratory Corporation of America (LH), Advanced Micro Devices (AMD), Rockwell Automation (ROK), Amgen (AMGN), McDonald's (MCD), Starbucks (SBUX), New Oriental Education & Technology (EDU), Maxim Integrated Products (MXIM), Martin Marietta (MLM), Pfizer (PFE), Juniper Networks (JNPR), Visa (V).
Click here to log on to your account or learn more about E*TRADE's trading platforms, or follow the Company on Twitter, @ETRADE, for useful trading and investing insights.  
---
1 Financial Times. Mounting risks in US will weigh on the dollar, analysts predict. 7/13/20.
What to read next...
07/27/20
The market's leading sector gave back gains for a second-straight week as US–China tensions re-escalated.
---
07/24/20
Hydrogen fuel cells are the latest alt-energy tech to capture the market's attention. One player was certainly in play yesterday.
---
07/23/20
Diagnostics stock hits record highs in advance of earnings, but options activity draws attention to historical price pattern.
---