A dollar for your thoughts
DLTR rebounded in early December after November drop
Relatively low IV may translate into less-expensive options
Stock jumped yesterday on positive trade-negotiation news
Following a two-day skid, discount retailer Dollar Tree (DLTR) jumped more than 1% intraday on Thursday, perhaps cheering up bulls looking for the stock to extend a recent rebound off its December 3 low: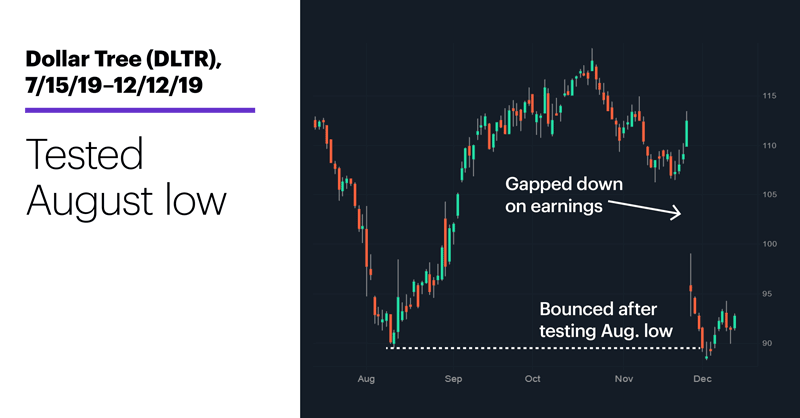 Source: Power E*TRADE
---
This test of the August low followed a sharp sell-off in late November triggered by an earnings miss that was attributed in part to Dollar Tree's struggles to combat tariffs on goods from China1—the source of so many of the products it sells. And that may explain why DLTR was up so much more than the broad market in early trading yesterday, as stocks initially jumped after reports that the US and China were close to finalizing a Phase 1 trade.2 (Semiconductor stocks, a sector with high exposure to China, soared yesterday, too.)
It wasn't the first time the market surged or sank on a trade headline or tweet; it won't be the last. But with this weekend's looming tariff deadline, the market may be more invested in the possibility that some kind of deal is in sight.
DLTR isn't the only China-sensitive stock out there, but it was one that appeared yesterday on a LiveAction scan for tickers with 30-day implied volatility less than their 30-day average historical volatility: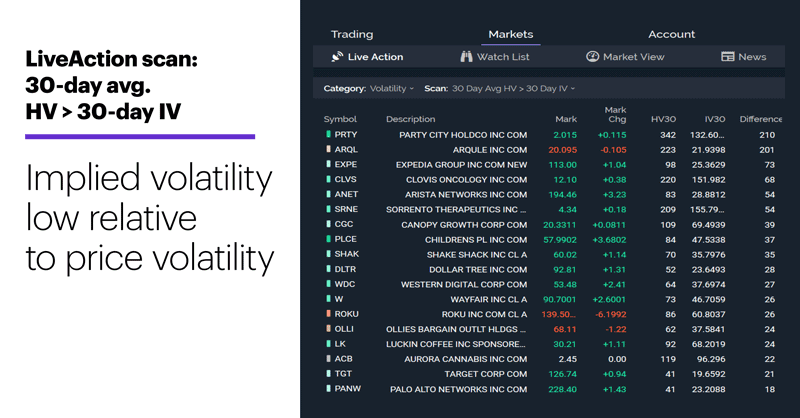 Source: Power E*TRADE
---
While historical volatility (HV) simply measures how much a stock has moved in the past, implied volatility (IV) is the part of an option's price that represents how much traders expect it to move in the future: the more price movement they anticipate, the higher the IV—and, usually, the higher options prices are as a result.
So, the fact that DLTR's IV was lower than its HV could mean its options are relatively low priced, and given how much the stock has dropped in recent weeks, call options are certainly trading at lower levels than they were a few weeks ago. In fact, the following chart shows the DLTR February $92.50 call (an at-the-money option yesterday morning) was trading more than 20% lower than it was on November 26 when the stock dropped 15% after that earnings release:
Source: Power E*TRADE
---
In a nutshell, some traders may look at DLTR and see a stock trading roughly 22% below its October highs, with options that may offer an additional discount because of their reduced IV.
Trade headlines giveth, and trade headlines can taketh away. But that doesn't change the fact that DLTR call options may be more attractive than usual to bargain–minded bulls.
Today's numbers (all times ET): Retail Sales (8:30 a.m.), Import and Export Prices (8:30 a.m.), Business Inventories (10 a.m.), Baker-Hughes oil rig count (1 p.m.).
Click here to log on to your account or learn more about E*TRADE's trading platforms, or follow the Company on Twitter, @ETRADE, for useful trading and investing insights. 
---
1 StreetInsider.com. Dollar Tree forecast misses as tariffs bite; shares slump 17%. 11/26/19.
2 The Wall Street Journal. U.S. Offers to Cut Tariffs on China as Trump Says Trade Deal Is Near. 12/12/19.
What to read next...
12/12/19
Financial companies usually kick off quarterly reporting season. Do their stocks get a head start on the action?
---
12/11/19
Even if small-cap momentum doesn't last, it may offer short-term trade opportunities. And if it does have legs…
---
12/10/19
Are certain sectors or stocks more likely to gain ground at the end of the year?
---