Discounted stock, strong sector
Heavy TREE options volume on Monday
Stock rallied 4% intraday, reversing recent losses
Some traders liquidated puts in wake of recent retracement
Options volume in online loan marketplace LendingTree (TREE) was running around five times average yesterday morning—a little more than 1,600 contracts: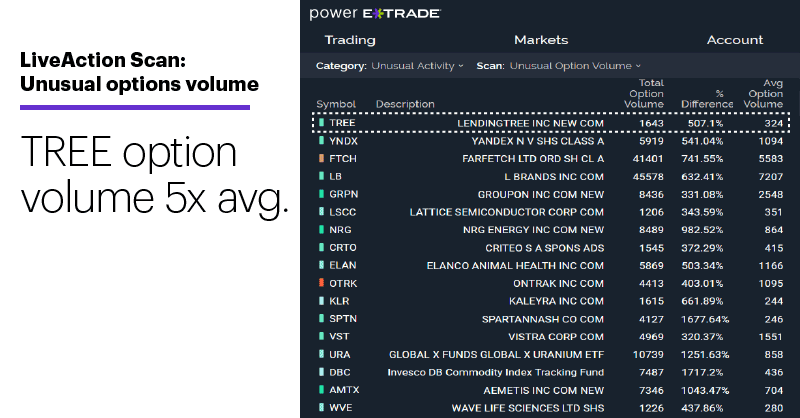 Source: Power E*TRADE
---
That wasn't the day's heaviest call volume by any means, but it was slightly unusual in that TREE is a lightly traded stock, averaging less than 300,000 shares and only 324 options a day.
Although its stock volume around 11 a.m. ET yesterday was a somewhat sleepy 60,000 shares, TREE was enjoying a nice bounce, jumping more than 4% in early trading. While that may sound like a reasonable explanation for the amped-up options volume, a more likely culprit was TREE's 15% tumble last Thursday and its 3.7% follow-through loss on Friday: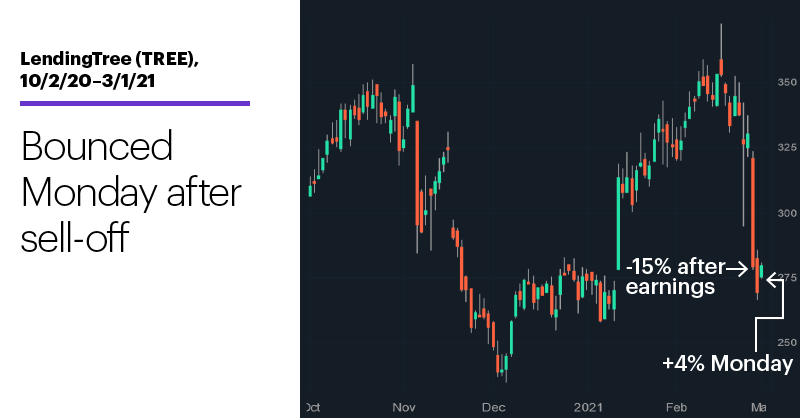 Source: Power E*TRADE
---
That sell-off, which was part of a larger retreat from the stock's 15-month high of $372.64 on February 16, came after TREE released earnings that topped estimates but also showed a nearly 18% year-over-year decline in total 2020 revenue (which was in line with expectations) and a 13% revenue decline for Q4 (which wasn't).1
LendingTree's activity yesterday highlights the potential benefits that can come from putting different pieces of market information together rather than looking at them in isolation. First, although most of TREE's options volume was in puts, the open interest (OI) in those positions was shrinking, not expanding—something that could reflect profit-taking by traders who realized gains in the wake of last week's sell-off.
Second, with implied volatility (IV) subsiding after last week's sell-off (April options IV was a little below its 30-day average yesterday), options traders considering the possibility the stock could rebound in the near term may be more inclined to buy call options. The IV in March options, though, was above its 30-day average (and also higher than April IV), which means bullish traders may have been considering selling March puts, since they may have been relatively pricier.
Finally, a potentially important backdrop to all the options considerations is the fact that financials have been the S&P 500's second-strongest sector over the past six months, trailing only red-hot energy. With so many financial names already pushed to high levels, some traders may be inclined to pay more attention to recently discounted stocks within the sector that could still benefit from its tailwinds.
Today's earnings include: AutoZone (AZO), Box (BOX), Kohl's (KSS), Campbell Soup (CPB), Target (TGT), Quanterix (QTRX), International Game Technology (IGT), Ross Stores (ROST), Urban Outfitters (URBN), Lemonade (LMND), Nordstrom (JWN).
Today's numbers: Vehicle sales.
Click here to log on to your account or learn more about E*TRADE's trading platforms, or follow the Company on Twitter, @ETRADE, for useful trading and investing insights.  
---
1 Zacks Equity Research. LendingTree (TREE) Stock Down 15.5% as Q4 Earnings Fall Y/Y. 2/26/21.
What to read next...
03/01/21
February ends in the plus column, but continued tech dump drags down market in final week of month.
---
02/26/21
Barge operator's options positions soar as shares push to one-year high.
---
02/24/21
Sometimes there is a certain degree of method to the apparent madness of earnings volatility.
---