Diagnosis: Volatility
QDEL has experienced extreme volatility in recent months
Volatility pattern supporting recent price bounce?
"Synthetic" options trade may benefit short-term traders
It's not hard to understand why medical diagnostics company Quidel (QDEL) showed up on LiveAction scans yesterday for having options implied volatility (IV) significantly below its historical volatility (HV).
The following chart is the type of thing that makes investors turn off their screens but prompts many shorter-term players to think about potential trade opportunities: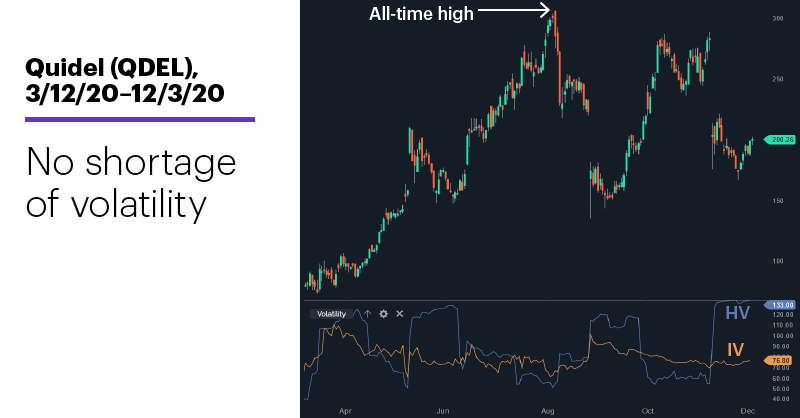 Source: Power E*TRADE
---
After a 313% rally off its March low, QDEL went on a rollercoaster ride—down 50%, up 89%, down 39%—that, as of yesterday, had shares at a 35% discount to their August 6 record high of $306.72. That's a lot of price movement, which is precisely what HV is.
The fact that IV was running more than 40% lower than HV yesterday morning simply means the options market was expecting QDEL to be less volatile in the next several weeks relative to the past several weeks—a perfectly logical outlook, given volatility tends to cycle between highs and lows.
Nonetheless, it's still an assumption, and if you look at the IV and HV lines at the bottom of the chart, you'll notice two things:
1. IV underestimated the level of price volatility that actually developed on more than one occasion (most noticeably in early August, right before the big sell-off).
2. Most of the previous extreme HV highs (April, June, September) were followed by rallies—and steady declines in IV.
Traders noting that QDEL's November downturn bottomed well above the August sell-off low (as well as the fact that the stock has bounced around 14% over the past six days) may be inclined to wonder whether the stock can mount another upside run. Many of those willing to trade on that premise would likely use the November 24 low (around $166.50) as a risk point/stop level—that is, they'd get out of their positions if that level didn't hold.
On the options side, conservative traders would probably lean toward a bullish call spread (like the one described here yesterday), while more aggressive players may consider outright calls or a "synthetic" position consisting of a long at-the-money call and a short at-the-money put with the same expiration date. The trade mimics the risk-reward profile of a long stock position: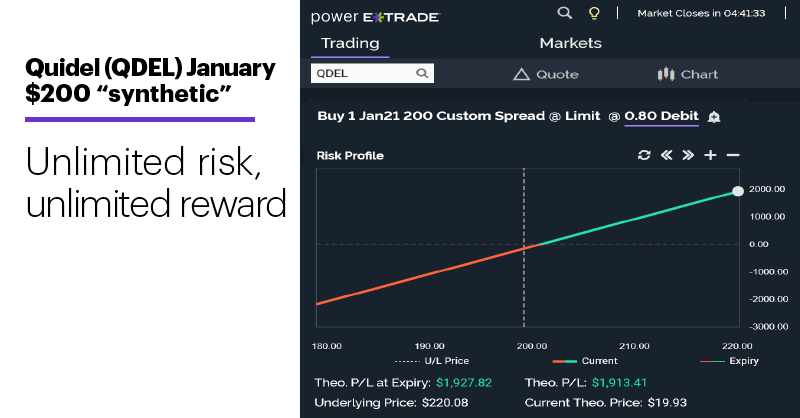 Source: Power E*TRADE
---
The synthetic trade shown here (long the January $200 call, short the January $200 put, established at an $80 debit) would gain or lose the same dollar amount as a long stock position entered at $200 (less commissions), but it gives traders more leverage because it requires less margin.
But experienced traders always remember that whenever you increase leverage, you increase risk— which means you can't cut corners on managing it.
Market Mover Update: Walgreens Boots Alliance (WBA) appears to be recovering from the case of Amazon-itis it caught last month—the stock jumped more than 9% intraday yesterday and has rallied around 15% since November 20 after selling off when Amazon launched its online pharmacy business (see "Potential cure for a news shock"). Casino operator Wynn Resorts (WYNN) got close to testing its June high around $109 after rallying 55% the past five weeks off its long-term support level (see "Laying out the cards").
Today's numbers (all times ET): Employment Report (8:30 a.m.), Trade Balance (8:30 a.m.), Factory Orders (10 a.m.).
Today's earnings include: Big Lots (BIG).
Click here to log on to your account or learn more about E*TRADE's trading platforms, or follow the Company on Twitter, @ETRADE, for useful trading and investing insights.  
---
What to read next...
12/03/20
If the market rotates back toward technology, don't overlook potential opportunities outside the "big tech" spotlight.
---
12/02/20
There may be more than one way to trade a high-momentum earnings move—even if you don't know which direction it may be in.
---
12/01/20
Traders may see retailer's recent price action and heavy options volume as a near-term momentum signal.
---