Covered call prescription
Pharma stocks have surged after June pullback
Several names have pushed to multiple record highs this year
Recent price action highlights potential of two-part trade approach
Even with the market's recent bounce, there hasn't been an abundance of high-profile stocks making new highs. One exception has been the pharma space, with three well-known names appearing on Monday's scan for new 52-week highs:
Source: Power E*TRADE. (For illustrative purposes. Not a recommendation.)
---
Last week Merck (MRK), Eli Lilly (LLY), and Bristol-Meyers Squibb (BMY) rallied with the broad market after pulling back sharply for much of June. Unlike the broad market, though, these stocks were already at or near record highs before the sell-off began.
Their price action offers a lesson in the nuances of a technique used by both traders and investors—the covered call (or "call-write") strategy. Basically, it consists of shorting out-of-the-money (OTM) call options against a long stock position. Some long-term investors sell OTM calls (typically choosing a strike price they believe the stock is unlikely to reach) on an ongoing basis to provide additional income.
The call-write refers to the specific practice of simultaneously buying the stock and selling ("writing") the call—which, in essence, lowers the purchase price of the stock by the amount of premium collected. But using one of our pharma stocks as an example, the individual advantages of buying a stock and selling a call may not always align.
The following chart shows that by mid-June MRK had pulled back roughly 11% from its previous record highs—a move that may have prompted some bulls to buy the stock, or possibly execute a buy-write trade: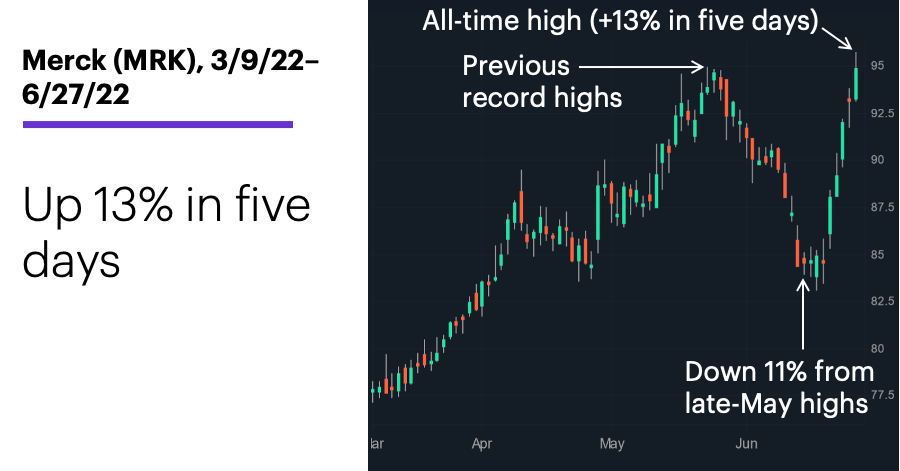 Source: Power E*TRADE. (For illustrative purposes. Not a recommendation.)
---
While as of yesterday that decision certainly would have paid off in terms of the stock, which had rallied as much as 13% over the past five trading days, it was a different story for anyone who had sold MRK calls around the same time.
For example, on June 17 when MRK shares closed at $84.62, the MRK July $100 call was trading for only $0.04. But the stock's subsequent surge pushed the call as high as $0.66 yesterday—more than three times as high as it closed last Friday, and more than 16 times its price on June 17: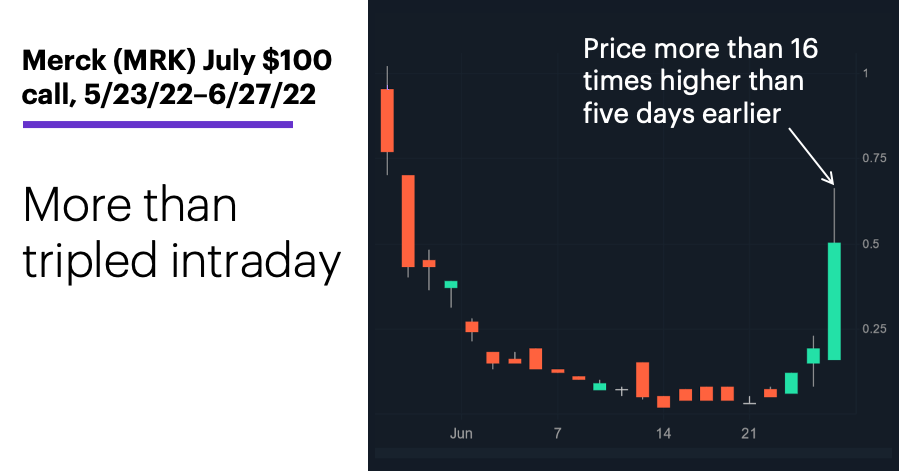 Source: Power E*TRADE. (For illustrative purposes. Not a recommendation.)
---
'In a nutshell, while buying a stock on a pullback can provide an edge, the price drop will also lower call premiums, which makes the simultaneous buy-write trade less optimal overall. Yes, you may be picking up the stock on the cheap, but you may not be getting much in return for shorting the call.
This case shows the potential advantage of using a two-step process: A trader or investor intending to hold a stock for a relatively long time may attempt to buy it on a pullback, then choose to wait for a rebound—which should push up call premiums—to sell calls against it.
A final note: Since 1962, MRK has made five-day moves like the one that concluded yesterday 39 other times.1 Three weeks later, its average return was -0.4%, suggesting that this type of high-momentum surge has sometimes been followed by weaker price action.
Market Mover Update: Axsome Therapeutics (AXSM) jumped 58% intraday on Monday after reports that the Food and Drug Administration would approve the company's AXS-05 depression treatment (see "The 'why' of high volatility"). Vaccine maker SIGA Technologies (SIGA) tumbled more than 18% intraday (see "Vaccine stock booster shot"). Over the weekend, the World Health Organization stated the monkeypox virus doesn't yet constitute a global health emergency.2
Today's numbers include (all times ET): Advance International Trade in Goods (8:30 a.m.), Retail and Wholesale Inventories (8:30 a.m.), S&P Case-Shiller Home Price Index (9 a.m.), FHFA House Price Index (10 a.m.), Consumer Confidence (10 a.m.).
Today's earnings include: TD SYNNEX (SNX), Progress Software (PRGS).
Click here to log on to your account or learn more about E*TRADE's trading platforms, or follow the Company on Twitter, @ETRADE, for useful trading and investing insights.
---
1 Bloomberg.com. All figures reflect Merck (MRK) daily price data, 1/2/61–6/27/22. Price pattern refers to a 10%-or-larger, five-day rally from the closing price of a day that closes lower than the previous day. Supporting document available upon request.
2 CNBC.com. World Health Organization says monkeypox is not a global health emergency right now. 6/25/22.
What to read next...
06/27/22
Stocks recover some of June's losses even as leading sector loses momentum.
---
06/24/22
Find out how a new vaccine story played out in this biopharma stock.
---
06/23/22
Find out what the data says—and doesn't—about this building supplier's pre-earnings sell-off.
---