Defense stock seeks offense
RTX consolidated after rebounding off post-merger low
Defense strengths outweigh air-travel headwinds?
Earnings scheduled for May 7
If you were in the aerospace and defense industry and planning a blockbuster merger, you probably wouldn't choose to do it during a crisis that brought air travel to a near standstill and sent the stock market reeling.
But that's how things have played out for Raytheon Technologies (RTX), the new entity that emerged from the April 3 blockbuster merger of the already huge Raytheon and United Technologies. The deal, which had been in the works since June 2019, created an A&D powerhouse with nearly 200,000 employees and roughly $74 billion in net sales last year.1
The following chart shows the merger adjustment occurring just a little after the stock was beginning to rebound from its mid-March lows: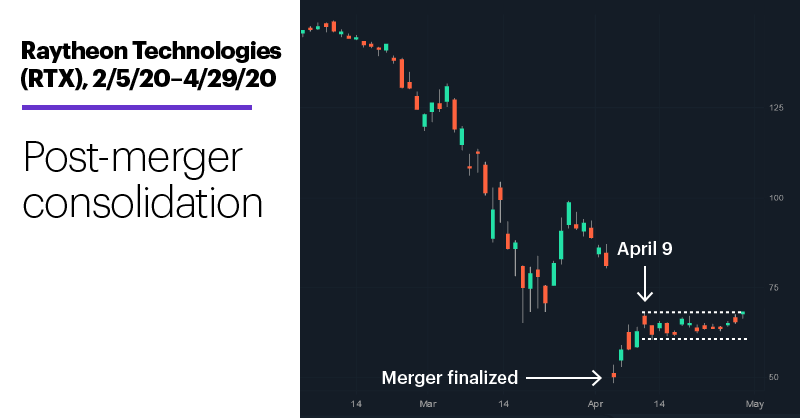 Source: Power E*TRADE
---
The magnitude of the decline obscures the stock's subsequent rebound: RTX jumped nearly from $49.93 to $64.71 (30%) in the first four days after the merger finalization, but then consolidated for nearly three weeks, with yesterday's 4%-plus rally pushing prices just above the April 9 high.
Earlier this month Raytheon CEO Gregory Hayes acknowledged the headwinds facing the airline industry (and his company) because of the pandemic, making comparisons to the roughly two-year recovery process after 9/11.2 On the other hand, he also noted the company's defense portfolio is strong—an antidote to possible weakness in its commercial aviation business. (The company recently became the sole contractor for an Air Force project to upgrade the US nuclear arsenal.3)
What he didn't point out is that industry recovery is one thing, and stock recoveries are another. Back in September 2001, for example, Raytheon was already coming off a new all-time high in May when the terror attacks sent the stock plummeting 36% to below $20 in five days. But the stock never approached that low again, not even in 2008-2009.
While today's circumstances may be different from those in 2001, some traders may see similarities in the potential for stocks like RTX to weather the airline industry fallout. In addition to bulls who anticipate a possible momentum move on a solid breakout above the April 9 highs, some traders (especially those looking to limit their downside) may be eying more conservative options strategies. The following options chain shows a big chunk of yesterday's call volume was in the June $70, $75, and $80 calls: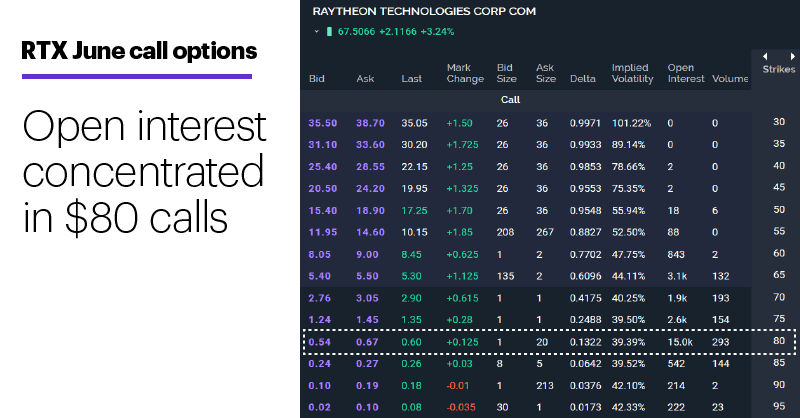 Source: Power E*TRADE
---
The June $80 calls also had the overwhelming majority of open interest (unclosed positions)—15,000 contracts, at least some of which could represent bets that RTX will rally to $80 or higher before June expiration.
With that in mind, the following chart shows a bull call spread consisting of going long the June $65 calls and short the June $80 calls at a cost of 4.85 ($485) per spread. The long call should continue to gain value if the stock rallies, while the premium collected from the short call lowers the cost of the trade.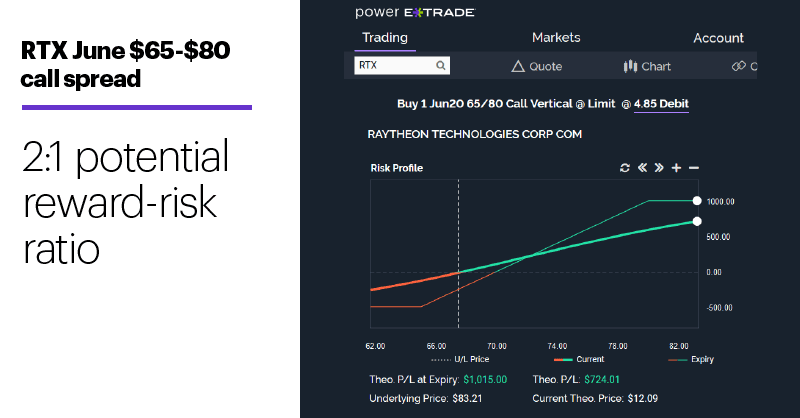 Source: Power E*TRADE
---
The spread's risk is limited to the initial $485 debit, while the potential profit is capped at a little over $1,000, even if the stock rallies above $80. But given a roughly 2:1 reward-risk ratio, it's a trade-off some traders would be willing to make.
Final note: RTX is currently scheduled to release earnings a week from today (May 7).  
Market Mover Update: News that Gilead Science's (GILD) remdesivir drug showed some effectiveness in treating coronavirus patients4 appeared to outweigh the initial Q1 GDP estimate, which came in below estimates at -4.8%.
A day after falling to nearly $10/barrel, yesterday June WTI crude oil (CLM0) shot up more than 24% to get back above $15 (see "Storage wars").
Since last Tuesday's bear-trap breakdown, Constellation Brands (STZ) has rallied 12%, pushing the stock above the top of its consolidation (see "Bulls, bears, and booze").
Williams-Sonoma (WSM) ran its five-day gain to around 25% after yesterday's nearly 6% rally (see "Cooking up a trade").
Today's numbers (all times ET): Jobless Claims (8:30 a.m.), Employment Cost Index (8:30 a.m.), Personal Income and Outlays (8:30 a.m.), Chicago PMI (9:45 a.m.).
Today's earnings include: Amazon.com (AMZN), Apple (AAPL), Amgen (AMGN), Dunkin' Brands (DNKN), Baxter (BAX), Molson Coors (TAP), McDonald's (MCD), Kellogg (K), ConocoPhillips (COP), Gilead Sciences (GILD), Visa (V), Twitter (TWTR).
Click here to log on to your account or learn more about E*TRADE's trading platforms, or follow the Company on Twitter, @ETRADE, for useful trading and investing insights.  
---
1 Washington Business Journal. Raytheon completes merger with United Technologies. 4/3/20.
2 Bloomberg.com. Raytheon CEO Sees 'Two-Year Tough Spell' Ahead Due to Virus Pandemic. 4/3/20
3 America City Business Journals. Raytheon will be sole contractor in Air Force's nuclear missile update. 4/21/20.
4 Reuters. UPDATE 2-Gilead says remdesivir trials show improvement for COVID-19 patients. 4/29/20.
What to read next...
04/29/20
What does the market's incredible rally suggest stocks may do in the coming weeks?
---
04/28/20
Biopharma stock's options volatility surges, but stock may face near-term hurdle.
---
04/27/20
Stocks dip as crude goes on a wild ride and a potential coronavirus drug suffers a setback.
---