Deep discount trading
JNJ fell sharply Friday after reports of a possible DOJ probe
Stock is scheduled to release earnings today
JNJ has topped numbers last seven quarters
Amazon Prime Day may have had shoppers scouring for online bargains, but some traders may have been more interested in the recent markdown in a blue-chip stock poised to release earnings.
Last Thursday health care giant Johnson & Johnson (JNJ) was chugging along, off a bit from its late-June high around $145 but still up 8.6% on the year—well behind the broad market, yes, but also well ahead of its underperforming sector. Closing around $140, it also wasn't even too far removed from last December's record high around $149.
On Friday, though, reports surfaced that the Department of Justice may look into whether JNJ lied about possible cancer risks of its talcum powder.1 Not surprisingly, the stock fell as much -5.6% intraday before closing down -4.2%: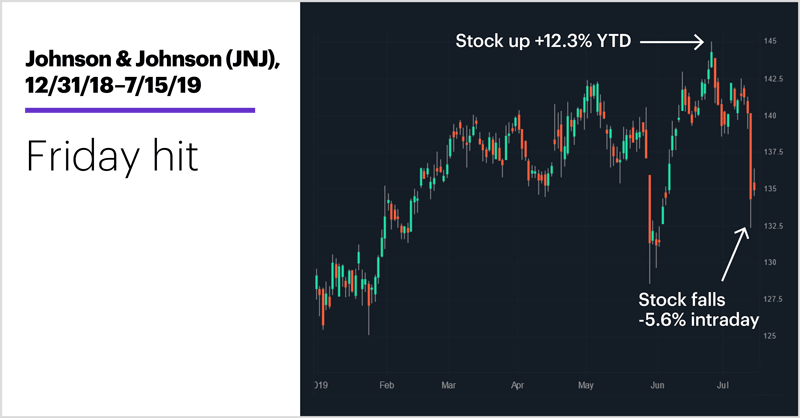 Source: Power E*TRADE
---
As is always the case when stories like this emerge, there are a few things experienced traders tend to keep in mind:
●An investigation or accusation is not the same as a "conviction."
●Such processes often unfold over months, if not years.
●Investors often initially overreact to negative headlines.
In the meantime, by the time you read this there's a good chance JNJ will already have released its Q2 numbers. And if the pattern from the past seven quarters holds, the company will top the Street's earnings and revenue estimates. (The stock also has a history rallying more than it declines in the first week after releasing numbers.2)
Despite recent headlines, the Street appears to have remained mostly bullish on JNJ, in part because the company has long since diversified from Band-Aids and baby powder to pharmaceuticals and medical devices.3
Bottom line, although JNJ rallied a bit yesterday, it was still trading at a deep discount to its levels from just a week ago, and it had a potential catalyst waiting in the wings.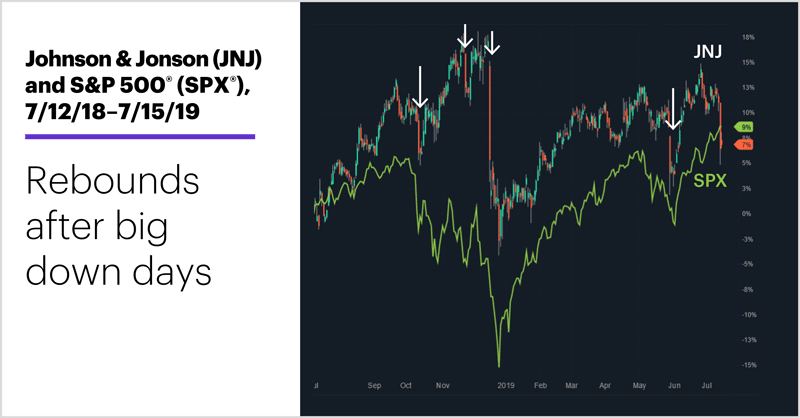 Source: Power E*TRADE
---
By the way, the stock is no stranger to the occasional rough day—or from bouncing back from one. The above chart of JNJ (along with the SPX) over the past year highlights a few other large declines (October, November, and December 2018, and May 29 of this year). The stock rebounded soon after all of these except the December episode, which occurred in the midst of a broad-market sell-off.
Reviewing similar one-day JNJ drops since 1962 suggests these examples are more representative of the rule than the exception. The stock has had 79 other one-day -4% to -6% declines since then, and it was higher five days later after 51 of them (65% of the time), with an average return of +2.1%. And after the most recent 15 of these drops (dating back to 2000), the stock was higher five days later 10 times.
Traders know that regardless of what happens to a stock in the long-term, immediate, emotional reactions to news events can be subject to reversals.
Market Mover Update: The S&P 500 (SPX) notched another record high (3,017.80) yesterday before turning modestly lower. Breakout watch: August gold futures (GCQ9) continued to tighten the consolidation they entered after gaining more than 12% in the first three weeks of June.
Today's numbers: Retail Sales (8:30 a.m.), Import and Export Prices (8:30 a.m.), Industrial Production (9:15 a.m.), Business Inventories (10 a.m.), Housing Market Index (10 a.m.). Fed Chairman Jerome Powell is scheduled to give a speech at 1 p.m.
Today's earnings include: United Airlines Holdings (UAL), CSX Corp (CSX), Cintas Corp (CTAS), JPMorgan Chase (JPM), Wells Fargo (WFC), Goldman Sachs (GS), Prologis (PLD), Johnson & Johnson (JNJ).
Click here to log on to your account or learn more about E*TRADE's trading platforms, or follow the Company on Twitter, @ETRADE, for useful trading and investing insights.
---
1 Investor's Business Daily. J&J Stock Dives As Feds Reportedly Seek Criminal Probe Into Talc Powders. 7/12/19.
2 StreetInsider.com. Johnson & Johnson (JNJ) Earnings. 7/15/19.
3 MarketWatch.com. J&J earnings preview: Wall Street is still optimistic despite company's legal issues. 7/15/19.
What to read next...
07/15/19
Stocks advance on dovish Fed testimony.
---
07/12/19
Beware the narrative: Headlines, sentiment sometimes mislead traders just before a market makes a move.
---
07/11/19
Can the beginning of the second half of the year signal what things will look like come December?
---