Market rolls into New Year
Stocks end 2021 with two-week win streak
S&P 500 outgains Nasdaq for first time in five years
This week: Jobs report, FOMC minutes
The S&P 500 (SPX) may not have done much the final four days of the week, but last Monday's 1.4% rally was about all it needed to wrap up its 34th up week of 2021—and one of its best years of the past five decades in the process: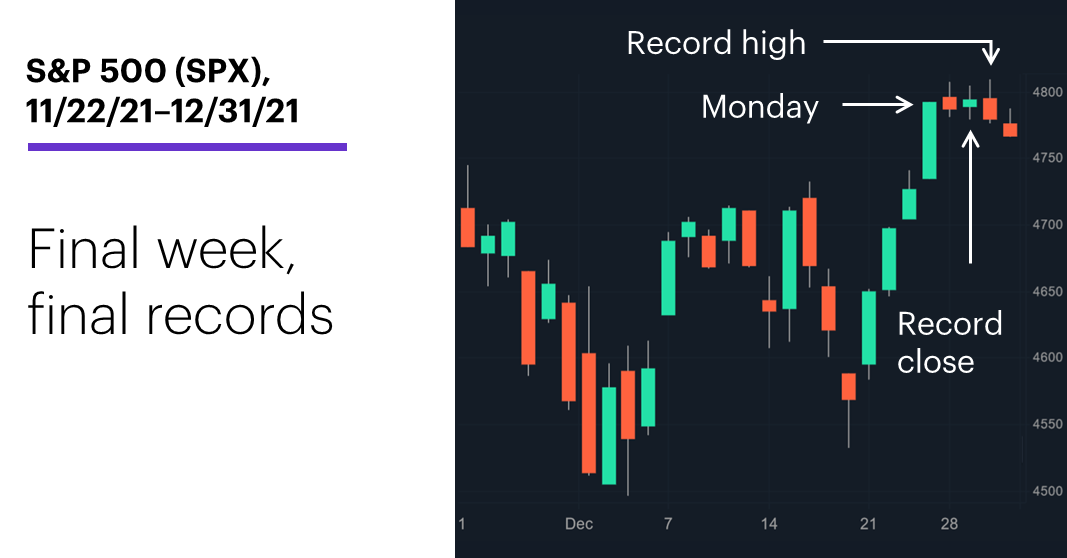 Source: Power E*TRADE. (For illustrative purposes. Not a recommendation.)
---
The headline: Santa Claus Rally carries stocks into New Year.
The fine print: Except for Friday, the SPX set a new intraday or closing high every day of last week, and its 4.3% rally in the final eight trading days of the year was its biggest comparable gain since 2008, and the second-largest since 1992.1
The number: 7, where the SPX's 2021 gain ranked among the returns of the past 50 years.
The scorecard: The Dow Jones Industrial Average (DJIA) led the market last week, but the SPX came out on top for the year, besting the Nasdaq 100 (NDX)—by a hair—for the first time since 2016: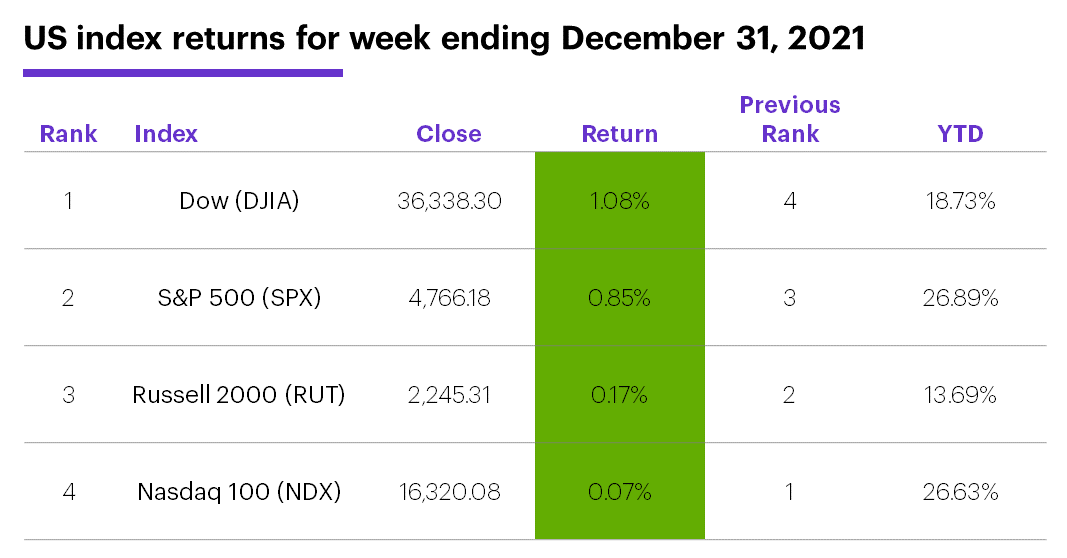 Source (data): Power E*TRADE. (For illustrative purposes. Not a recommendation.)
---
Sector roundup: The strongest S&P 500 sectors last week were real estate (+3.7%), utilities (+2.6%), and materials (+2.6%). The weakest sectors were communication services (-0.8%), consumer discretionary (+0.4%), and information technology (+0.5%).
Highlight reel: CollPlant Biotechnologies (CLGN) +35% to $17.89, Cue Health (HLTH) +22% to $15.66, BridgeBio Pharma (BBIO) -72% to $11.38, SK Telecom (SKM) -40% to $28.94—all last Monday.
Futures action: Oil closed out its biggest up year since 2016 by mirroring the stock market—February WTI crude oil (CLG2) jumped to a one-month high of $76.09/barrel last Monday, then traded sideways to end the week at $75.21. February gold (GCG2) extended a modest rally off its mid-December lows by closing Friday at a six-week high of $1,828.60/ounce.
Coming this week
Friday's jobs report caps a busy first week of the year that also includes the release of the minutes from the latest Fed meeting:
●Today: Markit Manufacturing PMI, Construction Spending
●Tuesday: ISM Manufacturing Index, Job Openings and Labor Turnover Survey (JOLTS)
●Wednesday: Markit Services PMI, FOMC minutes
●Thursday: Challenger Job Cuts, Trade balance, ISM Non-Manufacturing Index, Factory Orders, Vehicle Sales
●Friday: Employment Report, Consumer Credit
This week's earnings include:
●Tuesday: SMART Global Holdings (SGH)
●Wednesday: Simply Good Foods (SMPL), RPM International (RPM)
●Thursday: Walgreens (WBA), Conagra Brands (CAG), Bed Bath & Beyond (BBBY), Constellation Brands (STZ), WD-40 (WDFC)
●Friday: Acuity Brands (AYI)
Check the Active Trader Commentary each morning for an updated list of earnings announcements, IPOs, economic reports, and other market events.
After a year like 2021…
In general, expecting markets to pause or pull back after large up moves—and do the opposite after big sell-offs—has a solid basis in fact. But the US stock market's performance after its biggest up and down years isn't an open-and-shut case.
The SPX's median return for the years following its 10-biggest up years since 1972 (not counting this year) is 15.4%, while its median gain after its 10-biggest down years is 19.1%.2 That's not a huge difference, but it still supports the idea that strength tends to follow weakness, and vice versa. On the other hand, of the 10-strongest years, only one (1989) was followed by a down year, while three of the 10-weakest years (1973, 2000, and 2001) were followed by down years.
The takeaway may be that price trends don't fit neatly into a calendar—that is, market turning points don't necessarily track the transition from one year to another.
Click here to log on to your account or learn more about E*TRADE's trading platforms, or follow the Company on Twitter, @ETRADE, for useful trading and investing insights.
---
1 Reflects S&P 500 (SPX) daily closing prices, 1960–2021. The period specified spans the third trading day before the Christmas holiday to the fifth trading day after it. Supporting document available upon request.
2 Reflects S&P 500 (SPX) monthly closing prices, 1972–2021. Supporting document available upon request.
What to read next...
12/30/21
Find out why options don't always move the way you expect them to.
---
12/28/21
This year has provided more than a few "teaching moments" for students of the markets.
---
12/27/21
Market in position to wrap up 2021 at or near all-time highs despite latest bout of volatility.
---