The numbers behind charts
GMS fell 11% intraday one day before earnings
Stock down more than 20% since June 7
Intraday reversal pattern sometimes a red herring in past
Price charts can be useful tools, giving traders an at-a-glance summary of where a market has been. But as a guide to where prices may be going, pictures are often worth much less than a thousand words—or numbers.
The Catch-22: The potential for disconnect between the first impression a chart makes, and the implications of the data that makes up that impression.
Yesterday, for example, GMS (GMS) fell nearly 11% intraday before recovering to close in the upper half of the day's range: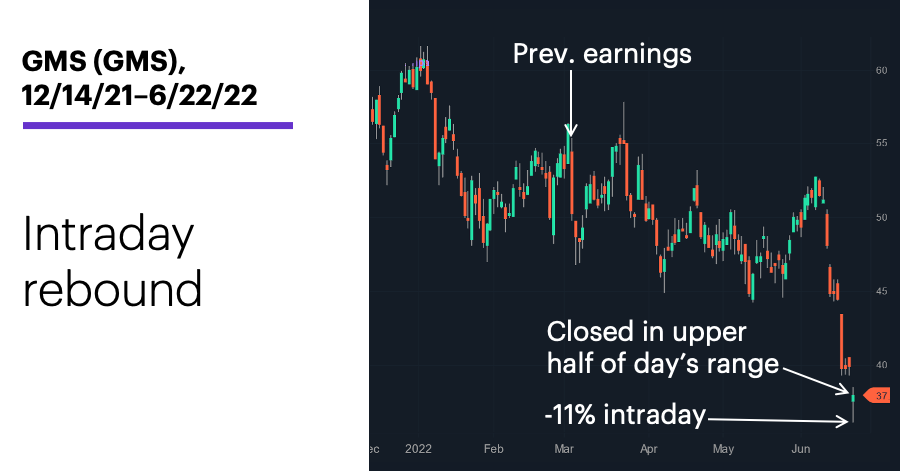 Source: Power E*TRADE. (For illustrative purposes. Not a recommendation.)
---
A maker of commercial and residential building supplies (wallboards, ceiling systems, etc.), GMS was experiencing a sharp downturn even before yesterday's sell-off, having slid more than 24% from its June 7 high.
Some traders—especially those with a contrarian bent—may look at a chart like this one and see an overextended price move with the potential to reverse (if only temporarily) in the near term, especially since the stock rebounded off its lows to recover more than half of its intraday loss. Wasn't that an indication that bulls were already scooping up the stock?
Yes—for part of one trading day, at least. But the numbers behind price bars provide important context. First, GMS has had only five other days where it's fallen 10% or more intraday and reversed to close in the upper half of the day's range. And while the stock usually closed lower the next day, that's not enough data to rely on.
But there have been 24 other similar days—ones where GMS fell 5% or more intraday and closed in the upper half of the range. The stock's typical performance after them suggests that intraday pivot days like Wednesday didn't always immediately lead to more significant up moves:
●The stock closed lower the next day 16 out of 24 times.
●The stock was higher after five trading days 18 out of 24 times.1
Second, GMS was scheduled to release earnings before the opening bell today, an event the following chart shows has led to, on average, a +/-4.74% price move (yellow dashed line):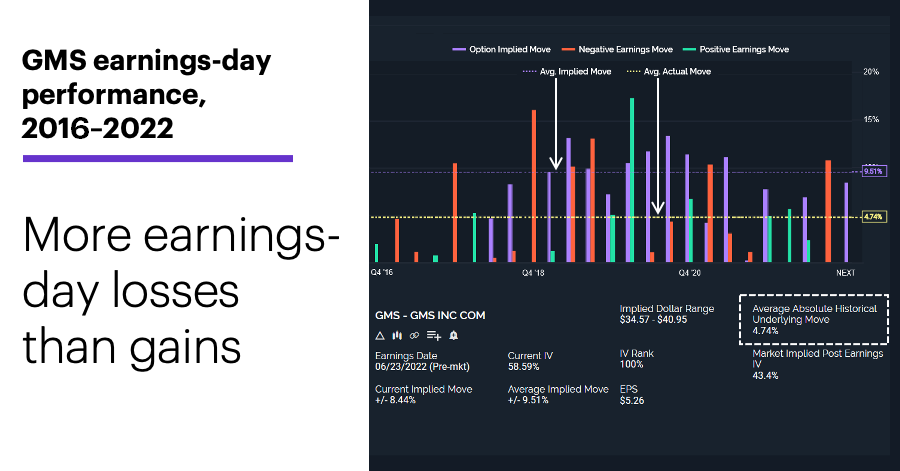 Source: Power E*TRADE. (For illustrative purposes. Not a recommendation.)
---
If nothing else, this suggests GMS has the potential to make a fairly large move today. Over the past 24 quarters (dating back to 2016), GMS has fallen on earnings day 14 times (red vertical bars) and rallied 10 times (green bars). When the company last released earnings on March 3, the stock fell sharply (see price chart), and was also followed the next day by a 5%-plus intraday sell-off that, like yesterday, ended with a close in the upper half of the day's range. The stock closed lower the next day before turning higher.
There are never certainties in the markets, only probabilities. That's why many traders use price charts as a place to start their analysis, rather than end it. A picture may be compelling, but it never hurts to crunch the numbers that go into making it.
Market Mover Update: On Wednesday August WTI crude oil futures (CLQ2) extended their retreat with a 7.4% intraday sell-off to $101.53/barrel, but rebounded to close above $106/barrel (see "Oil, energy, and FOMO").
Two weeks after Morgan Stanley analysts downgraded tobacco company Altria (MO),2 the stock tumbled more than 8% Wednesday after reports that the Food and Drug Administration would order Juul e-cigarettes off the US market.3 Altria owns 35% of Juul.
Today's numbers include (all times ET): Weekly Jobless Claims (8:30 a.m.), Current Account (8:30 a.m.), Jerome Powell testifies before the House Financial Services Committee (10 a.m.), EIA Natural Gas Report (10:30 a.m.), EIA Petroleum Status Report (11 a.m.).
Today's earnings include: Darden Restaurants (DRI), Accenture (ACN), FedEx (FDX).
Click here to log on to your account or learn more about E*TRADE's trading platforms, or follow the Company on Twitter, @ETRADE, for useful trading and investing insights.
---
1 Data reflects GMS (GMS) daily price data, 5/26/22–6/22/22. Supporting document available upon request.
2 CNBC.com. Morgan Stanley downgrades tobacco company Altria Group as inflation crimps demand for cigarettes. 6/22/22.
3 The Wall Street Journal. FDA to Order Juul E-Cigarettes Off U.S. Market. 6/16/22.
What to read next...
06/22/22
The upside of market downside is that sell-offs can pump up option prices.
---
06/21/22
Stocks extend losses as Fed dials up its inflation fight.
---
06/15/22
Central bank takes inflation fight to next level.
---