Cyber looks for security
Cybersecurity stocks have retreated since late 2021
Industry was one of the bigger gainers during pandemic
Recent bearishness out of sync with marketplace realities?
As this year's stock market correction extended, the phrase "pre-pandemic levels" began cropping up with increasing frequency as various stocks, after record-setting rallies, returned to where they had been trading before COVID turned the world upside down.
The reversal of fortune was especially noticeable in many of the "stay-at-home" stocks that got such a boost during the height of the pandemic lockdown—streaming services, home exercise equipment, and behind-the-scenes tech that made remote work possible.
That included cybersecurity—a critical concern for companies suddenly faced with widely distributed workforces. The following weekly chart shows how much two stocks from this group, CrowdStrike (CRWD) and Palo Alto Networks (PANW), outperformed the Nasdaq 100 (NDX) during the rally off the March 2020 lows: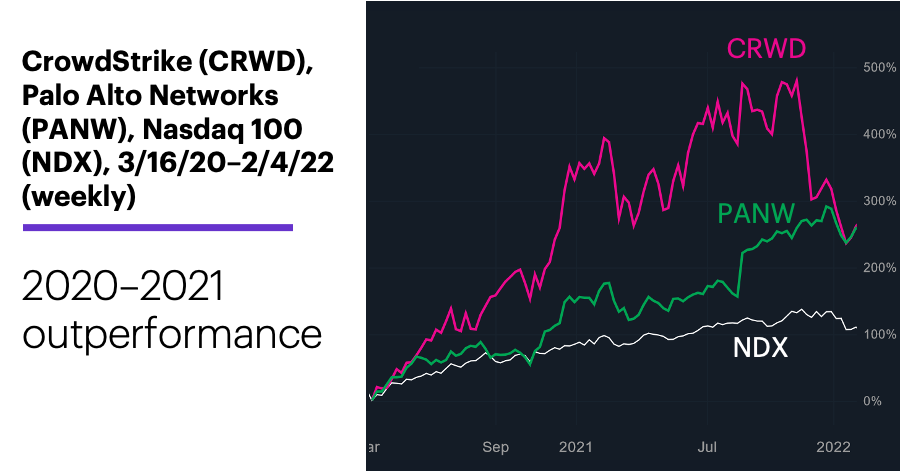 Source: Power E*TRADE. (For illustrative purposes. Not a recommendation.)
---
By mid-November 2021, both stocks had outgained the NDX by more than 100 percentage points—not bad, considering the NDX itself outperformed the S&P 500 by around 35 percentage points during this period.
As the weekly chart suggests, though, tech began to retreat before the broad market peaked in early January 22. The daily chart below shows that, as of yesterday, both stocks had double-digit percentage losses this year, although neither had fallen as much as the NDX: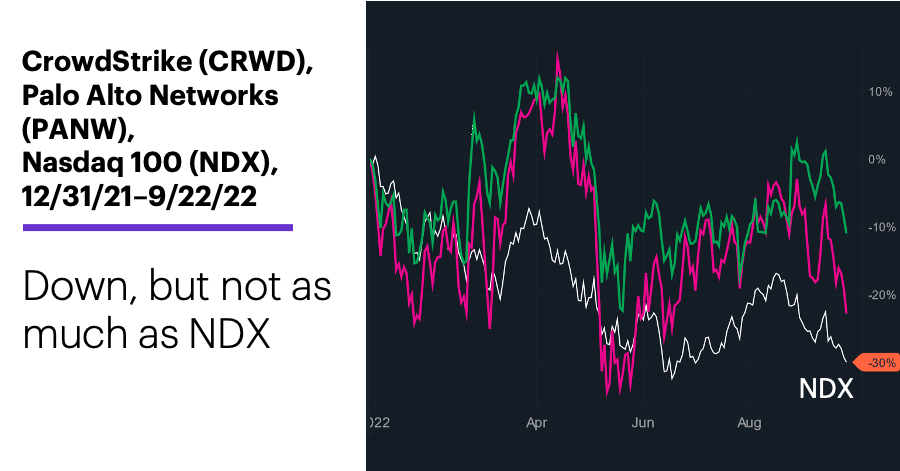 Source: Power E*TRADE. (For illustrative purposes. Not a recommendation.)
---
One way to interpret at least a portion of the bearishness in these stocks (aside from the possibility they were bid up too far during the pandemic, along with the overall pivot away from tech) is the steady increase in workers returning to offices. Like everything else that was "big" during lockdown conditions, stocks like CRWD and PANW may have lost some of their bullish luster because cybersecurity is presumably less of a corporate concern as more workplaces "normalize" to pre-pandemic conditions.
Research from Morgan Stanley & Co. suggests that outlook doesn't mesh with reality. In addition to their outlook that the hybrid work model is the new norm, Morgan Stanley's analysis indicates that not only are companies continuing to invest in various types of "collaboration" software, including cybersecurity, they are likely to use more than one provider.1
That doesn't mean the extra pressure the bear market has put on tech is over (both CRWD and PANW fell sharply on Thursday, for example). But it may put certain tech stocks—those with potential business tailwinds that could offset broad-market headwinds—on the screens of traders and investors thinking about the market's next phase.
Today's numbers include (all times ET): PMI Composite Flash (9:45 a.m.), Fed Chairman Jerome Powell speaks (2 p.m.).
Click here to log on to your account or learn more about E*TRADE's trading platforms, or follow the Company on Twitter, @ETRADE, for useful trading and investing insights.
---
1 Morgan Stanley.com. Why Collaboration Software Has Room to Grow. 9/20/22.
What to read next...
09/21/22
Conspicuous options trades may lead traders in one direction when the market may be going the other way.
---
09/20/22
A rare tech stock that's rallied in 2022 sees some unusual options trading as it consolidates.
---
09/19/22
With Fed rate decision looming, market falls to two-month low after hotter-than-anticipated data.
---