Cyber stock enters critical zone
Cybersecurity stocks have soared as companies have shifted online
PANW had taken a hit before the COVID-19 sell-off really kicked in
Stock up 65% from March low, implied volatility elevated
Waaaaay back on April 1, when we were in the early stages of the work-from-home era, "Lockdown realities put spotlight on cybersecurity stock" noted the intense interest in cybersecurity stocks, and showed how one, CrowdStrike (CRWD), was pausing as it approached a key resistance level.
With so many businesses unexpectedly forced to go virtual, the importance of protecting corporate cyberspace gained a new urgency, and six weeks later, many cybersecurity stocks haven't let their foot off the gas.
The following chart shows the Nasdaq 100 (NDX), the tech index that's led the US market during the recent recovery, along with CRWD and two other cybersecurity stocks—Okta (OKTA), and Palo Alto Networks (PANW):
Source: Power E*TRADE
---
Since the March lows, the "worst" stock of this trio (PANW) more than doubled the NDX's percentage gain, while the best one (CRWD) more than quintupled it.
Although OKTA has been hitting new all-time highs on a regular basis in recent weeks and CRWD is trading at its highest level since last September, some traders may be turning their attention to PANW, for a few reasons:
1.      The stock got hit especially hard in February–March because of a disappointing earnings release.
2.      The company may be poised to reap some of the benefits of its business acquisitions over the past year or so.
3.      Volatility and price patterns suggest the potential for a near-term momentum resurgence.
4.      Earnings are around the corner.
The chart below shows PANW's huge down gap on February 25 after the company released earnings that, while topping estimates, included a gloomy outlook for the future:1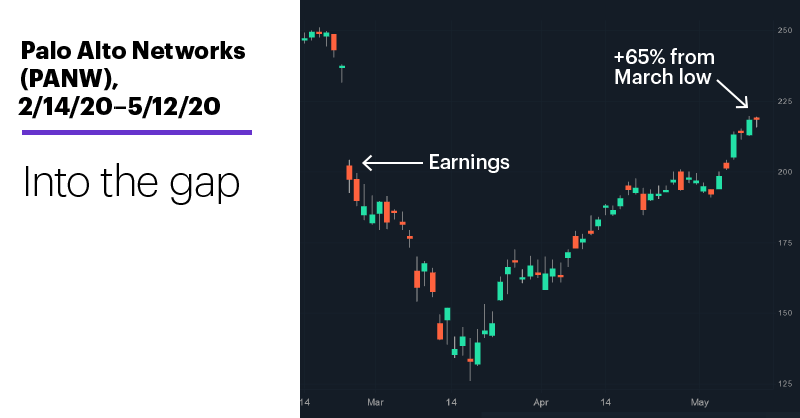 Source: Power E*TRADE
---
The stock shed 17% that day, adding insult to injury in what ultimately turned out to be a 47% decline from its February highs. Oversold? Well, since then the demand for cybersecurity solutions has skyrocketed, and PANW has rallied 65% and pushed into that earnings-release down gap, the top of which (the February 24 low around $231.30) may attract the attention of short-term chart traders who adhere to the motto that "gaps were meant to be filled."
On the business front, Palo Alto announced on March 31 it was buying cloud-security company CloudGenix—the sixth company PANW had scooped up in a little more than a year2—in what was seen as a step to strengthen its position in this critical security area as remote working has accelerated reliance on the cloud.3
And although PANW has hardly been a momentum wallflower in recent weeks, it appeared yesterday on a scan for stocks with 30-day historical volatility (HV) less than their 30-day implied volatility (IV), which suggests that, despite the already high momentum of the past 30 days, the options market is factoring in even more over the next 30 days:
Source: Power E*TRADE
---
There's a good reason for that: PANW's next earnings release—which should reflect at least some the game-changing circumstances of the past three months—is scheduled for a week from tomorrow (May 21).
The numbers themselves may be impossible to predict, but traders know there's always a good chance for outsized price moves around an earnings release.
By the way, if you take another look at the LiveAction scan above, you may notice OKTA a couple of rows below PANW.
Market Mover Update: Hostess Brands (TWNK) bucked yesterday's market weakness, rallying more than 2% intraday (see "Baking in a price move"). Myokardia (MYOK) followed up on Monday's 59% moonshot with another huge up day (see "Hearty premiums").
Today's numbers (all times ET): Producer Price Index, PPI (8:30 a.m.), Atlanta Fed Business Inflation Expectations (10 a.m.), EIA Petroleum Status Report (10:30 a.m.).
Today's earnings include: Cisco (CSCO), Jack in the Box (JACK).
Click here to log on to your account or learn more about E*TRADE's trading platforms, or follow the Company on Twitter, @ETRADE, for useful trading and investing insights.  
---
1 StreetInsider. Palo Alto Networks (PANW) Tops Q2 EPS by 7c, Guidance Misses. 2/25/20.
2 Investor's Business Daily. Cybersecurity Stocks To Watch As Coronavirus Speeds Up Shift To Cloud. 4/1/20
3 TechCrunch. Palo Alto Networks to acquire CloudGenix for $420M. 3/31/19.
What to read next...
05/12/20
Does huge options trade mean traders have a sweet tooth for iconic snack maker?
---
05/11/20
Stocks take record-breaking jobs report in stride, get back into plus column last week.
---
05/08/20
Will college dorms be filled to capacity this fall? One stock's outlook may hinge upon the answer to that question.
---