Covered calls, trading style
RH has rallied to multiple record highs in recent weeks
Call premiums jumped yesterday as the stock made another big gain
Earnings due on December 2
To say that home-furnishings specialist RH (RH) has had a good second half of the year is a bit of an understatement, as the stock has jumped from around $85 at the end of May to nearly $200 yesterday—a roughly 132% gain: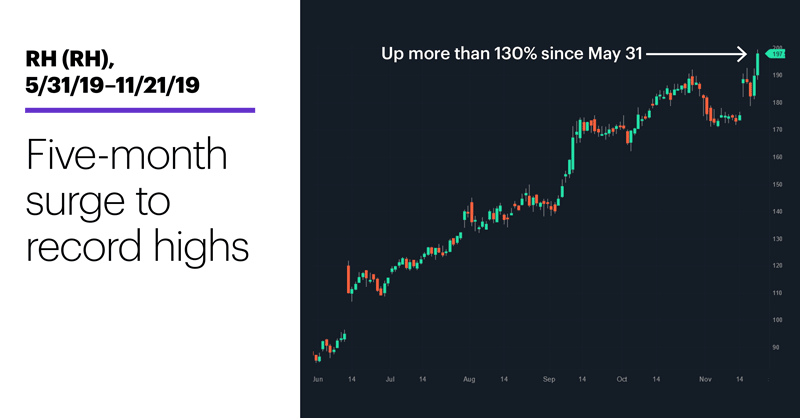 Source: Power E*TRADE
---
The stock has been cranking out plenty of new highs since early September, when it pushed definitively above its former all-time high from last year. And a 4%–plus intraday rally yesterday did more than push RH to yet another record, it inflated—check that, continued to inflate—call options prices.
The chart below shows a series of December RH call options (expiring in 29 days). Notice while the dollar gains in the closer-to-the-money December calls at the top (e.g., the $205, $207.50, and $210 strike prices) are the biggest on the list, the gains in the deep out-of-the-money (the $250 and $260 strikes; the $255s didn't trade) are bigger on a percentage basis: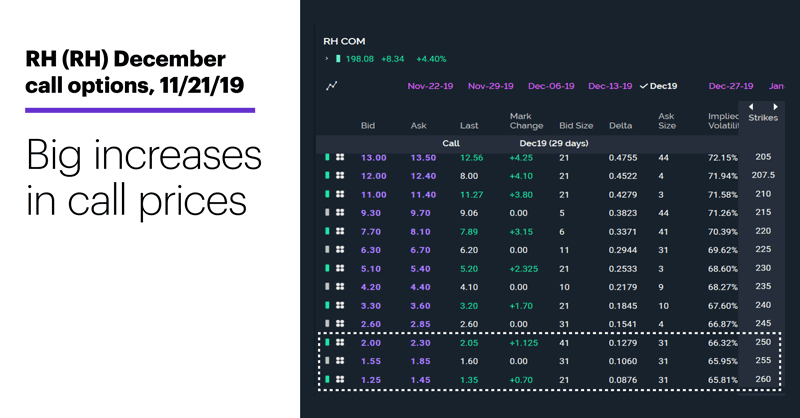 Source: Power E*TRADE
---
The December $250 call's last trade price was $2.05, up $1.125 (55%) from the day before, while the $260 call was up 52% from a day earlier. Which means some traders—even exceptionally bullish ones included to buy RH near current levels—may see the potential to pad gains by selling out-of-the-money call options and pocketing the premium.
For example, a trader who bought RH around $198 yesterday could have sold December $250 calls for roughly $2.05 ($205 per contract), which is essentially a bet that between now and December 20 RH stock may rally, but it won't push above $250 by then. If the stock is below that level at expiration, the options expire worthless and the trader keeps the premium. (More aggressive traders would choose options that are closer to the money, while more conservative traders would look at even deeper out-of-the-money calls.)
So, a bullish trader putting on this position is essentially saying, "I think RH is going to rally over the next month, but I don't think it will rally more than 26%" (the move from $198 to $250). Given that RH's average 20-day price change since 2012 is around 3%, that may seem like a reasonable outlook.
The wild card in this case is that RH releases earnings on December 2 (seven trading days from today), and the stock has been known to put together some sizable moves around these events. Since 2012, the stock's average move in the seven days before earnings was 3.4%, but its maximum gain was 21.5%. Similarly, its average return for the seven days after earnings was 4.3%, but it once jumped as much as 48.3%.1
There's no such thing as a slam-dunk in trading. But one of the upsides to a covered call trade is that if the stock rallies past the call's strike price and your options get exercised, you're still selling your shares at a profit, and keeping your option premium, too.
Today's numbers (all times ET): Consumer Sentiment (10 a.m.), Baker-Hughes oil rig count (1 p.m.).
Today's earnings include: Buckle (BKE), JM Smucker (SJM), Foot Locker (FL).
Click here to log on to your account or learn more about E*TRADE's trading platforms, or follow the Company on Twitter, @ETRADE, for useful trading and investing insights. Online stock, ETF, and options trades are now commission-free.
---
1 Based on daily closing prices for RH, 11/2/12–11/20/19. Supporting document available upon request.
What to read next...
11/21/19
The bird is the word: Poultry producers seek follow-through after China lifts trade ban.
---
11/20/19
Reports suggest hedge funds have been upping their China exposure to profit from a trade deal. What can traders learn from their move?
---
11/19/19
Retail stocks may be about to show whether the consumer is poised to continue carrying the economy—and the market—into the holiday season.
---