Correcting a correction
QTRX options open interest around six times average
Bulk of open positions in out-of-the-money calls
Stock up more than 7% intraday Monday following 24% correction
There wasn't much action in Quanterix's (QTRX) options yesterday, but that doesn't necessarily mean traders weren't interested in this small-cap medical device maker. As the following LiveAction scan shows, QTRX's open interest (OI)—the number of unclosed options positions—was nearly six times average on Monday morning: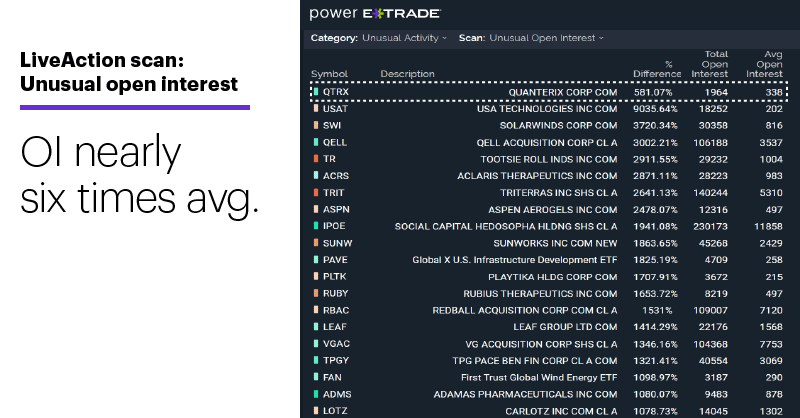 Source: Power E*TRADE
---
Quanterix made news last month when the Food and Drug Administration (FDA) gave its COVID antigen test emergency use authorization1—a development that was followed by a big QTRX stock rally and, presumably, some extra interest from options traders.
Many traders reference OI to gauge under-the-radar participation in a symbol, as well as possible future price momentum, since options positions can quickly become stock positions—potential fuel for the fire, so to speak. And what traders often look for is evidence the market is leaning one way or the other—more calls than puts, for example, or positions concentrated in certain strikes or expirations.
There were a couple of interesting aspects to QTRX's positioning yesterday. In the February options, the number of QTRX open calls in the first three out-of-the-money strikes ($70, $75, $80) was a little larger than the number of comparable out-of-the-money puts ($65, $60, $55). In the March options, though, there was more than eight times the number of calls as there were puts, with the single largest chunk (434 contracts) in the March $80 calls—a strike price that's right around the stock's record close from a couple of weeks ago: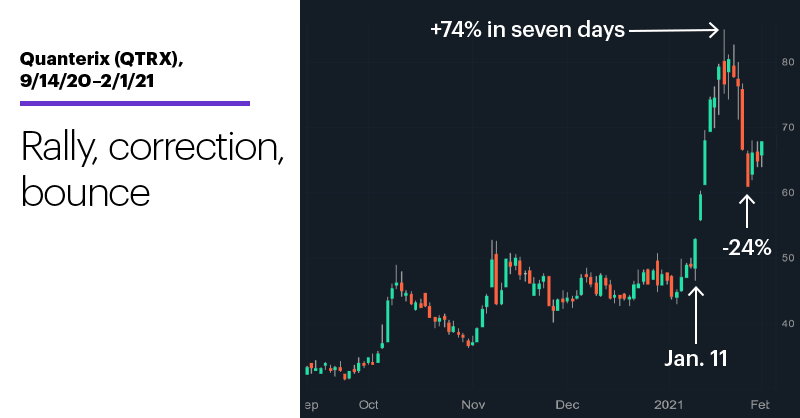 Source: Power E*TRADE
---
The stock's 74% rally that kicked off on January 11 (when the FDA news broke) and peaked on January 20 at $84.83 was followed by a 24% correction to $60.81 by last Wednesday. But the stock has since held its ground, and yesterday's surge—more than 7% intraday—pushed shares back above $69, potentially increasing the pressure on any short sellers who piled in during last week's sell-off.
The question now is whether the potentially bullish sentiment implied by current options positions translates into a challenge of the recent highs.
Market mover update: Yesterday's sharp decline in GameStop (GME) turned the options-pricing pattern noted here last week on its head. While last Thursday, for example, GME put options rallied even while the stock was soaring—because skyrocketing implied volatility (IV) was inflating put prices as well as call prices—yesterday dished up the opposite phenomenon: GME puts dropped in value even though GME stock was selling off because IV had fallen dramatically, as shown in the following LiveAction scan: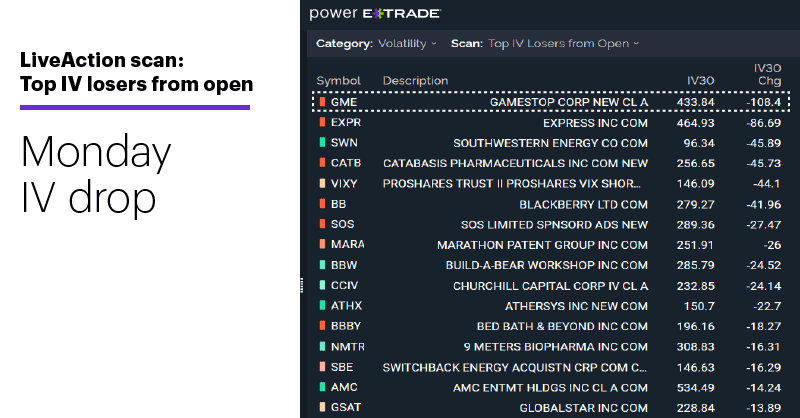 Source: Power E*TRADE
---
A little after 10 a.m. ET, for example, GME's IV had fallen more from the open than any other stock—hence the March $200 put was down around 11% even though the stock had fallen nearly twice as much. But to put things in perspective, GME March options IV was still 211 percentage points above its 30-day average (400% vs. 189%).
Finally, if yesterday's early 11% rally in March silver futures (SIH1) didn't convince you that the Reddit crowd was dabbling in a new market, six of the top-20 symbols in the LiveAction scan for unusual options volume were silver related.
Today's numbers (all times ET): Motor Vehicle Sales.
Today's earnings include: Alphabet (GOOGL), Amazon.com (AMZN), Alibaba (BABA), Electronic Arts (EA), Royal Caribbean Cruises (RCL), Exxon Mobil (XOM), Chipotle Mexican Grill (CMG), ConocoPhillips (COP), Marvell Technology (MRVL), Match (MTCH), Pfizer (PFE), United Parcel Service (UPS).
Click here to log on to your account or learn more about E*TRADE's trading platforms, or follow the Company on Twitter, @ETRADE, for useful trading and investing insights.  
---
1 MarketWatch.com. Quanterix stock jumps nearly 10% after company gets EUA for COVID-19 test. 1/11/21.
What to read next...
02/01/21
A volatile end to January sends broad market back to the drawing board for the year.
---
01/29/21
A look at the action in two tech giants—one that just released earnings, and one that's about to.
---
01/28/21
Several months after its record-setting run—and pullback—are traders seeing signs of stabilization?
---