Heavy metal
Copper-mining stocks have generally tracked the metal in recent months
FCX has been a leader, but has pulled back since May
Unusual or not? A note on yesterday's UPS options activity
It's always good for traders to remember that "commodity stocks"—companies in the business of acquiring or producing raw materials—are not commodities themselves. Even if the stocks of oil drillers and gold miners are influenced by the prices of their commodities, companies are individual businesses that can profit or stumble for a variety of reasons.
Translation: Just because you own Oil Company A, don't assume your stock will gain every time crude oil futures close higher, or buck a huge sell-off in the rest of the stock market.
The inevitable caveat, of course, is that this independence has limits: Such stocks are unlikely to move contrary to a big price swing or strong, sustained trend in their underlying commodities. For example, take a look at a weekly chart of copper miner Freeport McMoRan (FCX) and September copper futures (HGU1):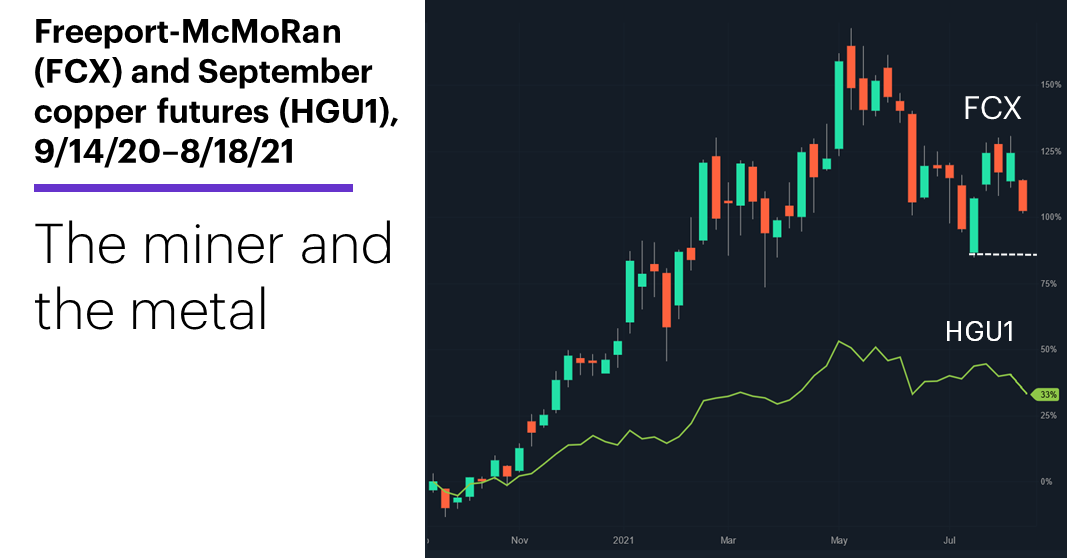 Source: Power E*TRADE (For illustrative purposes. Not a recommendation.)
---
The fact that FCX is up around three times as much as copper on a percentage basis during this period camouflages the fact that the two have been highly correlated over the past 18 months. FCX trended higher as copper  began rallying off its March 2020 lows, and both have been trending lower since peaking in early May.
But while FCX is still trading above last month's lows, the following daily chart shows that yesterday copper tumbled below its July low and tagged its June low, essentially falling near its lowest levels of the past five months:
Source: Power E*TRADE (For illustrative purposes. Not a recommendation.)
---
While FCX may not move in lockstep with copper from day to day, the longer-term correlation between the two suggests the stock may have trouble re-establishing its previous uptrend in the event the commodity makes a move to solidify its downtrend—say, by breaking below another low.
That's not a foregone conclusion, but mining-stock traders tend to keep an eye on their respective metals when those markets are testing potentially important price levels.
Ex marks the options spot. UPS (UPS) was all over the options activity map yesterday. In addition to having one of the biggest options volume totals in early trading (more than 46,000 contracts), it also scored high for number of options trades (12,186) and call volume (43,840, 2.8 times avg. and 94% of its total volume). Eight different out-of-the-money call options—all but one of which are expiring this week or next—had volume in excess of 1,000 contracts, and one (the August 27 $210 call) had more than 12,000. Meanwhile, there wasn't a single put option with volume above 1,000 contracts, and only one with more than 500.
If you thought this call feeding frenzy was a sign that bulls were making a stealth move (the stock closed lower and was in the red most of the day), you probably didn't own UPS shares. If you did, you may have been aware that Friday is the stock's "ex-dividend" date—i.e., if you didn't own UPS stock before that day, you wouldn't be entitled to its next dividend payment (September 8). Call volume often surges before a stock goes ex-dividend as market makers attempt to exploit possible inefficiencies between the stock price (which is discounted by the dividend amount on the ex-dividend date) and its options prices.
In other words, if UPS does, in fact, move higher in the near future, yesterday's call volume wasn't necessarily related.
Market Mover Update: October WTI crude oil (CLV1) fell for a fifth-straight day, shedding nearly 3% and touching its lowest levels (below $64.50/barrel) since May (see "Commodity crunch").
Today's numbers include (all times ET): Leading indicators (10 a.m.).
Today's earnings include: Applied Materials (AMAT), BJ's Wholesale Club (BJ), Kohl's (KSS), Estee Lauder (EL), Ubiquiti (UI), Ross Stores (ROST).
Click here to log on to your account or learn more about E*TRADE's trading platforms, or follow the Company on Twitter, @ETRADE, for useful trading and investing insights.
---
What to read next...
08/18/21
Videoconferencing stock tests support, but options traders need to keep tabs on time and volatility.
---
08/17/21
Consumer electronics stock makes some noise after back-to-back bullish headlines.
---
08/16/21
Stocks grind out another weekly gain as latest inflation data paints mixed picture.
---