Contrarian's guide to trading
Stocks tend to rally more after big down days than big up days
Market's long-term upside bias can give down moves bullish edge
When trading feels like a random lurch from one headline to the next—trade war, we're looking at you—it can be helpful to remind yourself of basic market principles that can transcend the news of the day.
One of those is that, over the long term—and sometimes that means the very long-term—the stock market tends to move higher. For all the bear markets, crashes, and stagnations, stocks have compiled decades of evidence that, if you're only going to make one trade in your life, it should be a buy, not a short.
But that macro tendency also provides the foundation for a principle many experienced short-term traders are familiar with: In the absence of any other information, if you're going to buy, do it after a big down day rather than a big up day.
The following chart explains why this contrarian observation holds water. It compares the S&P 500's (SPX) average five-day return after 1-2% up days to its five-day return after 1-2% down days:1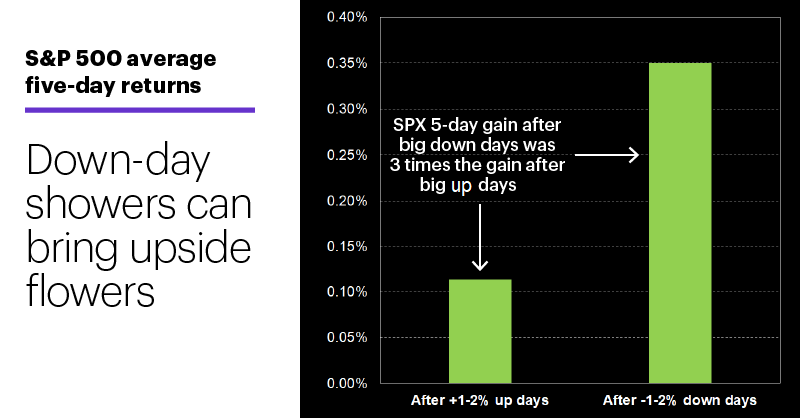 Source: Power E*TRADE
---
The SPX's average five-day gain after the down days was a little more than three times the size of the gain after the up days. While in practice there are often other considerations that will dictate a trade decision, all else being equal, the smarter play for bulls would be to buy after a sharp down day rather than after a sharp up day.
Interestingly, expanding the above analysis to compare even bigger SPX moves—2-4% up days vs. 2-4% down days—you get a similar result: The SPX's percentage gain five days after the big down days was around three times the size of the gain after the up days.
In other words, you've seen some statistical evidence supporting short-term traders who like to buy pullbacks rather than chase highs. The market may sometimes encourage adrenaline-driven decision-making, but it tends to reward patience—even for short-term players.
Today's numbers (all times ET): Durable Goods Orders (8:30 a.m.), GDP (8:30 a.m.), Corporate Profits (8:30 a.m.), Personal Income and Outlays (10 a.m.), Pending Home Sales Index (10 a.m.), EIA Petroleum Status Report (10:30 a.m.), EIA Natural Gas Report (12 p.m.), Baker-Hughes Rig Count (1 p.m.), Beige Book (2 p.m.).
Today's earnings include: Deere (DE), Cantel Medical (CMD).
Click here to log on to your account or learn more about E*TRADE's trading platforms, or follow the Company on Twitter, @ETRADE, for useful trading and investing insights. Online stock, ETF, and options trades1 are now commission-free.
---
1 Reflects S&P 500 closing price data from 11/21/89–11/21/19. Totals: 742 1-2% up days and 643 1-2% down days; 190 2-4% up days and 227 2-4% down days. Supporting document available upon request.
What to read next...
11/26/19
Grab a seat: It's time to belly up to the table and get a helping of the stock market's Thanksgiving trading patterns.
---
11/25/19
Hitting the pause button: Stocks hit new highs, then take a breather.
---
11/22/19
Selling calls against stock you own is usually seen as an investor's game, but the approach can sometimes lend itself to trading, too.
---