Consulting volatility
KFY hits pause after 63% rally
Consolidation formed at long-term resistance level
Volatility patterns suggest certain options may have an edge
Traders who saw Korn Ferry (KFY) pop up on the LiveAction scan for biggest one-week declines in implied volatility (IV) early Thursday morning may not have been surprised by its price chart, which showed the stock had been consolidating for a little more than a week after a 63% rally between  October 30 and January 12: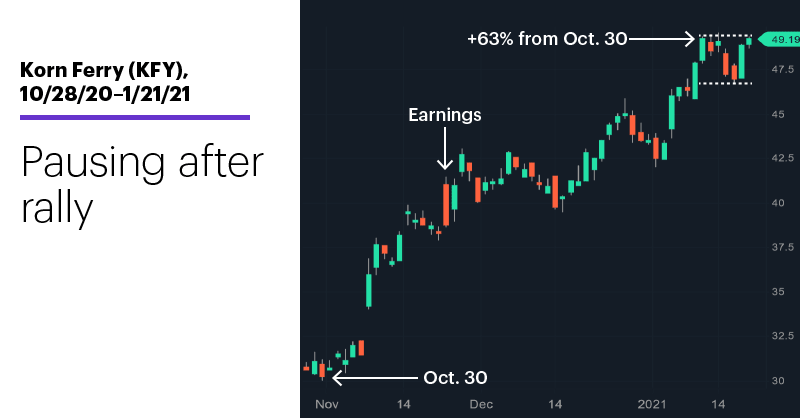 Source: Power E*TRADE
---
Since declining IV means the options market is expecting less volatility in a stock, it makes sense that this signal would appear, if only briefly, as prices entered a holding pattern after an energetic rally.
A couple of weeks into that rally, global consulting firm KFY crushed its headline earnings numbers on November 23 ($0.54 vs. $0.05 estimated, and revenues of $435.4 million vs. $376.14 million). But the company also noted it wouldn't offer any specific revenue or earnings guidance for Q3 2021 as the pandemic continued to "cloud the near-term predictability" of its business.1 Nonetheless, the stock banged out nearly half of its October–January rally after this announcement.
But to turn the IV-price action relationship on its head, some stock traders—especially those familiar with KFY's longer-term price history—may have anticipated the recent consolidation and IV decrease. A weekly chart shows the stock's rally stalled when prices reached the long-term resistance level defined by the late-2018 and 2019 swing highs around $50:
Source: Power E*TRADE
---
So far, KFY has bumped its head on this ceiling for a little more than a week—precisely what many traders would expect to happen, even if they see the potential for longer-term upside.
But that raises an important point for potential options buyers. Despite yesterday's alert of an IV drop, the following chart shows that only the February options had lower-than-average IV, while the March options had exceptionally high IV (KFY is currently scheduled to release earnings in the first half of that month):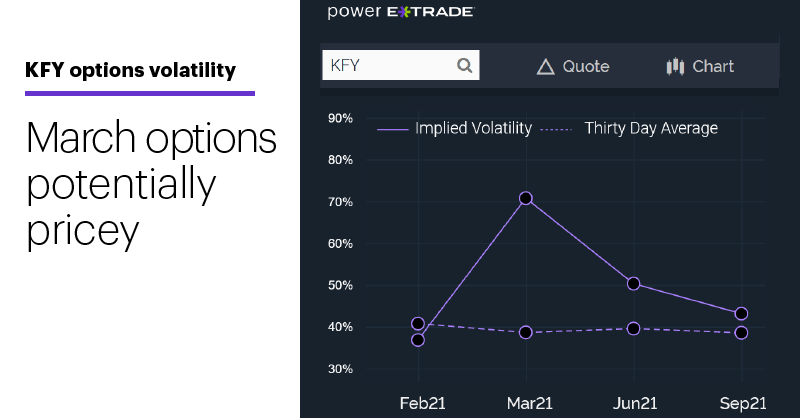 Source: Power E*TRADE
---
Since higher IV typically inflates options premiums—regardless of other factors—March contracts may be pricey relative to other expirations.
Yes, options can sometimes give traders more flexibility, but it comes with the cost of factoring in the effects of volatility as well as price direction.
Market Mover Update: Editas (EDIT) added to its recent sell-off, tumbling more than 12% intraday yesterday, dropping shares back into the range of their December consolidation (see "Double helix, double top").
Today's numbers (all times ET): PMI Composite Flash (9:45 a.m.), Existing Home Sales (10 a.m.), EIA Petroleum Status Report (11 a.m.).
Today's earnings include: Ally Financial (ALLY), Kansas City Southern (KSU), New Oriental Education & Technology (EDU), Schlumberger (SLB).
Today's IPO: Patria Investments (PAX).
Click here to log on to your account or learn more about E*TRADE's trading platforms, or follow the Company on Twitter, @ETRADE, for useful trading and investing insights.  
---
1 StreetInsider.com. Korn Ferry (KFY) Tops Q2 EPS by 49c. 11/23/20.
What to read next...
01/21/21
This automaker's surging options volume may have caught the eyes of traders, but those who didn't pay attention may have gotten the wrong impression.
---
01/20/21
Pullbacks in certain food stocks may look tasty to traders who see the potential for renewed interest in the group.
---
01/19/21
Broad market dips as reporting season gets underway.
---