Implied volatility: Not just for options traders
PLCE implied volatility notably higher than historical volatility
Stock has consolidated recently after nearly 200% rally
Earnings due next week
While it's usually thought of as something only options traders watch, implied volatility (IV) can provide stock traders with plenty of useful information, too.
In contrast to historical volatility (HV), which measures how much prices have actually moved in the past, IV is forward looking—the options market's estimate of future price action. One way that can help stock traders—especially those looking for potential breakout moves—is to identify consolidating stocks (low HV) that the options market thinks may kick into gear (high IV).
For example, yesterday children's apparel retailer The Children's Place (PLCE) appeared on the LiveAction scan for symbols with 30-day average HV less than their 30-day IV: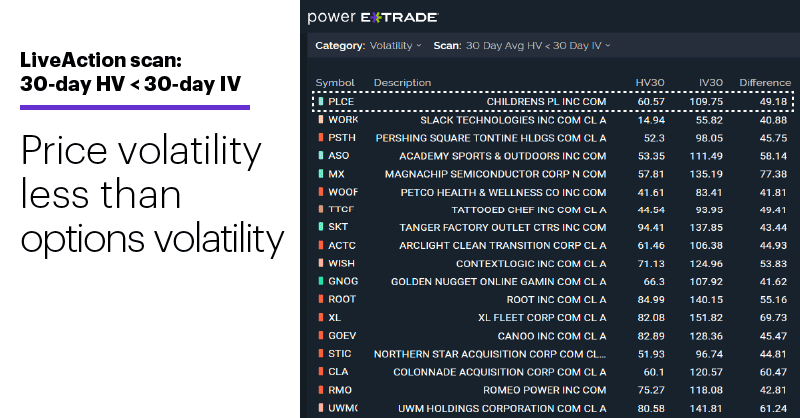 Source: Power E*TRADE
---
In other words, the options market is expecting PLCE and the other stocks on this list to move more over the next 30 days than they have, on average, over the past 30 days. That doesn't mean the options market is always right, but if a stock hasn't been moving lately and/or it has a potential catalyst on the horizon, it may be worth looking into as a potential breakout candidate.
The top half of the following chart shows PLCE has, in fact, been moving mostly sideways to lower since hitting a 14-month high in February, and it's been trading in an increasingly tight consolidation over the past week or so. The bottom half helps explain why HV is relatively low and IV is relatively high—earnings are due out next Tuesday: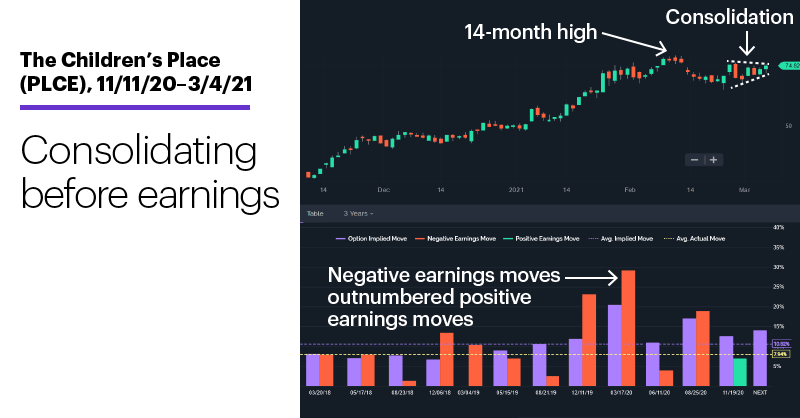 Source: Power E*TRADE
---
With the stock moving sideways and an earnings release being one of the more reliable sources of volatility, it's not unusual that the market is expecting price action to have a little more punch in the near future than it's had in the recent past.
The bottom half of the chart also shows that over the past three years the options market has typically expected PLCE to make a 10.52% earnings move (purple dashed line), which is higher than the 7.94% average move that has actually occurred (yellow dashed line). Yesterday, the market was estimating Tuesday's earnings to trigger a roughly 15% move (final purple column, labeled "NEXT"). Even so, if PLCE merely matched its average earnings-day move, it would break out of its current consolidation, assuming it was still in it at that point.
The direction that move would take is another story, but the columns at the bottom of the chart show negative earnings moves (red) outnumbered positive earnings moves (green) 11 to one over the past three years. While that track records doesn't have any bearing on next week's release, knowing the range of past outcomes can help traders better manage risk and plan their next moves.
Today's numbers: Employment Report (8:30 a.m.), International Trade in Goods and Services (8:30 a.m.).
Today's earnings include: Big Lots (BIG), GSX Techedu (GSX).
Click here to log on to your account or learn more about E*TRADE's trading platforms, or follow the Company on Twitter, @ETRADE, for useful trading and investing insights.  
---
What to read next...
03/04/21
Semiconductor specialist spikes, then pulls back after earnings beat.
---
03/03/21
Telemedicine bulls may see options spread opportunities after recent pullbacks.
---
03/02/21
Sector strength, options activity may raise financial stock's profile among traders.
---