Commodity crunch
Gold dropped nearly 5% Monday before rebounding
Oil also fell more than 4% amid delta anxieties
Both markets reversed intraday near prior lows/support levels
While the US stock market appeared to hit the snooze button Monday, the two most actively traded commodities—oil and gold—sprang out of bed in a way that probably quickened the pulses of traders in both markets.
They illustrate the choices traders often have to make after dramatic price moves—especially if those moves involve widely watched price levels.
December gold futures (GCZ1), which had already fallen out of a three-week consolidation after Friday's jobs report, plunged more than $85 intraday (mostly in Asian trading before the US day session) to a 16-month low of $1,677.90/ounce before recovering: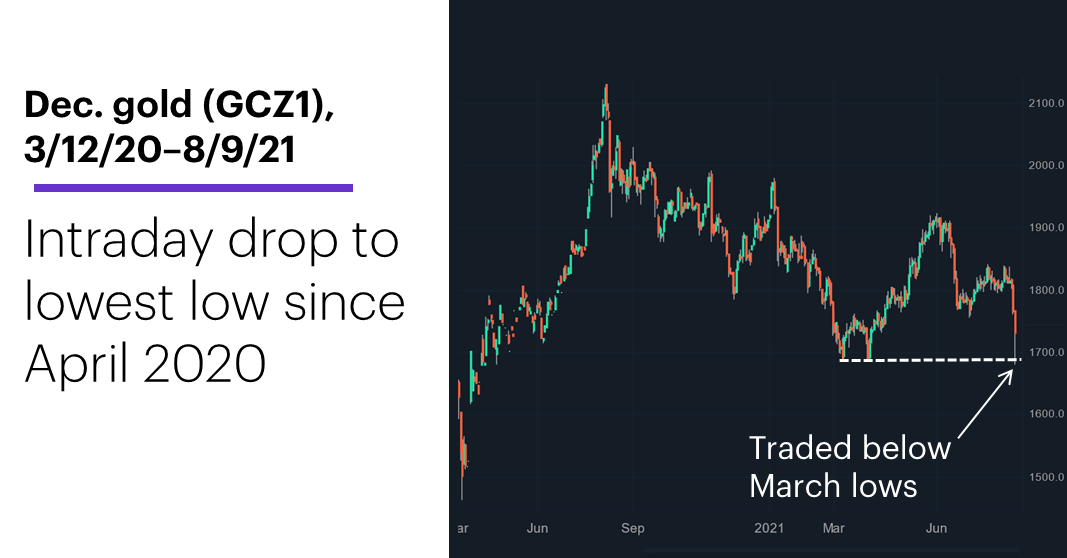 Source: Power E*TRADE (For illustrative purposes. Not a recommendation.)
---
While the magnitude of the move seemed to leave market watchers scrambling for answers (everything from a possible "fat-finger" trade error to a lack of liquidity because of closed markets in Japan and Singapore1), traders were likely aware that the move bottomed right around the twin March lows that preceded gold's last significant up move.
Before the Friday–Monday flush-out, gold was already perceived in some circles as being under pressure because of the possibility the Fed may begin tapering its economic stimulus sooner rather than later—a move that could strengthen the US dollar and weaken gold. Friday's strong jobs report likely did nothing to ease those worries.2 Nonetheless, by 2 p.m. ET yesterday, gold had rallied more than 3% off its intraday low.
Meanwhile, September WTI crude oil futures (CLU1), fresh off their worst week of the year, tumbled more than 4% intraday to $65.15/barrel on Monday: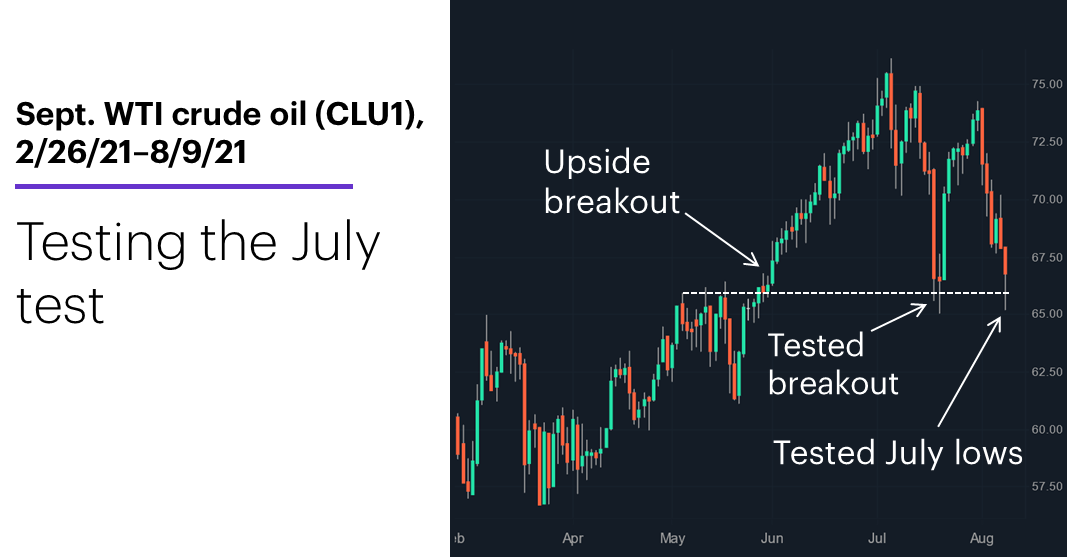 Source: Power E*TRADE (For illustrative purposes. Not a recommendation.)
---
While analysts appeared to be more in agreement about this move's probable catalyst—worries that the delta variant's spread could slow the global economy (and thus, oil demand)3—many traders were likely more interested in the level prices dropped to: the July pullback low, which was itself a (successful) test of the market's breakout above its May highs.
The question facing traders now is whether yesterday's tests will mark at least short-term lows, or if gold and oil will "test their tests"—i.e., return to Monday's lows—before establishing their next trend, up or down. But experienced traders know tests are often not one-and-done affairs, as oil's return to an established support level just demonstrated.
In the absence of crystal balls, traders must rely on managing risk amid uncertain outcomes. While those who wait for prices to revisit key levels risk missing out on potentially profitable moves, they also reduce the risk of putting themselves in a hole by chasing a market that hasn't flushed all of its tests out of its system.
Market Mover Update: Electrical vehicle (EV) stocks had a good day yesterday, but EV-charging stocks had an even better one, with ChargePoint (CHPT), Blink Charging (BLNK), and EVgo (EVGO) all rallying more than 6% intraday (see "Batteries included").
Today's numbers include (all times ET): NFIB Business Optimism Index (6 a.m.), Preliminary Productivity and Labor Costs (8:30 a.m.).
Today's earnings include: Beam Therapeutics (BEAM), Coinbase (COIN), Fubotv (FUBO), Plby Group (PLBY), Upstart (UPST).
Click here to log on to your account or learn more about E*TRADE's trading platforms, or follow the Company on Twitter, @ETRADE, for useful trading and investing insights.
---
1 Bloomberg. Gold Claws Back Some Ground After Early Morning Flash Crash. 8/9/21.
2 MarketWatch.com. Gold futures log steepest daily and weekly decline in nearly two months as bond yields, dollar rise. 8/6/21.
3 Reuters. Oil slides near 3% on China virus curbs and strong dollar. 8/9/21.
What to read next...
08/05/21
Spread strategy puts trading twist on popular investing approach.
---
08/04/21
When putting together the market puzzle, you have to remember to use all the pieces.
---
08/03/21
Sometimes markets react to news, but other times they can appear to be anticipating it.
---