Commodity crunch
Oil and gold have formed tight consolidation patterns
Crude market weighing production cuts against "second wave" fears
Gold could move on near-term market shocks and inflation anxiety
Oil and gold—in recent months they've rocked, they've rolled, but lately they've been on hold. Is that about to change?
Stocks have gotten most of the press over the past three months, but crude oil's price swings have put the equity market to shame. After selling off 68% from their February 20 high to their late-April lows (the loss from January's high was around 73%), July WTI crude oil futures jumped 56% in just six days from April 28 to May 6, although prices immediately retreated after nearly hitting $28/barrel that day: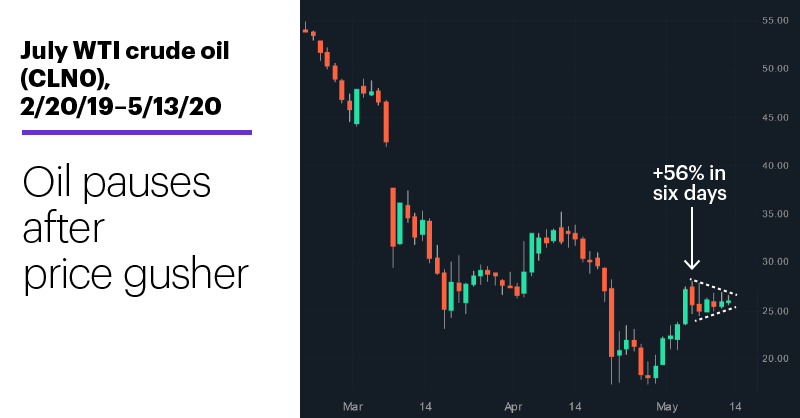 Source: Power E*TRADE
---
Since then, though, bulls and bears have more or less fought to a stalemate. Oil prices have come close to flatlining so far this week, forming a short-term "pennant" consolidation pattern, even though Saudi Arabia announced it would slash its monthly crude output by another million barrels per day1—on top of the 9.7 million barrel/day cuts agreed to by world oil producers last month.
The other side of the equation is fear of reduced demand stemming from a possible second wave of coronavirus infections as economies around the globe attempt to reopen. (The U.S. Energy Information Administration (EIA) has forecasted world oil demand for 2020 to fall by 8.1 million barrels per day.2)
Traders know volatility tends to cycle between highs and lows, so many of them may be anticipating momentum to ramp up again after the recent contraction. At this point, it won't take much to push oil out of its consolidation.
Meanwhile, gold prices have put together a similar pattern, but on a much larger scale. In early March gold had topped $1,700/ounce, but the coronavirus panic appeared to pull the plug on the party just as it was getting started—prices crumbled around $250 in the span of a week, falling to $1,453 on March 16. But the following chart shows that in less than a month June gold futures (GCM0) had rallied 23% to $1,788.80—the market's highest level since October 2012: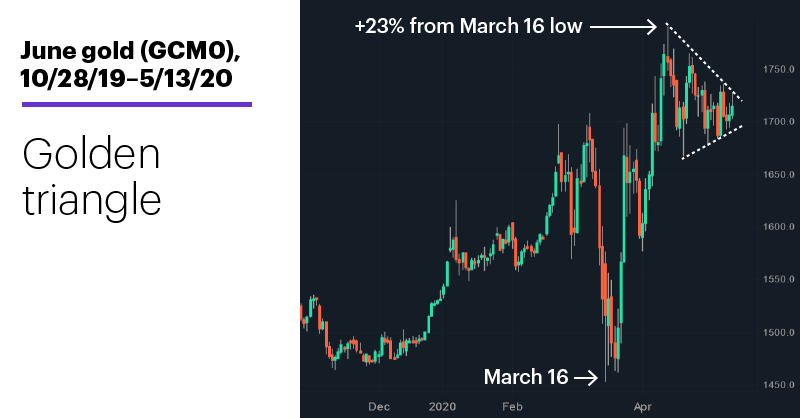 Source: Power E*TRADE
---
In the month since that high, though, gold prices have zig and zagged their way into an increasingly narrow "triangle" pattern. As with oil, price action has contracted to the point where many traders will be looking for a possible reversion to a high-volatility condition.
In terms of potential catalysts, many traders will be watching two of the usual suspects in the gold world:
1. Stock market shocks. Gold's steep sell-off in March is a reminder that during the most extreme market panics, traders dump gold along with everything else, but that said, sharp equity setbacks could send gold bulls stampeding, if only temporarily.
2. Inflation fears. This may be more of a long-term theme supporting gold prices, but with Congress continuing to expand relief measures, interest rates already near zero, and the Federal Reserve committed to unlimited monetary stimulus, the debate over whether such measures will trigger inflation could occasionally flare up to the extent that worried investors decide to pile into gold.
In the meantime, many market watchers will be keeping tabs on the boundaries of those consolidation patterns. Because long-time traders know that sometimes the news follows the price action, not the other way around.
Market Mover Update: American Campus Communities (ACC) broke below its late-April low with yesterday's 10%-plus intraday sell-off (see "School daze").
Today's numbers (all times ET): Jobless Claims (8:30 a.m.), Import and Export Prices (8:30 a.m.), EIA Natural Gas Report (10:30 a.m.), Minneapolis Fed President Neel Kashkari speech (1 p.m.).
Today's earnings include: Applied Materials (AMAT), Denny's (DENN).
Click here to log on to your account or learn more about E*TRADE's trading platforms, or follow the Company on Twitter, @ETRADE, for useful trading and investing insights.  
---
1 Oilprice.com. Oil Prices Rally As Saudi Arabia Pledges To Cut Additional 1 Million Bpd. 5/11/20.
2 Reuters. Oil holds near $30, caught between demand loss and supply cuts. 5/13/20.
What to read next...
05/13/20
With earnings around the corner, a gap looms on the price chart of resurging tech stock.
---
05/12/20
Does huge options trade mean traders have a sweet tooth for iconic snack maker?
---
05/11/20
Stocks take record-breaking jobs report in stride, get back into plus column last week.
---