Cloudy volatility
NET up more than 70% in less than three weeks
Stock jumped 27% after Q2 earnings release
The options question: Volatility currently high or low?
While experienced traders know that high implied volatility (IV) tends to result in pricier options premiums while low IV can have the opposite effect, they also know that it's not always easy to define "high" and "low."
Consider the following chart of cloud-computing stock Cloudflare (NET), which shows prices have consolidated over the past several days after jumping around 27% on August 5 in the wake of its latest earnings release:1
Source: Power E*TRADE. (For illustrative purposes. Not a recommendation.)
---
As of yesterday, the stock was up more than 70% since July 26—a hefty rally, although it's still far below its November 2021 all-time high above $220. Also, while the chart doesn't show it, the current pause has formed near a former support level defined by the January and March lows, which the stock broke below in early May (note the price gap), and which now represents potential price resistance.
The chart also compares NET's 30-day historical volatility (HV) to its IV. Since HV shows how much prices actually moved over the past 30 days and IV is the options market's estimate of price movement over the next 30 days, the implication is that options traders expected the stock to be less volatile over the next month than it has been over the past month. And that's also why NET appeared on the LiveAction scan for symbols with IV below their HV:
Source: Power E*TRADE. (For illustrative purposes. Not a recommendation.)
---
Also, the chart below shows NET's IV (solid line) was well below average (dashed line) for the next several options expirations: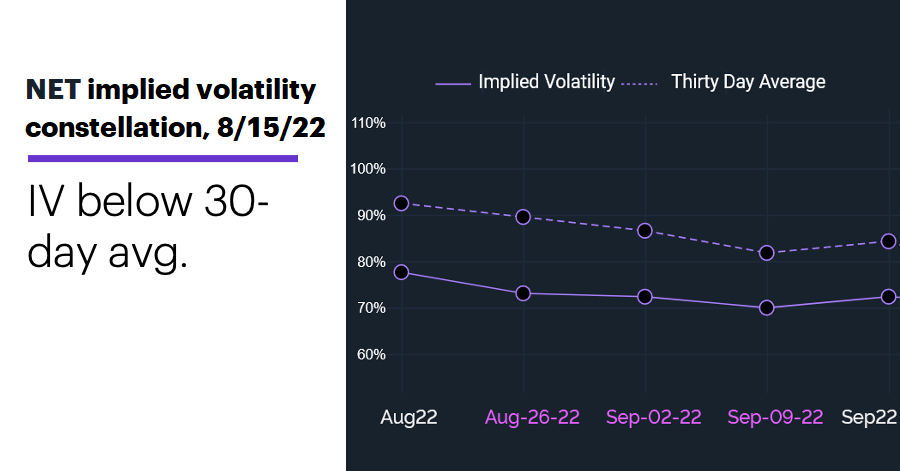 Source: Power E*TRADE. (For illustrative purposes. Not a recommendation.)
---
While the basic storyline appears to be one of relatively low options volatility—something that may make buying options more attractive—there are a couple of important sub-plots:
1. Although NET's IV was low relative to its HV, that HV was fairly high—as high as it's been in more than two months, in fact. Just as a 60-story building can appear to be relatively small when it's next to a 100-story building, IV can appear to be low compared to exceptionally high HV.
2. NET's IV is much higher than that of many other stocks. Yesterday morning, for example, its September monthly options IV was around 72%. To make just two random comparisons, Microsoft's (MSFT) September options had IV of just 25%, while Tesla's (TSLA) was around 57%.
To go full circle, though, NET's price chart also shows that its IV was toward the lower end of its four-month range. So, while NET's overall IV may not have been low compared to other stocks, it was relatively low compared to its own recent IV levels and price action. That may have been enough for some NET traders to decide that while its options may not have been historically cheap, they also didn't appear to be overpriced.
The markets rarely provide perfect conditions for any type of trade. But in options, understanding what's relatively high or low can often provide an edge.
Market Mover Update: October WTI crude oil futures (CLV2) followed through on Friday's pullback by dropping 5.7% intraday to $86.29 on Monday.
Today's numbers include (all times ET): Housing Starts and Building Permits (8:30 a.m.), Industrial Production and Capacity Utilization (9:15 a.m.).
Today's earnings include: Walmart (WMT), Home Depot (HD), Agilent (A).
Wednesday's numbers include (all times ET): Retail Sales (8:30 a.m.), Business Inventories (10 a.m.), FOMC minutes (2 p.m.).
Wednesday's earnings include: TJX (TJX), Cisco (CSCO), Lowe's (LOW), Analog Devices (ADI), Target (TGT), Keysight Technologies (KEYS), Krispy Kreme (DNUT).
Click here to log on to your account or learn more about E*TRADE's trading platforms, or follow the Company on Twitter, @ETRADE, for useful trading and investing insights.
---
1 StreetInsider.com. Cloudflare (NET) Surges After Topping Q2 Expectations. 8/5/22.
What to read next...
08/15/22
Stocks notch first four-week win streak since November 2021.
---
08/12/22
The recent performance of lithium stocks suggests a less-than-straightforward connection to the lithium market.
---
08/11/22
Pharma stock's recent pullback illustrates potential advantages of well-known options spread.
---