Descending from the cloud(s)
Financial cloud-tech stock QTWO rallied 190% off March 2020 lows
Stock recently retraced 50% of uptrend
Bullish long-term factors still in effect?
If you had to describe a stock that would have been positioned to take advantage of last year's rally, Q2 Holdings (QTWO) may have been a prime suspect, at least in retrospect: a small-cap financial stock specializing in cloud-based banking tech.
When high-flying stocks retreat, traders who still believe in their longer-term prospects look for signs the selling pressure is losing momentum.
Q2, which had gained around 471% between February 2016 and February 2020 before the COVID sell-off, obliged by rallying more than 190% off last March's low as small-caps assumed market dominance, everything "cloud" appeared to be in demand, and the financial sector (especially banks) gained traction toward the end of the year: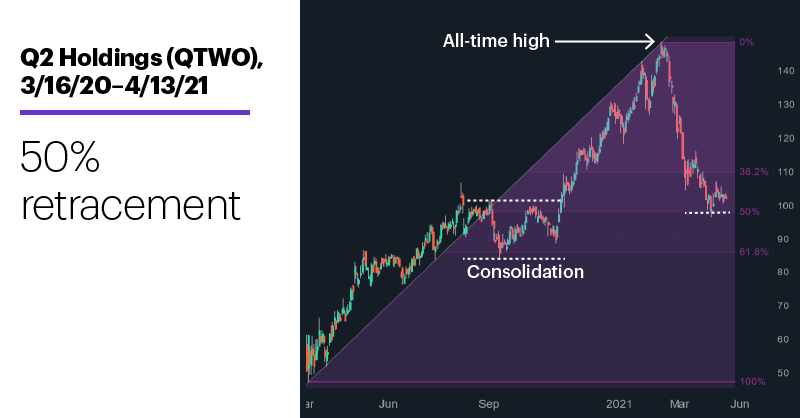 Source: Power E*TRADE
---
Regardless of whether that accurately describes the dynamics that fed the stock's uptrend, the ride came to a halt in mid-February—around the time the tech sector sold off harder than most of the market, and QTWO sold off harder than most of tech. By late March, the stock had fallen around $50 below its February 16 record close of $146.70 (a little below the current average Street analyst target of $1501) and given back half of its March 2020–February 2021 rally.
When high-flying stocks retreat, traders and investors who still believe in their longer-term prospects may look for indications that the selling is slowing or reversing. The QTWO chart illustrates a couple of pieces of information technical traders commonly factor into their analysis: a pullback into to a previous price consolidation (which some technicians would view as potential support) and the 50% retracement of a significant trend (one of three retracement levels shown on the chart).
In this case, the two coincided—the 50% retracement level fell within the range of the August–October consolidation. As of yesterday, the stock was still trading above its late-March retracement low and had bounced as much as 8.5%. While such developments can never be interpreted as meaning "a bottom is in"—after all, someone referencing the same information could reasonably argue the stock is likely to decline to the bottom of the consolidation and the next retracement level—it does provide an example of the type of price action some traders reference when making trading decisions.
Market Mover Update: Lithium stocks have pulled back or consolidated recently (see "The story behind the story"), but the industry itself may have gotten another shot in the arm with the CME Group announcement that it will begin trading lithium futures next month.2
Today's numbers (all times ET): Mortgage applications (7 a.m.), Import and Export Prices (8:30 a.m.), EIA Petroleum Status Report (10:30 a.m.), Beige Book (2 p.m.).
Today's earnings include: Bed Bath & Beyond (BBBY), JPMorgan Chase (JPM), Wells Fargo (WFC), Goldman Sachs (GS).
Click here to log on to your account or learn more about E*TRADE's trading platforms, or follow the Company on Twitter, @ETRADE, for useful trading and investing insights.
---
1 TipRanks. Q2 Holdings Stock Forecast & Price Targets. 4/13/21.
2 The Wall Street Journal. CME Seeks to Tap Electric-Car Demand With Lithium Futures. 4/8/21.
What to read next...
04/13/21
Do traders see more blue sky for airlines with earnings approaching? Also, can a $2.8 billion fine be a good thing?
---
04/12/21
Rotation, what rotation? The Nasdaq 100 is back to all-time highs.
---
04/09/21
What are traders seeing in gold's recent rebound?
---